Hey folks, Harry here... with a brand-spanking new contest for you good folks to win!!! This time... it's a massive fucking gun you're trying to win!!! One that kills gigantic Lovecraftian beasties!!! That's right, The Samaritan! Well... actually it is a prop replica coming from the good folks at Sideshow Collectibles!!!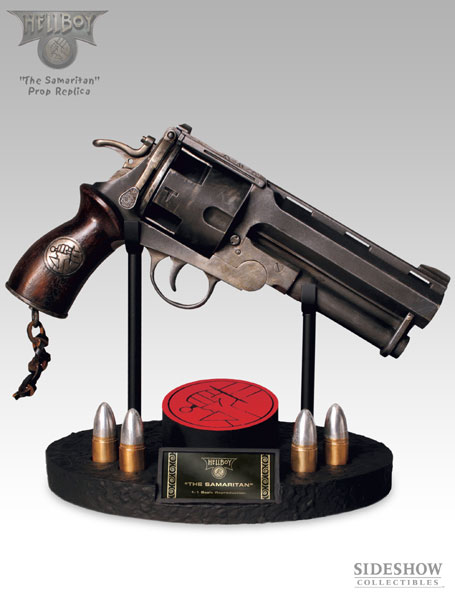 Now as usual - Sideshow hasn't a clue what I'm gonna do for a contest - and most likely - they're terrified waiting to see what I cook up. I thought about asking y'all to take a picture of yourself firing the biggest gun you have at a picture of the person you most hate - but then figured... well - we might get in trouble. Then I thought - having you take a picture of yourself in demon makeup buying a ticket to THE PASSION OF THE CHRIST... but then figured... well, God would hate me. Then... well, then I had a goofy fucking idea. I love goofy ideas, so I've decided to go with it.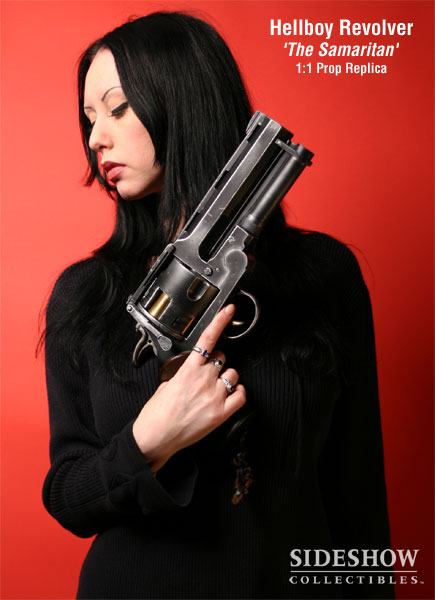 To win your own prop replica of Hellboy's Samaritan, all you have to do is sculpt a replica of HELLBOY's face out of Macaroni noodles covered in steamy tomato paste. The best photo of this art project will walk away with a prize valued at $299.00 (not counting shipping!) It will be the biggest meanest fucking gun anyone will ever own. You can scare convenience store clerks out of daily receipts until the time of your incarceration with this sucker... Think about the look on that burgular's face when they break in and you whip out your Samaritan... They'll shit green wormy apples for weeks fleeing your domicile.
Now - Sideshow has been good enough to donate a 2nd and 3rd place prize for the runner-ups. SO... If you're good - but not the best... you can win a 12 inch HELLBOY or a 12 inch ABE SAPIEN.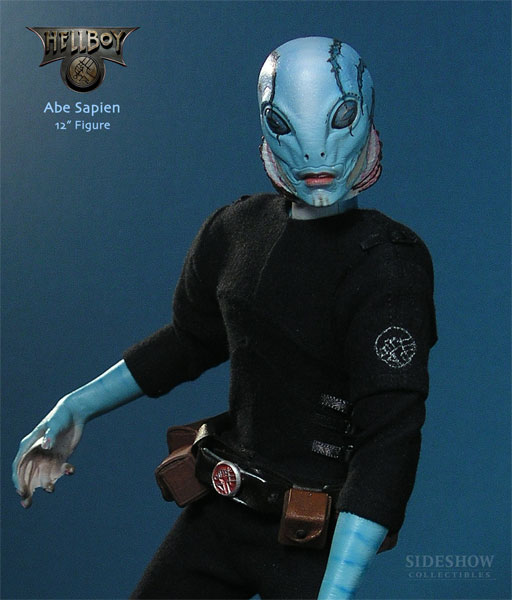 Ok - so what's the time frame on this?
Between now and April 21st - midnite - you must send a jpg of your macaroni & glue... steaming tomato paste caked sculpture of Mike Mignola's Glorious HELLBOY to SideShowToys@AintItCoolMail.Com! Have fun playing in your food!