Coaxial
Learn Around Whom The Antepenultimate ANGEL Revolves!!
Thanks to all of Harry's exciting new movie reviews clogging up the site, it's taken a little longer than usual to post what we've learned from the latest batch of "Angel" casting pages that began circulating on Monday. * It turns out 5.20 is all about Buffy Summers. * Seems that Angel and Spike, while on a seemingly unrelated mission in Italy, learn that somebody they've known for 110 years is in Rome, dating the former Sunnydale slayer! * It looks like Michelle Trachtenberg will appear in the episode as Dawn Summers. Buffy's in it too, but it's unclear whether she'll be played by Sarah Michelle Gellar, or a fleetingly glimpsed stunt double, or both. * The vamps get a little staff support from Wolfram's office in Italy. * Meanwhile, back in Los Angeles, we learn that Illyria has learned to impersonate Fred so capably she can fool even the girl's parents.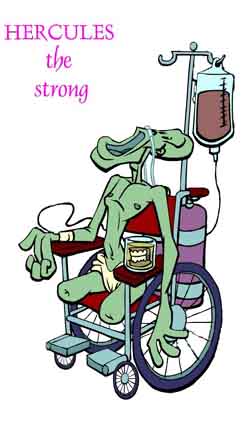 It's "Wonderfalls" Week!! Herc says it's the season's best new show!! 9 p.m. Friday!! Fox!! Looking for bumper stickers, plush toys and girls' underwear covered with cartoon double-amputees? Visit The Herc Store!