Hi, everyone. "Moriarty" here with some Rumblings From The Lab...
When Quint falls in love with a movie, he falls in love. And right now, he's goofy for LOVE'S BROTHER. The great thing about finding a small film that no one's heard of yet is being able to spread the word, and Quint decided to sit down to interview as many of the people involved as he could. Here's the first of those interviews, and I'll send it out with a very sincere if belated "Happy Birthday" to our favorite crusty seaman:
Ahoy, squirts. Quint here back in Austin... I have an interview with Adam Garcia, the star of my favorite film from the SANTA BARBARA film festival LOVE'S BROTHER. If his turn in LOVE'S BROTHER is any indication of what this guy can do, then you'll see him shoot into the limelight pretty rapidly.
In the film, Adam plays Gino, the younger brother of Giovanni Ribisi's character... He's charming, handsome and cares for his brother more than anything else in the world. Gino has a serious girlfriend, but can't propose until his older brother gets married. Being Italian immigrants living in Australia where the male to female ratio is 5 to 1 they have to send a request for a bride back to Italy. With little faith in himself, Ribisi sends a photo of Gino instead of himself to his potential bride.
This film really won me over. It doesn't go the way you're thinking it does... Anyway, what better follow up to Valentine's Day than with an interview about LOVE'S BROTHER.
We did this interview in the lobby of Hotel Santa Barbara. He was fresh in and in a whirlwind of TV interviews and photo shoots. He hadn't even had time to get lunch, so during the interview he was munching away at fries and a burger.
In person he had just as much charisma. Kraken took some pics of the interview (the below pics from the set are credited to John Tsiavis) . I think he was making man-eyes at Adam. It was probably Adam's hot Australian accent... Who knows? Kraken's a tough cookie to figure out sometimes. But Adam was very conversational and a lot of fun to talk with.
Without much further ado, here's the interview I conducted with Adam: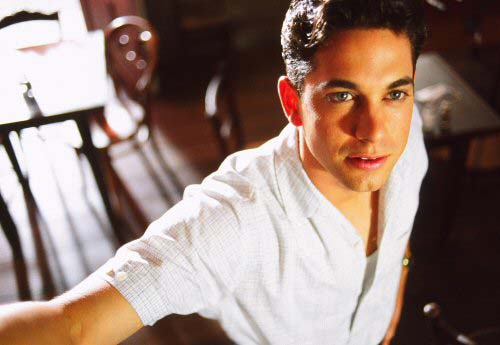 QUINT: HOW DID YOU FIRST HEAR OF "LOVE'S BROTHER?"
ADAM GARCIA: I was actually in Australia promoting another film called BOOTMEN, a tap dancing movie. I got a phone call from my agent saying, "There's this guy who wants to meet you." I had a pretty heavy night the night before because my brother lives down in Melbourne... So, I got up and he was downstairs in hotel lobby. It was Jan (Sardi, the director and screenwriter of SHINE). He started telling me about this film. That was 2000... sometime 2000, I can't remember when.
He just started telling me about this thing and gave me the script and I read it. It was great. It was really, really good.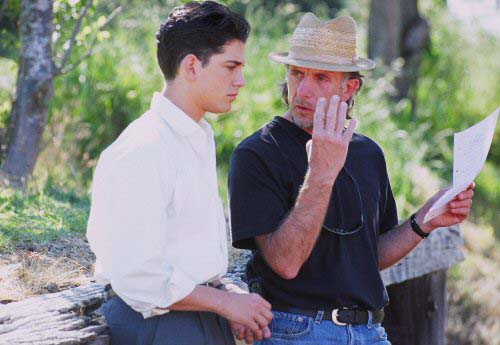 QUINT: SO YOU MET WITH JAN AND YOU HAD SOME TRUST WITH HIM AS A DIRECTOR AND WRITER...
ADAM GARCIA: Um, as a writer I really trusted him. This is his first time directing, but he seemed like he was such a sweet guy... I thought, "He's a nice enough guy..." And his writing is just phenomenal. His writing just is crazily good and it's just such a sweet script. Even when I went back years later and read it really nothing had changed. It was still as compelling a script. That's really why everybody got on board with this project... Andrew Lesnie, the DP, and all these people.
QUINT: WHAT ATTRACTED YOU MAINLY TO THE ROLE OF GINO?
ADAM GARCIA: I could see elements of me in him, I guess. One, he's a really generous character. He really does love his brother and he wants him to have the best of everything, but he has this slight weakness that he loves beautiful women as well... I can relate to that!
I have an older brother who I'm very close with and we've always avoided competition. We never compete in anything because we simply don't want to have that in the way of anything... But when there was, say, a girl that we both liked it'd be really strange because I'd want to give him first dibbs because he was my older brother, but he was like, "If she's interested in you, I don't want have you pissing in my pocket" and that sort of thing. I just found it interesting, that dynamic... That dynamic of the brothers.
He's a little bit of a rogue. I think what I rather like about him most is his one real weakness is he wants everyone to be happy. He wants to please everyone and I think a lot of people fall into that. You want to please everyone and you end up getting yourself in trouble because somehow it will eventually go against your integrity.
QUINT: ONE THING I WAS REALLY TAKEN WITH IN THE FILM IS THE CHEMISTRY YOU HAD WITH BOTH GIOVANNI RIBISI AND AMELIA WARNER. DID YOU GUYS HAVE ANY TROUBLE WORKING ON THAT OR WAS IT PRETTY NATURAL?
ADAM GARCIA: It was pretty natural. The first scene that Giovanni and I did together, 'cause he came in from Japan from filming LOST IN TRANSLATION, was the picnic scene. That's basically where all the sort of love and hate brother stuff comes out. It was his very first scene and it was, like, his 3rd day in Australia. For some reason because we just had no idea who each other were, we just sorta went for it. It was a great day to sorta start on. We had to just step up to the plate.
With Milli... yeah, she's just one of the boys... (HE NOTICES MY SMILE AND MUTTERED LAUGHTER) Despite being so beautiful...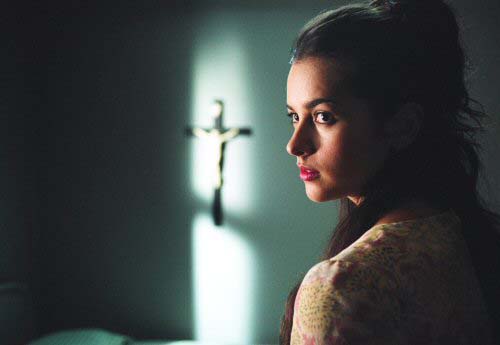 QUINT: I WAS GOING TO SAY... SHE DOESN'T LOOK LIKE ONE OF THE BOYS FROM WHERE I WAS SITTING!
ADAM GARCIA: She really is... (HE POINTS TO MY ALL STARS) She likes her Converse shoes and her jeans and t-shirts. She just likes to hang out and likes to go to bars and listen to rock music.
QUINT: SOUNDS LIKE A PERFECT WOMAN!
ADAM GARCIA: She is a perfect woman. But that was fine. It was really great... I got to chaperone them around Melbourne. It's one of my favorite cities...
QUINT: I GOT TO SPEND A LOT OF TIME AROUND NEW ZEALAND THIS YEAR...
ADAM GARCIA: All right!
QUINT: I SPENT SOME TIME ON THE SET OF RETURN OF THE KING AND GOT TO CHAT WITH ANDREW LESNIE. YOU COULDN'T FIND A SWEETER PERSON IN THE WORLD... AND UNDERNEATH HIS MESSY HAIR AND GOOFY PERSONALITY YOU HAVE ONE OF THE BEST DPs IN FILM TODAY.
ADAM GARCIA: Yeah... He's just... It was a great experience to be on that set and to be with an Australian crew. I do admit, I like Australian crews a lot because everyone is like, "Yah... We're makin' a movie? Cool! Let's make it!" Then you go out for a beer! It's a very good way to work.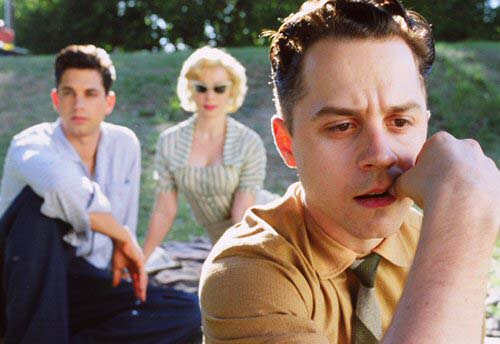 QUINT: WHAT WAS YOUR FAVORITE SCENE TO FILM?
ADAM GARCIA: I really did enjoy the picnic scene because it was the first time all four of us were together and acting together... I'm trying to remember the movie... I'm thinking that and one of the other really fun ones was Giovanni and me at the railway. I think it was more fun to rehearse 'cause we just went on and on and on rehearsing and eventually Jan was like, "OK... we better shoot this. You guys are getting ridiculous."
QUINT: ROGER AVARY IS AN ACQUAINTANCE OF MINE AND YOU RECENTLY WORKED WITH HIM... HE HAS A CAMEO IN A FILM THAT YOU'RE IN, PLAYING A CRAZED HOLLYWOOD DIRECTOR IN THE VEIN OF MARCUS NISPEL... WHAT'S THAT FILM?
ADAM GARCIA: It's called STANDING STILL. Mena Suvari and James Van Der Beek are in it and I play some guy who's fairly boring most of the time until he has an emotional breakdown... Roger, being a friend of James, said, "Oh, I'll come and do this part!" Originally, they were looking for a rock star, then they thought, "Well, we'll have a crazy director. It's virtually the same thing." He had no lines written for him, he just came in and just made stuff up each day.
Then he went to Vegas with us, which was even more crazy.
QUINT: THAT MUST HAVE BEEN A HELLUVA TIME.
ADAM GARCIA: It was painful. At one point, obviously we went to a strip bar... There was no one there because it was a Wednesday. There were no girls there, so we started doing it. So, I'm pole-dancing! It was really, really awful... One of the most uncompelling and unsexy things I think anyone has had to face in a long time, but short of that it was fun. But Vegas was great.
QUINT: WHAT'S NEXT FOR YOU?
ADAM GARCIA: CONFESSIONS OF A TEENAGE DRAMA QUEEN. That's coming out in 3 weeks or something...
QUINT: WHAT'S YOUR FAVORITE DIRTY JOKE?
ADAM GARCIA: My favorite dirty joke... There's one, but I can't say it because it's so horrible... It's about pedophilia... I won't do that one... I'll tell it to you after, but it's seriously one of the most horrible jokes in the whole world...
But my favorite is a fairly long one... It's about the two Greek Brothers who live on an island. One day the first brother comes back and finds the second brother crying. He's so upset. He asks, "What's wrong?" The brother says, "You know, I worked so hard for this town. It pisses me off... Go and look at the harbor and tell me what you see."
So the brother goes out and says, "I see the boats." The other brother says, "Yeah. Every fucking one of those boats I built. Do they call me Spiros, the boat builder? No. Go look out the other window at the forest. Tell me what you see."
The brother says, "Well, I see the forest." "Yes. Every one of those trees I planted for this town. Do they call me Spiros, the tree-planter? No. But I fuck one goat!"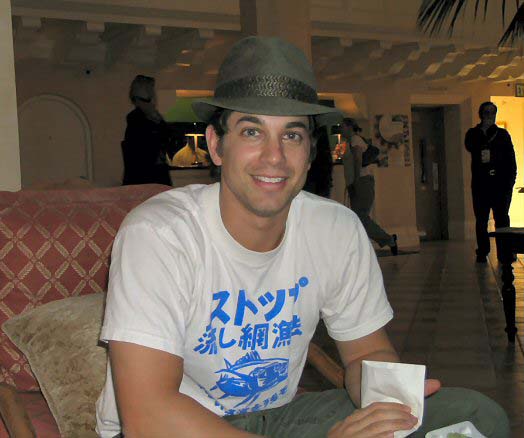 That's the interview. If you want some AICN history trivia, the above joke said by Mr. Garcia is the first joke that has been repeated during a celebrity interview I've done for the site. Not only was it the first one repeated, but the first ever interview I did exclusively for AICN (back in '98) was with Elijah Wood and he told that joke. You can read it here if you wish... there's some good stuff in that interview, but boy is it embarrassing to look back on. What can I say? I was freshly 17 when I did that interview...
Anyway, I hope you enjoyed this one, squirts. I have another one from LOVE'S BROTHER with the director, Jan Sardi, in the works... I'll get it out to you folks as soon as I'm able. Today (Feb. 15th) is my birthday, so I'm going to take it easy, but I'll be back soon! 'Til then, this is Quint bidding you all a fond farewell and adieu.
-Quint
email: Know what I want for my birthday? Amelia Warner and my girlfriend, Auntie Meat, wouldn't be too far from the top of the list! Email Quint here!!!