Movie News
Moriarty's DVD SHELF - Spilling Over With No Signs Of Stopping!
Moriarty's DVD Shelf Returns! SUPERFLY! Browsing! More!!
Hi, everyone. "Moriarty" here with some Rumblings From The Lab...
Ahhhh... it's nice to be back at it. I've got a lot of stuff I want to talk about. It's been a great fall for DVDs... maybe the single best season I've seen since jumping onboard the format. So many great titles released, and the way companies are servicing both new release schedules and catalog titles at the same time pleases me enormously.
One of the reasons I want to write this column each week is just to have a place to vent about all of this. I drive both my co-writer and Mrs. Moriarty crazy with my near-RAINMAN level of infatuation with my movies and my browsing habits. I'm lucky Scott doesn't mind going to Amoeba or Virgin a couple of times weekly. If he got bored with it, I couldn't pretend it was work anymore.
Mrs. Moriarty is going to kill me in my sleep sooner or later if I don't figure out a better way to store all the DVDs that are already in the house. Right now, there are about six places in our apartment where DVDs are kept, and I've got them "sorted" according to a very loose set of criteria.
First, there's the stack of stuff that's been brought into the house, but which hasn't been watched yet. This is the primary stack, the one I pull titles from every day to watch.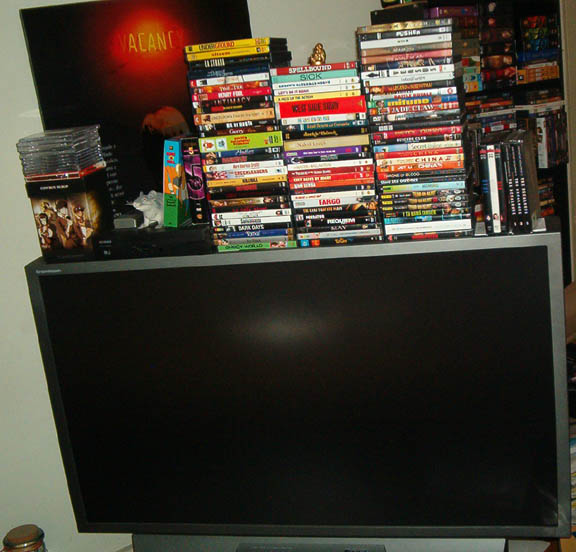 Then there's the stack of the most recent stuff watched, things I haven't had a chance to sort into other shelves, or which there's just no room for anywhere else right now.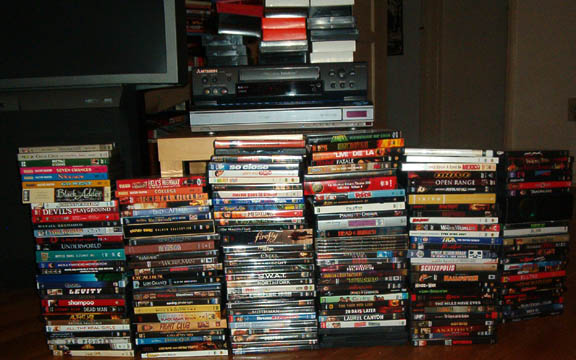 There's the original bookcase, filled with DVDs back when I alphabetized and sorted them carefully, and which is still sort of vaguely kind of in alphabetical order. The bottom shelf is stuffed with test discs, sent in smaller packaging. I've gotta have something like 200 of those alone. Overall, this is the stuff that gets the least current play in the player.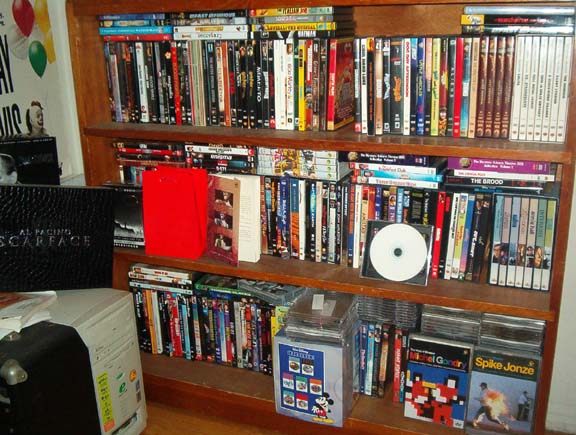 There's the second bookcase, where I've just sort of jammed everything onto the shelves, overstuffing it completely. Those shelves are stacked two deep, so there's another whole layer of DVDs you can't see there.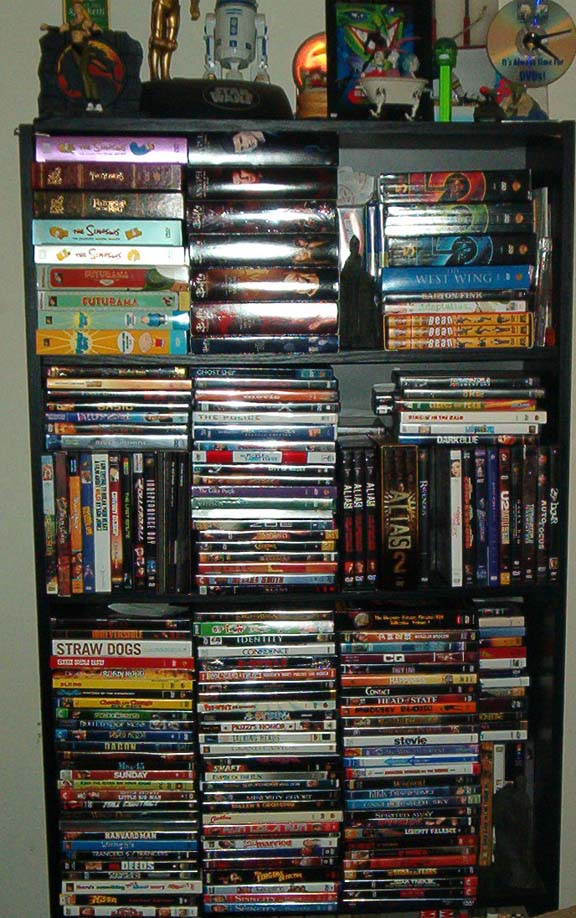 Then there's Mrs. Moriarty's shelf of movies, DVDs purchased just for her. One of the things I love doing most for her is hunting titles down that she mentions, or finding things I know she'll enjoy but which she's never seen. Giving movies is one of my favorite things.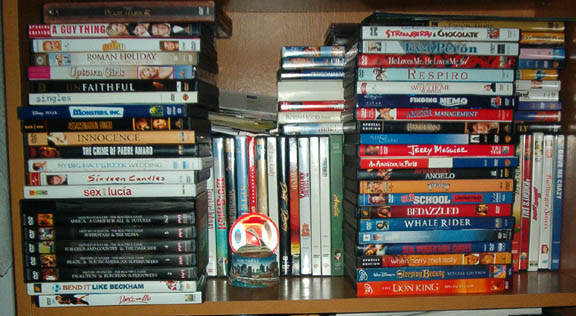 And there's my smaller "hasn't been watched" stack in front of the TV in the bedroom, stuff that I want to watch late at night, things I'd like to see in particular detail. The TV and the DVD player in the bedroom are, technically, the better set-up. I love the Panasonic bigscreen in the living room, but the resolution isn't as crystal clear as the Sony, which is where I also play the occasional game.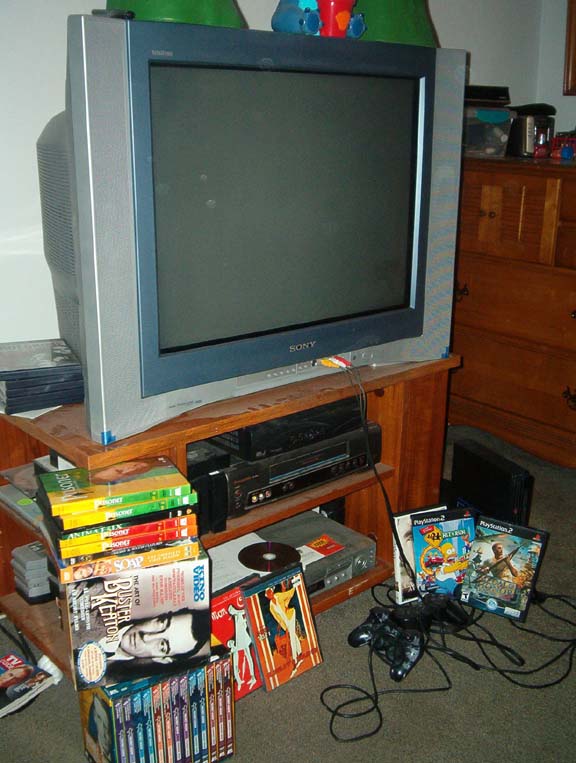 So, as you can see, DVDs have eaten my apartment. Send rescue teams immediately.
I'm working on getting new DVD shelves in the weeks ahead, and if any of you have something you recommend in particular, something that you find to be a particularly good combination of form and function, then please... drop me a quick e-mail and let me know about it.
NEW RELEASES
New release Tuesday today, and I picked up a few things. I still prefer going to the Virgin on Sunset late on Monday night, when they sell new titles right at midnight. There are so few people there, and in cases where they only get a few copies of something, it's nice to cherrypick before anyone else gets the chance.
Got ONCE UPON A TIME IN MEXICO and OPEN RANGE, first off. Haven't seen either one. I also picked up THE RULES OF THE GAME and SPELLBOUND, both of which I have seen, and which are great films, well worth owning. There were a few titles I'd been looking for but hadn't found yet that I also grabbed, like SITCOM and the Mark Dacascos action film DRIVE. Six titles for a week... felt like getting off light. I'm still interested in seeing if the new REPO MAN is anything different than the version that's already out and maybe picking up the Showtime series JEREMIAH. I'm still working my way through the BABYLON 5 boxes, and I'm enjoying them very much. I'm curious to see what else JMS is up to with his new show.
But more on that next time...
BROWSING
There are all sorts of announcements recently, and as always, I've enjoyed reading DVD File. The last week or so, as I've been watching the fourth season box set of BABYLON 5, it was nice to hear that the fifth and final season of the show is set for an April 13th release with a $100 price tag, like all the other seasons so far. I am also glad to see that the release of Mel Gibson's THE PASSION OF THE CHRIST has kicked loose a few other Gibson titles to cash in on the controversy. His HAMLET, directed by Zeffirelli, is a rather spirited take on the material and beautifully shot, and I'm surprised there are no extras to speak of on the disc. Still, $19.95 is a good price. It'll be nice when we can put this one, the Olivier, and the Branagh side-by-side on the shelf. 21 GRAMS is one of the films I missed this season, and at this point, I might as well wait for the March 16th release from Universal, which looks like a pretty standard set, no real bells and whistles. I also missed SOMETHING'S GOTTA GIVE, and that will be out March 30th. Both of these will retail for under $30.
Most of the sites I browse linked to the story from VIDEO STORE MAGAZINE about just how much Americans are spending on DVD these days. It's 71% of the overall home video market now, over $16 billion. That's a spike from last year, and if the industry is smart, they'll see even more growth this year.
Over on the always-excellent Digital Bits, they've got some great new cover art, including the artwork for the Universal MONSTER LEGACY COLLECTION discs. Can't wait. We'll be able to take those home on April 27th, just in time for Universal to release VAN HELSING the next week. Even if that movie sucks, it led Universal to finally create what looks like an excellent box set collections of the classic titles we already know we love, so that's a good thing, right?
Using the various sites I browse, I've put together my list of titles announced so far for this year that I'm interested in. This isn't comprehensive, keep in mind... just the stuff that jumps out so far. Some of it is on the list because I haven't seen it and need to, some of it is on the list because it's absolutely essential to any good collection, and some of it is on there because I'm just plain curious:
January 27
ALICE IN WONDERLAND: MASTERWORKS EDITION
THE SAILOR WHO FELL FROM GRACE WITH THE SEA
TIME BANDITS – Divimax Edition(Anchor Bay)
February 3
PLANET OF THE APES: SPECIAL 35th ANNIVERSARY EDITION
VANISHING POINT
February 10
H.R. PUFNSTUF: THE COMPLETE SERIES
MR. BILL'S DISASTERPIECE THEATER
NEWSRADIO: THE COMPLETE FIRST AND SECOND SEASONS
WONDERLAND
February 17
STOKED: THE RISE & FALL OF GATOR
February 24
JAMES: GETTING AWAY WITH IT LIVE
SPY KIDS 3-D: GAME OVER
March 2
MR. TOAD'S WILD RIDE
WITHOUT A CLUE
March 9
SCHINDLER'S LIST
March 16
THE COMITTMENTS: SPECIAL EDITION
VERONICA GUERIN
March 23
BEYOND THE MAT: DIRECTOR'S CUT
SPLASH: 20th ANNIVERSARY EDITION
March 30
THE SUNSHINE BOYS
April 6
THE MATRIX REVOLUTIONS
THE PINK PANTHER BOX SET
April 13
BABYLON 5: THE COMPLETE FIFTH SEASON
KILL BILL VOL. I
July 6
BUFFY THE VAMPIRE SLAYER Season Six
August 17
MARY POPPINS: SPECIAL EDITION
October 5
ALADDIN: SPECIAL EDITION
All release dates are subject to change, and I'm sure there's a lot of great stuff I've missed. Feel free to e-mail me and tell me what should be on this list that isn't.
FEATURED REVIEW: SUPERFLY
This is part review, part tribute. It is a sad and strange coincidence that Warner Bros. finally put this classic out the same week that Ron O'Neal, star of the film, finally succumbed to his battle with cancer. He was 66 years old, and I wish he'd been around a little longer so that there might have been a chance for people to see this new disc and maybe offer O'Neal one last round of applause for his role as a cultural icon.
Hats off to Warner (except for their shitty cardboard packaging, annoying as always) for putting together a disc that manages to not only offer up the best print I've seen of this extremely low-budget feature, but also places the film in the proper cultural context so first-time viewers now can get some sense of just how important SUPERFLY was to audiences when they first saw it in 1972. New Line did the same thing last year with their release of THE MACK (you can read my review of that here), and I think it's important. So many younger viewers who have never seen these films think they're jokes, campy, a relic of a particular time. And, no doubt, the style in a film like SUPERFLY was hip for a split-second, the exact moment the film was made. It's dated now, absolutely. The story that's being told, though, is not, and there's a lot of value to the way Gordon Parks Jr. shot the film so that it feels urgent and real, even now.
Parks Jr. was given a shot at directing a feature because of the success his father, Gordon Parks Sr., had just had with THE GIVING TREE and SHAFT back-to-back. Parks Jr. was an acclaimed photographer in his own right, something that played into the way he shot SUPERFLY. He brought a documentary sensibility to the shoot, and the fact that everything was so fast and so cheap only played into the overall aesthetic. The film practically sweats, it's so desperate. Credit for much of that belongs to O'Neal, who owns the film from the moment he shows up in it. His hair straightened, giant sideburns framing his handsome face, O'Neal looks like a lion, and he's on fire all the way through. Shakespearean-trained, O'Neal plays Youngblood Priest as a man who knows better, a man who wants out of what seems like no life at all. Priest has built a good family of drug dealers on the street, maybe 50 strong, but as the film opens, he's already tired. He's tired of his partner Eddie (Carl Lee), who doesn't understand. "You're gonna give all this up? Eight-track stereo… color TV in every room… and you can snort a half a piece of dope every day. That's the American Dream, nigga!" He's tired of low-level fuck-ups like Fat Freddie (Charles McGregor), who doesn't have Priest's money, but who doesn't want to do anything to get it back. He's tired of crooked cops and getting jumped by junkies and having to chase down his money. All he wants is enough money to get out, enough cash to give him a choice. Any choice. The tragedy, of course, is that without drugs and hustling, Priest has nothing. He has become the hustle, and he's starting to realize it.
One of the reasons this film holds up so well is the score by the late great Curtis Mayfield. The movie builds to a climactic showdown with the cops, but it's not traditional good-guy/bad-guy stuff. Instead, the cops are crooked, and Priest doesn't win by being right. He wins by threatening to kill the Deputy Commissioner's whole family, kids included. It's an ambiguous ending at best, although if you watch Washington Hudlin describe theaters in black neighborhoods when that scene played, it was the end of ROCKY, bringing people to their feet, cheering. Mayfield's score deglamourizes the film, offers up a powerful poetic counterpoint to the images we're seeing onscreen. After all, Ron O'Neal's a charismatic man, and seeing him with the amazing El Dorado Cadillac and the fly clothes and the fly ladies, it's no wonder he became a fashion icon for a time in the '70s. He was imitated in image, but Mayfield's score urges viewers not to imitate the character's lifestyle. I just recently picked up the awesome Rhino CD box set CAN YOU DIG IT? THE '70S SOUL EXPERIENCE... and one of the highlights of the 136 tracks is Mayfield's "Freddie's Dead" from this soundtrack. Great stuff, even out of the context of the film. I love seeing Mayfield actually perform "Pusher Man" in the film.
Time's been kind to this film, and so has Warner Bros. Home Video. In addition to the film, there's a secondary audio track with Dr. Todd Boyd from USC's school of cinema and television, a documentary look back at the film, a featurette shot in 1972 with O'Neal, and a great, if short, audio interview with Mayfield. This is one title that's worth picking up for anyone with even a passing interest in seeing one of the best films of its genre and perhaps remembering a great actor who never quite found the fight roles in Hollywood after this.
FROM THE SHELF
We're going to do this a little differently from now on, mainly because things changed at the Labs. The way I watch discs is a little different as a result, and it should make this column a little more jam-packed as a result.
I got a Samsung player around October... right around the time I had to stop writing this column for a while. It's a five-DVD platter, so I can just load it up in the morning and watch all day, basically. On a good day, we can even change the platter and start again.
From now on, I'm going to review the films grouped by platter, since that's how they're getting ingested over here. Part of the fun of having a changer like that is the odd collisions of theme or cast or the way one film can bleed into another when watched back-to-back. It also makes it nice when I'm trying to work my way through a box set of something. Just put it all in and watch straight through.
I'll be starting this section of the column next week, but I'm cutting this column a little short so I can get a special edition ready for this weekend. I want to go over 2003 On DVD and highlight some of the best and worst releases and trends in the format. When we get down to it for real next week, expect as many as 40 reviews per column. We've got a lot of lost ground to cover, and I'm eager to get to it.
For now, though, it's been nice getting warmed up again, and I'll see you this weekend.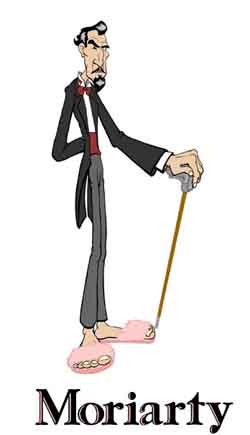 + Expand All

Jan. 21, 2004, 6:16 p.m. CST

by pvecu

Jan. 21, 2004, 6:19 p.m. CST

by IAmJacksUserID

Jan. 21, 2004, 6:29 p.m. CST

by Josef K

Whats this crap about a "Mrs Moriarty"?

Jan. 21, 2004, 6:30 p.m. CST

by Sarah

Can I borrow your Black Adder discs? I'll leave my watch or something as collateral... ... or better yet. Has something gone into the place that used to be Dave's Video? Rent storage there, loan out DVDs, maybe charge for the service and presto! Storage problems solved!

Jan. 21, 2004, 6:36 p.m. CST

by TenDeuChen

Argh! Why do you get to have a Cowboy Bebop Perfect Sessions Box when I couldn't find one? Why? Why? Why? All I have are the 6 individual sessions...Oh well...It's still really cool that you have it! and enjoy B5 Season 4...I just finished watching it the other day...wow...JMS is amazing...

Jan. 21, 2004, 6:48 p.m. CST

by Nordling

That's a lot of DVDs. I spied ICHI in there... me wantee...

Jan. 21, 2004, 6:53 p.m. CST

by Silver Shamrock

It takes 30 seconds to dust off your tv set. This article by Mori isn't meant as a brag, but as a desperate cry for help. He is suffering from PRODUCT ADDICTION, where his viewing to purchasing ratio is wildly off-kilter. This is an addiction just like anything else. Go cold turkey and don't buy another DVD for a month Mori! Does the idea make you break out in a cold sweat? Stop the madness! And real men don't own a copy of Bend it like Beckham.

Jan. 21, 2004, 6:57 p.m. CST

by FloydGandoli

Nice to see that Mori is a fan of all things Whedon.

Jan. 21, 2004, 7:08 p.m. CST

by George Newman

I gotta get this. I wonder what it'll come with...

Jan. 21, 2004, 7:30 p.m. CST

by TedSallis

and YOU NEED HELP! At least it's helping th economy. Boycott Wal Mart! Keep your money local rather than in an offshore bank account!

Jan. 21, 2004, 7:32 p.m. CST

by McLuvin

i couldn't name half of those movies in your 'bedtime collection'...oh and what's MR. TOAD'S WILD RIDE?!?!?!?

Jan. 21, 2004, 7:43 p.m. CST

by Flexfill

This DVD can't get here fast enough. Best non-LOTR type film of the year.

Jan. 21, 2004, 7:46 p.m. CST

by DukeDeMondo

Mori, i have always enjoyed your writing on the site, and indeed your appearance on the Jason X DVD was a highlight, but now, good god. We share the same addiction of DVD consumption!!! This last couple of months i have bought nigh on 50 DVD's which i am only NOW getting around to watching. Gonna crack that Mondo Cane 8 disc set properly this week. But, so much to choose from!!! How can one refuse prisine prints of The Story Of Ricki with such glorious extras?? Or Night And Fog, the criterion edition, or Fulltime Killer at such a good price, or, egads, Kwaidan in a jaw-slappingly beautiful transfer. Not to mention that Onibaba has just came out on region 1, and Wisconsin Death Trap is waiting in the wings of my favourite web-store, if only i can convince my fiancee that such a purchase is essential to my spiritual wellbeing!! Plus, Queer as Folk 4-disc set in HMV (the UK original, not the US remake!) Just finished watching the US ALI G series, which i was initially dissapointed by, but on DVD, one after the other, i laughed my kecks off. And so much to come!!!! Ichi The Killer, the original Anime, not to mention Citizen Toxie which should arrive in the post in a couple days, and ... ARGGHHHH

Jan. 21, 2004, 8:33 p.m. CST

by Renata

Criterion released a version of this. Well worth owning for anyone who wants something different.

Jan. 21, 2004, 8:34 p.m. CST

by Yossarian

I mean, come on! How many times are you actually gonna watch "Bedazzled"? There are very few movies I will watch more than once. Rent, watch, return; save a lotta cash in the process. Hey, I have the same TV if that's a 53" panasonic HDTV.

Jan. 21, 2004, 8:38 p.m. CST

by Kagero

Goddammit. Later I'm going to post a link to pictures of my super-sweet HDTV that I've posted on my website and maybe some pix of my collection of Jughead and Archie comic books. Oh, and BTW, I have NOT ONLY and XBOX, but a Gamecube and a PS2 also!! Suck on that Mori!!! ;) I also have like 18 Pentium 3's ALL WITH NVIDIA GEFORCE FXs and a HARD DRIVE FULL OF GAY PORN

Jan. 21, 2004, 8:39 p.m. CST

by Filthy Fox

If you want to collect something really geeky than I suggest collecting old laserdiscs. Where else can you hear commentary for Raging Bull, Taxi Driver, Crash, The Last Picture Show, and Baron Munchaussen. I have all those and a lot more! (Although I'm holding out on the Frighteners Signature Series, I hope to God that it is released on DVD, cause 200 bucks is way too much for any movie.) I have also only been collecting laserdiscs for a year and I'm only 21 years old! Fuck Your Scarface Briefcase!

Jan. 21, 2004, 8:47 p.m. CST

by eg4190

My friends tell me I have a problem with compulsively buying these things and I only have about 200. I mean, it looked like you had about a thousand discs in that collection... assuming they were all 2 hours long and you had 4 hours of free time every day to watch movies, it would take you a year and a half just to watch the ones you already have once. (And there were a lot of TV sets in there, so it's actually a lot longer than that). Is it really worth $15-$20 a pop for a movie you can only conceivably watch 2 or 3 times before you die? Netflix, man, Netflix.

Jan. 21, 2004, 8:53 p.m. CST

by BenDevil

CAN I HAVE SOME OF YOUR DVDS? IV'E ONLY GOT ABOUT 214 OF THEM. I COULD SURE USE MORE.

Jan. 21, 2004, 9:15 p.m. CST

by bioforge

That reminds me ! Time to fire up dvdshrink...

Jan. 21, 2004, 9:20 p.m. CST

by -Halfscan-

I dunno.. I kinda expected to see a larger collection. I've got over 400 titles (many of which mutli-disc sets.. anywhere from 2-6 discs)... for a total of over 600 discs. Could also toss in the girlfriends nearly 100 discs. I mean damn... none of my shit is "comped", all of it's store bought, and it's freaking organized, shelved, cataloged, and clean. -Half

Jan. 21, 2004, 9:23 p.m. CST

by MaulRat

I was looking at the first few and though.. Phht... I got more than that... then you hit me with that black book shelf... Nice collection, I see some Black Adder.. nice.. (second series with Queenie and Melchie was the best).. Didn't think much of Identity.. found it predictable.. Great to see Whale Rider in there though.. BUSTER KEATON AAAAAMEN!!!... Hey Does anyone remember the deleted scene from High Fidelity with John Cusack going all kid-in-a-candy-store over the tit-flashing mom from Vacations vinyl collection?.. that's how I'd see myself in a trip to M's place.. Ohhh sex pistols "god save the queen".... ohhh... WTF??? ROLLERBALL??? I hope that's the old James Caan version and even then that you got it for FREE?!?!? ahh... acceptable I guess given the rest. and for the record.. Mr Deeds was not even Adam Sandlers worst.. Bet you don't have THE DAMBUSTERS though, and I don't see THE SEVEN SAMURAI anywhere there, that was saaah-wweeeet-aaah .. although I must admit I don't have any of your box sets... well.. except futurama.. FREEDOM FREEDOM FREEDOM Oi! *BAMF*

Jan. 21, 2004, 9:47 p.m. CST

by jimmy_009

Jan. 21, 2004, 9:50 p.m. CST

by jimmy_009

Jan. 21, 2004, 10:27 p.m. CST

by BillEmic

You say you picked up a DVD of DRIVE, the Mark Dacascos actioner. DRIVE is one of my favorite, favorite, *favorite* films of all time. I must ask: is this a new print or edition of the DVD, or did you just happen to find an old copy on the shelf? Is it the director's cut?! Argh, I need the director's cut on DVD but Drive on DVD is literally IMPOSSIBLE to find. Someone...help...me...

Jan. 21, 2004, 10:43 p.m. CST

by Moonwatcher

Back when Mori started this column half of you cretins complained that he wasn't churning out his copy fast enough. Now he's shown you he's scheduled thru Judgment Day, and you're providing amateur analysis just because he's got every title you'll never come close to owning? Lighten up, people! Mori had the grace to invite us into his living room so that we could do the cyberspace equivalent of putting our feet under his table. Real guests don't disrespect hospitality. Obsessive? Yeah, I suppose. But it's not an excuse to hide behind your bogus names and feel superior. And Mrs. Mori, whoever you are, I apologize on behalf of all the no-nothings who disrespected you.

Jan. 21, 2004, 11:08 p.m. CST

by Ribbons

There's dust all over your TV!

Jan. 21, 2004, 11:11 p.m. CST

by PumpyMcAss

I saw that movie over a year ago! Thing better come out as a Criterion Collection DVD or something.

Jan. 21, 2004, 11:23 p.m. CST

by Ribbons

I wrote up that last post for the irony, but looking back at some of the earlier remarks made on this talkback, it appears that there are actually people who would look at a one's DVD collection and make fun of them for having dust on his TV set. Whatever. Hey fellas: his "cry for help" is no more conspicuous than your vain attempts to cut someone down for having a messy room. Just remember that next time mom tells you to put your shirts in the hamper.

Jan. 21, 2004, 11:28 p.m. CST

by Ribbons

Sorry to everyone for the poor grammar in that last message. Nice collection, Moriarty. I guess I'm gonna have to go buy a convertible now....

Jan. 21, 2004, 11:32 p.m. CST

by Ribbons

Also, I don't think that owning DVDs makes you any more special than anybody else. That was also a joke. And not to sound too much like a barnacle, but don't listen to these assholes Moriarty. I wouldn't necessarily say you're "living the dream," but as long as you're happy and working you shouldn't have to take advice from a man who calls himself Monkey Ass.

Jan. 21, 2004, 11:34 p.m. CST

by Ribbons

I also don't have a problem with Monkey Ass, but you know, your nickname's Monkey Ass. Ribbons isn't much cooler, but visually...whatever. I'm not trying to censor you, dude.

Jan. 21, 2004, 11:45 p.m. CST

by Jon E Cin

I have been looking for ED Wood for a long time. I guess it was discontinued and this is a re release type deal.

Jan. 21, 2004, 11:47 p.m. CST

by SK909

Jeez... you guys are unbelievable. He's obviously just trying to share something that is very important to him with everyone and you assholes gotta troll... and being addicted to buying dvd's is a HELLUVA lot better than a lot of other things I can think of.

Jan. 22, 2004, midnight CST

by TheGinger Twit

dude, what do you do in your spare time?

Jan. 22, 2004, 12:06 a.m. CST

by TheGinger Twit

Y'know, I'm quite content to just go down blockbuster and hire 1 movie every couple weeks or so... and even then I can never find anything I want to watch - so I get an old film I remember when I was a kid.

Jan. 22, 2004, 12:14 a.m. CST

by microwavable?

i could have sworn the 10th anniversary DVD was supposed to come out this year. anybody know when?

Jan. 22, 2004, 12:34 a.m. CST

by Cash Bailey

One (or even two) NEWSRADIO box-set, coming up!

Jan. 22, 2004, 12:37 a.m. CST

by CranialLeak

Or maybe I'm confusing Moriarty's 2003 list with someone else. Anyways, clean up the collection a little (meaning -- sell some of those damn mediocre dvd's that you'll never watch again), and then clean up the collection a little (meaning -- get the fake Mrs. Moriarty a vacuum cleaner and duster, or do it yourself).

Jan. 22, 2004, 12:38 a.m. CST

by where_are_quints_hobbit_set_reports

It's worse than that, except with books, which are fatter and take up more space. The only DVDs I own are a few pornos I watch on my laptop. I don't have a TV, and for me being in a theater (or better, a drive-in) is an integral part of the movie experience.

Jan. 22, 2004, 12:48 a.m. CST

by where_are_quints_hobbit_set_reports

Moriarty is hardcore and you haters are transparently jealous. If I was a screenwriter rather than a novelist you bet your pale, pimply fanboy ass I'd have a collection like that. Shit, it's not like he's collecting anime figurines or something stupid. If you can't understand that film is his passion, his career, and his hobby then you're on the wrong site.

Jan. 22, 2004, 1 a.m. CST

by earl of sandwich

If you work in the home video business (or suck the dicks of the people who do), you get most of that shit free in the mail. About 70% of those filthy pics are filled with crap that Moriarty would never pay for, but shit, free?, why not. It is nice to get stuff for free, but fuck dude, don't flaunt it as if you bought it. You are a shill who uses free goods to boost your collection in the eyes of people who would probably be more appreciative of the studio's gesture than you. In the business we despise gluttons like you.You are a bloated toad, farting atop your free pile of swag.

Jan. 22, 2004, 1:02 a.m. CST

by Aguirre'sWrath

When will this be all end all of 80's teen REBEL WITHOUT A CAUSE knock off films ever come out on dvd? Can't find any info on it anywhere. Don't let this beauty fall through the cracks. It's Darryl Hannah in her prime(84')...and naked for christ sake.

Jan. 22, 2004, 1:56 a.m. CST

by xtremepizan

Maybe you want your's to be on par with ole Moriarty's. First let me say I don't mean to state the obvious, so you talkbackers in the know, shut up and leave me alone. Second, I am giving information in the hopeful exchange for other information. Third, what I am going to say could bother some folk, so if you're to square stay away. Okay, like most of you, I've had an addiction to DVDs for some time. I have bought over five hundred, but not all of us are internet millionares (kidding), and as I get older, I realize I can't really afford to spend all this money anymore. Here's what I did and I recommend to you. I bought a Pioneer DVD burner ($160 minus $30 dollar rebate). I then bought DVD X Copy ($69.99 basic edition), a program to burn copyrighted DVDs for "backup" purposes. By that I mean it asks you if the DVD is borrowed or rented, trust me: click "NO". I then bought numerous Blank Fujifilm DVD+Rs in 25 packs for $49.99 and the more on sale for $35.99 (also for 25). I then found a website called US Plastic Corp, http://www.usplastic.com/catalog/default.asp, that sells dvd cases for .35 cents a piece, less if you buy in bulk. Next I found numerous websites where you may download covers. dvd coverart.com is a nice one, it charges you about .10 cents acover and offers unique custom covers. If you want to go for free try http://www.cdcover.nl/index2.html or http://www.cdcovers.cc/, the latter with lesser quality, but with more content. Add it up. I paid $130 for the DVD writer, $70 for the copyright busting program (get it for free if you know where to get it), at the most $2 a disc, .33 cents a box and, at he most, .10 a cover. After the initial costs I pay, max, $2.43 per dvd. How you get the DVDs to copy is you business. I recommend you do what I did: get a girlfriend that works at a DVD rental store. And most importantly: never underestimate your public library! They gots DVDs too! Sorry, I have a massive DVD collction worth a couple thousand dollars, but I can't pay for it anymore. As much as I might try to become a hig paid internet movie "reviewer" the price is getting to steep. Anyone can tell you that DVDs are generating more money than ever. So what's there solution? To charge more!! As DVDs make more money and become cheaper to produce, the price has consistently gone up. Trust me, I've worked around them. Fuck them and their greed, do your own thing. I still buy, I just bought the Lonney Tunes Golden Collection and Melvin Goes Dinner: DVDs I'd like to support with my dollar. Not bullshit like SWAT and Bad Boys 2, fuck that sheat. Anyway, I only offered the advice to get some in return, the advice Moriarty asked for. I live in a small space and need a way to store the DVDs. Help me! I need to econimize my DVD space. And If this site has any balls they'll leave this post up. I'm sure the Amazon name dropping is still earning them a pretty penny. Either way: HELP ME! What do I do wih all my DVDs.

Jan. 22, 2004, 2:14 a.m. CST

by Grando

... Please tell me you don't play your PS2 through a shitty composite conection? Get thee an RGB SCART lead immeditaly! Would you watch a DVD through such a crappy connection? No, so why mar your PS2 enjoyment with the fuzziness that only composite can bring.

Jan. 22, 2004, 3:38 a.m. CST

by speed

my take on this is: if you are going to photograph your house and put it on the internet (which i think is interesting) and place dvds/games in positions they normally wouldn't be in for the sake of the photo, then you should also take the time to dust the tv. BUT it was a pretty interesting article on dvd addiction. I call it that because it well and truly is. good or bad I don't really know, but, i will say that i was stunned. not by the number of dvds he has (some are free, which comes with the territory), but with his passion for it. half of me wishes i had that type of driven obsession and the other half enjoys being able to think about other things. and if you want to organise all your dvds then i suggest you get rid of some of them and then make one room in your house the dvd storage room. then in your bedroom and living room having mini bookshelves for new titles etc. that in my opinion is the best way to organise if you have the space. just buying bookselves isn't the answer to your problem! you need a total solution!!:) and making a catalogue of them on your computer starting from now is vitally important to the longevity and accessability of the collection. that way in ten years time when you want to find something you will know exactly where to find it. you want someone to do it, then pay a student studying library science to do it as a project. you wouldn't have to pay much and they should be able to set up a pretty good database on your computer. it might sound anal to be so thorough about organisation but when you have so many of one thing it's the only way to keep enjoying it in my opinion. and i don't know if the links to the amazon pages are paid for or not but i like the idea. and if you are getting paid for it then it's an even better idea!!

Jan. 22, 2004, 5:44 a.m. CST

by JimmyRabbit

All jealous hahahahah and btw. IN HOLLAND WE GOT CITY OF GOD, ICHI THE KILLER, ED WOOD, BATTLE ROYALE ETC. ALL FOR SALE BWAHAHAHAHAHA AND I GOT EM ALL BWAHAHAHHAA LOSERSSSS

Jan. 22, 2004, 7:31 a.m. CST

by Han Ol' Buddy

When you're getting most of that shit for free. I have abuddy in L.A. whoe does media buying and he has a bigger collection than I do, and it's because he gets almost all of it for free. I would say that in Mori's collection, there's about $40,000 (retail value) of DVDs there and I hope to God that someone wouldn't spend that much money on friggin' DVDs. Take a vacation, open a retirement account. I've personally found that DVDs are a huge waste of money. I try to buy movies that I see myself actually watching over and over again or something that requires multiple viewings. Band Of Brothers set, Futurama sets, Simpsons sets, Sopranos sets, Close Encounters, The Thing, 2001, Hunt For Red October, Brazil Criterion Collection, etc. Kudos on the collection, but seriously, it's the road to pastiness, fatness and a crippling fear of interaction with others. Beware.

Jan. 22, 2004, 8:08 a.m. CST

by Human Tornado

Just buy the original brazilian 2 disk set, which brings pristine transfer, english subtitles, 5.1 original portuguese track and actors workshop on disk two (they are mostly amateurs, ya know). http://www.submarino.com.br/dvds_productdetails.asp?Query=ProductPage&ProdTypeId=6&ProdId=210909&ST=SE

Jan. 22, 2004, 8:48 a.m. CST

by gg

Okay....no offense is meant by this post, because to some extent I understand the gotta-have mentality of collecting. I don

Jan. 22, 2004, 9:14 a.m. CST

by AlgertMopper

Jan. 22, 2004, 9:32 a.m. CST

by trouserpress

I'd be cross if I wasn't so jealous. Mind you, I could watch DVD's all day long too if I didn't have a job.

Jan. 22, 2004, 9:32 a.m. CST

by TheGinger Twit

Jan. 22, 2004, 9:49 a.m. CST

by Lost Skeleton

Panosonic Widescreen (although mine is 53 inches), the same Sony set up, a PS2 and the same problem storing our DVDs. Hell, we even have the same way of storing our DVDs into watched, haven't watched yet and the just for girlfriend pile. Damn...Mori! Are you my white twin? "2" 7/4/04

Jan. 22, 2004, 10 a.m. CST

by Windowlicker74

Jan. 22, 2004, 10:16 a.m. CST

by Itchy

Seriously. Now my 60" Sony GWIII LCD with the Xbox HD pack and Yamaha driven surround sound ... now that is something worth posting ! As far as some of the more embarassing elements in your collection, I hope to god you didn't pay money for all that crap ... my most embarassing DVD is either Lethal Weapon 4 or StepMom, both of which were shipped to me free when I bought my DVD player 4 years ago.

Jan. 22, 2004, 10:17 a.m. CST

by porco_rossi

It is the day of THE GODS MUST BE CRAZY I & II!! WOOOTT! Fuck that must be one of the best comedies of all time! THE ONE COKE BOTTLE TO RULE THEM ALL!! LOL. Sure the second one sucks in comparison, but the first one is frickin hilarious, !!@#! is a dude! :-)

Jan. 22, 2004, 10:36 a.m. CST

by Pontsing Barset

Is it my imagination? Are there always this many monkeys slinging shit for the sake of shit slinging? Go make your own site. Geeze, and you asswipes call Moriarty a loser? Boggles the mind...

Jan. 22, 2004, 10:44 a.m. CST

by Jon E Cin

I am so jealous...argh! 9th one up from ghost world in the first pic. Maybe I am seeing things.

Jan. 22, 2004, 11:03 a.m. CST

by UnKleBucK

Moriarty: Did you know you could get Buffy Season 6 on region 2 right now for

Jan. 22, 2004, 11:14 a.m. CST

by hipcheck13

Seriously, what a joke. Nick over at CHUD constantly talks about the never-ending stream of free DVDs he gets in the mail from every film company/distributor/PR shill imaginable. At least HE'S forthright about it and doesn't act like it's some kind of pissing contest. Hey, let's try this - instead of all this different stacks for viewed/non-viewed DVDs, make two stacks - ones you've paid for, ones you've received for free. I imagine you'd have just enough room for the free ones in the garage (if your car's parked on the street) and you can probably fit the free ones in a bread basket or something.

Jan. 22, 2004, 11:22 a.m. CST

by hipcheck13

I stand corrected - by myself, that is.

Jan. 22, 2004, 11:47 a.m. CST

by phanboi

Jan. 22, 2004, 11:50 a.m. CST

by Jotham

I have that same Star Wars bank...isn't it really annoying?

Jan. 22, 2004, 12:09 p.m. CST

by Dr_Zoidberg

I would say I have a good DVD collection. I have about 220 DVDs and they are all titles that I will watch again (boxsets count as one). I don't understand how you can sit and watch 5 films a day. Ok, I've done it before, but maybe ONCE in my entire LIFE. I don't mean to judge you, but you must be missing out on some of the other things life has to offer. I'm a big film geek, I'm also a film student (film-making that is) and film is generally "my life". But I do other things as well to give life some spice and variety. Just by showing your DVD collection it tells us you have no life outside of film. But as long as you're happy I suppose that is all that counts.

Jan. 22, 2004, 12:29 p.m. CST

by Boris Grushenko

Mori's a James fan. I bought the two-disc live CD that came out last year and had considered purchasing the DVD from Amazon UK and then trying to find a DVD player that played that regions DVDs. Now I don't have too...*****************************On a separate topic... Purchasing DVD's is an addiction. I had my own addiction with Laserdiscs back in the early 90s (which is like Heroin, compared to DVDs which are more like grass, when you consider LDs started at $40 and went up from there). I eventually owned about 200 LDs, which was a modest sized collection when you consider their price and availability. Now they just sit collecting dust in a closet in a spare bedroom. What a waste of an investment. Everytime I get the urge to start buying DVDs, I just think of those LDs collecting dust in my closet and I keep the money in my wallet. Five minutes later, that urge to buy the DVD has passed and I am filled with relief. The problem with DVDs (or any such addiction), is once you start, you can't stop. Owning 25 isn't enough. Then owning 50 isn't enough... and it grows and grows. You've got to keep feeding the beast. Half the time you lose the urge to watch the movie after you've bought it, and it just sits there on your shelf in the shrink wrapping. Slaves to Madison Avenue. Join Netflix, that's what I did. And I'm happier, and richer for it.

Jan. 22, 2004, 12:31 p.m. CST

by Huevo

Jan. 22, 2004, 12:32 p.m. CST

by Mr. High

BWHAHAHAHHAHAHAHAHAAAAAAAAAAAAAAA!!! I wouldn't even pick that up if it was FREE!!!!! But, it's nice to see that "Without A Clue" is finally available on DVD. Anyone know anything about a little moved flick called "Nate and Hayes"? Tommy Lee Jones and the guy from "Caddyshack" are in it? Pirates, cannibals, cool Japanese guy who like to cut people, gross villians, and all that? I've been looking for it forever and it's nowhere to be found. Nice collection, Moriarty. I must remind myself that when I'm out your way to drop in and steal it.

Jan. 22, 2004, 12:44 p.m. CST

by MiltonWaddams

did i see bedazzled in there? how many times are you gonna watch that one? seriously.

Jan. 22, 2004, 12:59 p.m. CST

by durhay

and then realizing your eyesight and hearing peaked years ago and every day gets a little bit worse.

Jan. 22, 2004, 1:39 p.m. CST

by Rapmaster C

If all you guys are saying "Oh what a crap article!" and "Why waste time on this shit!", then why the hell are you in the talkback. Go somewhere else if you don't like this site, you stupid, foul-mouthed morons. Anyway, cool collection Moriarty. I have never seen anyone have that many DVDs! Too bad your impressive collection has brought you a reign of fire, rather than cheers of admiration. Nice work anyway.

Jan. 22, 2004, 2:10 p.m. CST

by Zodlander

Get rid of the shitty to medicore titles. You don't need them and you'll probably never watch Head of State again anyways. Pawn, eBay, whatever. Take the money and buy some storage cabinets or a widescreen for the bedroom.

Jan. 22, 2004, 2:22 p.m. CST

by Boris the Blade

For the price of 4 shitty dvd's, you can have a nice middle-aged woman come over and clean that rathole for 4 hours.

Jan. 22, 2004, 2:24 p.m. CST

by zer0cool2k2

Man, I remember when Most movies would come out on VHS at $40.00 a pop or more. Huge blockbusters started hitting $19.99 so they could sell a ton of 'em, and less popular films might cost you close to $100.00. I had a fairly modest collection of VHS movies, all the Star Wars and Star Trek, the first two Batman films, and a few of my all time favorites. A collection that easily fit in the bottom of my entertainment center. Now with DVD, I've got close to 300 movies, plus several TV series (Alias, Angel, Buffy, Smallville, Sopranos, Wiseguy), not to mention a few music titles. Point being, I can understand how easily you can get sucked into the DVD addiction. A movie comes out, the local chain stores all set it at around 15 bucks, and you start to think either: "I liked that movie, I'm going to pick it up while it's on sale", or "I wanted to see that movie, I'm here, so I'll buy it and save a trip to Blockbuster, where it might be all checked out, or I might really like it and want to buy it, so the rental fee would be wasted". I went through a period of buying practically every new release, and believe me, I bought a lot of crap. I've learned to only pick up movies I really know I want to watch again and to share with others. I still buy a lot of movies, and I'll complete the collections of my favorite series, but I'm managing to avoid most of the crap now. I've also learned the value of places like the Movie Trading Company (A lot of people will buy TV series sets that they heven't seen, and then trade them in at the MTC, I got Alias there for $30.00), and Blockbuster's various pre-viewed sales. A lot of what I buy now is older movies that are hitting DVD at pretty low prices. A big part of the pleasure of a big collection for me though is in discussing favorite movies with friends and family. "OH, you haven't seen that, well let's pop it in".

Jan. 22, 2004, 2:48 p.m. CST

by Evil_Monkey

Wow, there's someone else out there with as many dvd's as me......nice one, makes me feel a little better. I noticed you have Whale Rider, still need to add that to my collection.

Jan. 22, 2004, 3:02 p.m. CST

by COFFINROCK

but Jesus, Moriarity, I hope you've got thick skin, pal. I for one am quite envious of your collection. And to all the dickheads giving you grief on this talkback: Shut the fuck up !Just because one can talkback, doesn't mean one has to; whatever happened to civility ?? Anyway, keep up the good work Mori. I really look forward to your stuff most of all on this site and your passion for all things cinematic is obvious.

Jan. 22, 2004, 3:06 p.m. CST

by BiggestLarz

and try to picture what the owner must look like. Lots of time indoors, so pale. Lots of sitting around, so fat. Bathing takes up time that could be spent listening to the cinematographer's commentary track on Bedazzled, so dirty. Then look at a picture of Moriarty. See how the two match up. It's interesting.

Jan. 22, 2004, 3:08 p.m. CST

by BiggestLarz

Jan. 22, 2004, 3:52 p.m. CST

by M.D. Douche

I just collect pussy with my cock. The only thing faggier than Moris pudgy lil body is the facer. What a pair of FAGGOTS. With any luck internet "personalities" like these guys will shove their heads up each others asses and die from the smell of rotting brains. Maybe Mori should invest in this surgery...http://www.mexicolapband.com/index.php fat fuck. Or he can do a site redisign but lets not get crazy!!!!!!

Jan. 22, 2004, 3:56 p.m. CST

by M.D. Douche

Keep repeating that you mindless dickless robot. Who the fuck are you to tell us NOT to reply. The forum is here live with it or stop using it like a DOUCHE BAG by posting self aggrandizing bullshit and wasting everyones time. What next? Will Moris fatass wife shit out some kids that we'll have to endure like at CHUD?

Jan. 22, 2004, 3:58 p.m. CST

by Barry Duffman

Nobody but the most insane, unemployable fanboy has any need for that much crap. And only a douche as big as Nunziata would actually post pictures of their house and their DVDs and their PS2 console (with the games arranged just so..). Well, Nunz and Chew McWeeny. But The Facer...er..."Blobby McBlob" is right. Most of those are free. he paid nothing for them. This movie news website thing is a fucking racket, man. Buy some bandwidth, steal news from other sources, write badly thought-out opinion opieces= FREE PWESENTS!! Shame on the human race.

Jan. 22, 2004, 4:03 p.m. CST

by manwiththedogs

Jan. 22, 2004, 4:06 p.m. CST

by Dragonfire

Because I sure as hell do.

Jan. 22, 2004, 4:15 p.m. CST

by Vern

I admire your honesty bud but you're gonna be getting shit for this one for at least the next 15 years. there's gonna be newsies hiring teams of scientists to pore over every pixel of those photos to get the dirt on what movies you are willing to own. Just say they were christmas presents is my advice.

Jan. 22, 2004, 4:25 p.m. CST

by Han Ol' Buddy

I have to agree that there are different types of DVD buyers. My least favorite is the people that come into Blockbuster (I work there once a week to supplement my income as an architect and for tuition reimbursement) and buy "whatever's new" sight unseen. Pathetic. Why buy "Freddy vs Jason" for $22 when you've never seen it and it sucks? It's beyond me. Myself, I'm the total nerd that checks websites like this for special edition info and reads reviews about the discs before spending my hard-earned money on them. I won't be buying the Curb Your Enthusiasm set simply because it has only one audio commentary on it. I've seen all the episodes, but would really have liked to hear some commentary on how the show is made, etc. The one commentary was really interesting, but I was very disappointed at the DVD set in general (I rented it).

Jan. 22, 2004, 4:25 p.m. CST

by Han Ol' Buddy

I have to agree that there are different types of DVD buyers. My least favorite is the people that come into Blockbuster (I work there once a week to supplement my income as an architect and for tuition reimbursement) and buy "whatever's new" sight unseen. Pathetic. Why buy "Freddy vs Jason" for $22 when you've never seen it and it sucks? It's beyond me. Myself, I'm the total nerd that checks websites like this for special edition info and reads reviews about the discs before spending my hard-earned money on them. I won't be buying the Curb Your Enthusiasm set simply because it has only one audio commentary on it. I've seen all the episodes, but would really have liked to hear some commentary on how the show is made, etc. The one commentary was really interesting, but I was very disappointed at the DVD set in general (I rented it).

Jan. 22, 2004, 4:26 p.m. CST

by COFFINROCK

Just because one calls oneself a douche doesn't mean one has to smell like a used one.

Jan. 22, 2004, 4:41 p.m. CST

by M.D. Douche

from all the tight pussy I fuck. Better than your stench cockmouth. Now go back to slurping Moris bologne you third rate toadie.

Jan. 22, 2004, 4:44 p.m. CST

by M.D. Douche

16.26.39-15.02.35 1 hour 24 minutes and 4 seconds to be come a hypocrite douche bag. A new record!!!!!!

Jan. 22, 2004, 5:06 p.m. CST

by maxwell's hammer

Jan. 22, 2004, 5:15 p.m. CST

by COFFINROCK

I never set myself up as some paragon of civility...I merely posed a simple question based on the unbelievable amount of shit that Moriarity is taking today and all because he choose to give us a glimpse into his personal life. If you want to quibble about his taste in movies, fair enough, that's what this site is all about. But the vitriol directed at the man is reprehensible. As for me reacting to you calling me a mindless robot or whatever it was, that's not being a hypocrite...that's sticking up for myself. Now go finish your fucking homework.

Jan. 22, 2004, 5:39 p.m. CST

by RobinP

Your apartment looks like my study. DVDs & movie stuff everywhere. Thankfully, Mrs P is every bit as tolerant as mrs Moriarty.

Jan. 22, 2004, 6:04 p.m. CST

by manhattom

comes out on Feb 24th, you prags.

Jan. 22, 2004, 6:13 p.m. CST

by beamish13

His commentaries are always very insightful. Pity his directorial output over the last decade+ has been very disappointing

Jan. 22, 2004, 6:15 p.m. CST

by beamish13

It's very frustrating that so many great films from the 70's, like LITTLE MURDERS and BREWSTER MCCLOUD still aren't on DVD yet

Jan. 22, 2004, 6:29 p.m. CST

by earl_roberts

The guy didn't become Roman Polanski over night, he just showed us some DVD's. He gets them free? Yeah, great. He never said that he didn't! Mori, I gotta agree that you do own a lot of trashy titles. Films that are watchable certainly but definately not worth actually owning. You just aen't gonna wanna watch that shit again. Seeing some of the discs you got though got me excited. There's a lot I gotta see and buy!

Jan. 22, 2004, 6:31 p.m. CST

by Silver Shamrock

Mori being compared to Delux_247, or the fact that I even know who Delux_247 is in the first place.

Jan. 22, 2004, 6:47 p.m. CST

by Jarek

But it's a UK PAL version converted to NTSC and burned to a DVDR. So yeah, not officially.

Jan. 22, 2004, 7:18 p.m. CST

by DocPazuzu

and everyone else who says anything bad about Mori's DVD collection is obviously jealous. Painfully obvious. In fact, it's embarrassing in that excrutiatingly hilarious way as when David Brent in The Office publically humiliates himself repeatedly. Anyone who frequents a movie geek website and comes down on another geek's collecting habits is a sad, sad loser. They suffer from Collection Envy Inferiority Threat Complex (CEITC). Fortunately there is a cure -- about 30 heavy swings to their pointy craniums with a polo mallet.

Jan. 22, 2004, 7:20 p.m. CST

by Charles Grady

Didn't Drew and his writing partner co-write those two films in the late 90s?

Jan. 22, 2004, 7:26 p.m. CST

by DocPazuzu

Whoever it was who was looking for the Drive DVD: it's readily available in Region 2 (PAL) and has plenty more extras than the R1 release. The film itself is the same version as R1. What this means in terms of a "director's cut" I don't know. You can find it on amazon.uk for a mere

Jan. 22, 2004, 7:56 p.m. CST

by Ass_in_Cock

http://www.theonion.com/onion3915/dvd_collection.html

Jan. 22, 2004, 8:31 p.m. CST

by Krinkle

...why doesn't Moriarty have an all-region DVD player and a slew of international DVDs? Man, that opens up a whole UNIVERSE for those who really prize big, big collections... Because instead of having to fatten the collection up with tripe, you can get all the kickass stuff that hasn't been released in this country yet.

Jan. 22, 2004, 11:19 p.m. CST

by spiffy-thedog

Jan. 22, 2004, 11:39 p.m. CST

by Ribbons

....the Black Star crew has us flanked.

Jan. 22, 2004, 11:40 p.m. CST

by Ribbons

Jan. 22, 2004, 11:53 p.m. CST

by Sonny_Williams

that the next time Monkey Ass is 69ing his boyfriend, that he gets the smelliest wettest godawfullest hugest fart ever known to man blown in his face. But then again, he'd probably just lick it up and keep on sucking. What a useless fucking tool.

Jan. 22, 2004, 11:58 p.m. CST

by Sonny_Williams

Don't feel bad about knowing who Delux_247 is. That just means that you not only go to the movies, but you're not one of the asswipes who comes in five minutes after the feature starts.

Jan. 23, 2004, 12:18 a.m. CST

by Kheyser Sogay

It's everyone's favorite queer eye for film guy! I am rather shocked at the treatment this adorable little huggy bear is getting. I read lots of these before I started posting, and this has to be the most vicious one of them all. For Pinkie's sake, give him a break. **Monkey Ass: While your moniker is quite titillating, as anything with "ass" in the mix is to a top guy such as myself, I find your behaviour to be the most appalling. Who cares if Mori Baby is letting his health go to hell, hygiene and housekeeping to fall by the wayside, eyes in need of ever more intense lens correction from staring at either tv or computer screen for hours a day, blood pressure and risk of diabetes skyrocketing because he just can't get up off the couch...what is it to you? Even with all that, this big bear of a geek will always be sexier than you. There's nothing like a film geek bear, by the way. My favorite thing to do, and I would do it to Mori Baby in a heartbeat, is to reenact all the famous anal scenes from cult hit movies, like Deliverance and Pulp Fiction. You know you'd like that, wouldn't you, Drew? You fat, sexy fuck. Back to my point: just leave the guy alone.***Now, to Drew: at some point, your sedentary lifestyle and lethargy is going to restrict blood flow to your pee-pee, and Ms. Moriarty's various plastic orifices, all lubed up with KY just aren't going to do the trick in keeping it hard. E-me. I'll make that shriveled little sausage do tricks you've never even heard of. If you close your eyes, you'll swear it was a girl.***On a related note: DOC PAZUZU-PLEASE STOP EMAILING ME. I AM NOT INTERESTED.

Jan. 23, 2004, 4:10 a.m. CST

by DocPazuzu

As far as I know, I'm not emailing anyone in the TB. However, rest assured -- if I start, you will be first in line.

Jan. 23, 2004, 7:05 a.m. CST

by mudstuff

I have more thna that and im only 22 and dont get freebies!! Flexfill, i cant wait for my copy of L I T to arrive either!!

Jan. 23, 2004, 7:22 a.m. CST

by cockknocker

The uk DVD is the directors cut. Its a fucking awesome film and has the best commentary I have ever listend to.

Jan. 23, 2004, 8:51 a.m. CST

by rev_skarekroe

That's apartment's a real bab-magnet, dude. sk

Jan. 23, 2004, 8:51 a.m. CST

by Blok Narpin

..and I thought warners finally did away with thier subpar cardboard snap cases and joined the plactic case bandwagon. Matrix Reloaded, and Terminator 3 were both Warner releases, and they were both released in hard cases.

Jan. 23, 2004, 8:58 a.m. CST

by Blok Narpin

That comment cracked me up. "The Name's Delux, son. Superstar extraordinaire!"

Jan. 23, 2004, 11:34 a.m. CST

by Han Ol' Buddy

Do you have the Criterion Beastie Boys DVD? Now, that's a great DVD. It's actually worth repeat viewings and gives you some cache. Own it.

Jan. 23, 2004, 11:37 a.m. CST

by Han Ol' Buddy

Holy crap your post was scathing and friggin' hilarious. I searched out that pic of Moriarty and man, that is scary. Very funny.

Jan. 23, 2004, 12:10 p.m. CST

by THEWANKER

Jan. 23, 2004, 12:12 p.m. CST

by THEWANKER

Jan. 23, 2004, 12:18 p.m. CST

by earl of sandwich

Check out a reveiew from a real dvdsite.http://www.dvdfile.com/software/review/dvdvideo_8/superfly.html. If shit-pile Mcgee is going to write reviews, the least he could do was mention how dissapointing this release is for someone who actually has to plunk down cash for it. Bad transfer, shit audio, lack-luster extras, with a special collectiors edition surely in the horizon. Thanks for nothing drew.

Jan. 23, 2004, 12:33 p.m. CST

by Blok Narpin

Renting is for Wimps and Commies!

Jan. 23, 2004, 12:44 p.m. CST

by Pontsing Barset

... this kind of crap makes one want to wipe out entire family trees to prevent these shit monkeys from reproducing and further polluting the gene pool...

Jan. 23, 2004, 2:29 p.m. CST

by AesopRox

Jan. 23, 2004, 2:32 p.m. CST

by AesopRox

noticed a couple selections i also have like requeim for a dream and such but, WHAT THE FUCK WAS BEDAZZLED DOING THERE?? and why wasnt there any mention of chapelle show being released on february 24th cant wait for that

Jan. 23, 2004, 2:57 p.m. CST

by UnChienAndalou

An eternity ago I read that a new GOODFELLAS dvd--with commentary by Henry Hill--was supposed to be on the horizon. I haven't heard a peep about it since, and I'm so tired of waiting for it to come out that I may just purchase the bare-bones edition because G is the best film out there that I don't own in the dvd format. I gave away my pan-and-scan vhs a while ago because I foolishly thought that a new GOODFELLAS dvd would be one of WB's high priorities...

Jan. 23, 2004, 3:08 p.m. CST

by my two nads

Mori, I hope you have an insurance policy out on this load (or a panic room) By the way what did you say your address was?

Jan. 23, 2004, 3:20 p.m. CST

by BillEmic

Since a few of you are bringing up titles you wish were available on DVD, I must add my two cents: I feel it's a crime that Jeff Speakman's THE PERFECT WEAPON has not been released on DVD format! For anyone who's seen it, they know it's one of the most hilarious action films of all time. Jeff Speakman beats the Korean gangs into submission. He gets it right: no love interest, no CGI, just sheer action violence! If any of you want non-stop laughter, try and track down the VHS of this movie. If you're a martial arts/action fan, you won't regret it.

Jan. 23, 2004, 4:10 p.m. CST

by stale mate

I don't know a damn thing about the M dude but if that's the sample of underground hip-hop goodness that I think it is then the man must have at least a semblance of taste. To anyone who listens to any of the artist on the Jukies label -Big ups

Jan. 23, 2004, 4:13 p.m. CST

by Dragonfire

I knew AICN talkback was frequented by pricks who like to come to a movie website and mock people about liking movies (begs the question of wtf are they doing here in the first place), but nothing rams it home like this particular talkback, where every few posts there's a lame, arrogant comment, all because the guy has a big DVD collection. Sorry to break it to you morons but your posts make you sound more sad and pathetic than you will ever know, like you're desperately looking for some way to make yourself feel superior. Sorry Dr.Douche and co, but the joke's on you.

Jan. 23, 2004, 4:35 p.m. CST

by Kraaken

What good is a DVD collection, really. Unless you have some classics that you love to watch, there are too many movies out there to watch over and over. I recommend NETFLIX. I have been using the service for about 6 months now and it rocks! 3 movies at a time - keep 'em as long as you want. Turnaround time is very fast for me (Atlanta). In the past three and a half months, I have received 47 DVD's. If I rented them oin blockbuster at $3.99, it would have run me about $187.00. With NETFLIX, it was $63.00. Can't beat it. My advice - lose the collection, clean up the pad, and get a NETFLIX subscription. By the way, all the moves are in WIDESCREEN, not the butchered format variety.

Jan. 23, 2004, 4:37 p.m. CST

by Blok Narpin

Why is everyone giving him such a hard time for owning Bedazzled?? It's a pretty funny movie, and the disc costs all of 5 bucks down at Target. I haven't bought it myself, but I gave it some concideration. The movie made me laugh, and for that price, why not?? A rental costs 3 bucks. For 2 more you can own it. It's more economical to buy a title like that then it is to rent it. Besides, even if you don't like the movie everyone is entitled to thier "guilty pleasures". I own Supergirl with Helen Slater. I know it's shit. I know it's so bad that it makes Superman IV: The Quest For Peace look like Citizen Kane. Still, I like it and own the 2-disc.

Jan. 23, 2004, 4:47 p.m. CST

by wash

...bahaha I love it. Fags.

Jan. 23, 2004, 4:51 p.m. CST

by wash

Jan. 23, 2004, 5:31 p.m. CST

by Ribbons

It was a sarcastic dig at some of Moriarty's insinuations that he may have contributed to both movies.

Jan. 23, 2004, 5:32 p.m. CST

by Ribbons

Just want to make sure we're on the same page here...

Jan. 23, 2004, 6:24 p.m. CST

by UnChienAndalou

I can't wait until it's released, and I too hope that all the pertinent players participate enthusiastically for the disc 2 material. I think I read on Dark Horizons that Henry Hill was doing a commentary, but I read that so long ago that it could've just been speculation...

Jan. 23, 2004, 7:41 p.m. CST

by Silver Shamrock

delux_247's coke commercial: http://www.coca-cola.com/usa/tvcommercials/index.html

Jan. 23, 2004, 8:08 p.m. CST

by abnguy

I was almost impressed by the collection until you uttered the unbelievably gay line "One of my favorite things is to give movies." That and the fact that you tried to pass off having a Mrs. Moriarty

Jan. 23, 2004, 9:46 p.m. CST

by Tall_Boy

seriously, those are great shows to watch before catching a little shut eye.

Jan. 24, 2004, 12:44 a.m. CST

by buckna

I too fell into the DVD buying craze for awhile. I can remember checking the Bestbuy website every Sunday morning to see what new 2 for $20 special they had that week. Thankfully I have finally gotten myself out of the habit. The people I can't understand are the ones that buy indiscriminately and either never watch the movie or only watch it once. Seriously Mori, when do you find the time to watch all this stuff? Do you ever work? Between the job, family and friends and living a normal life, I have a hard enough time finding the time to watch the 60 or 70 so DVD's that I own now, much less the hundreds Mori has. The thing I run into is that I don't own most of the big blockbusters or classic films that I grew up watching on TV about a million times, so my collection tends to be the more eclectic stuff that suits my own taste. My 'guilty pleasures' if you will. So, of course, when I have people over at my apartment I always get strange looks about how come I own movies like Boondock Saints or Ninja Scroll or Way of the Gun and not movies like Die Hard or Terminator or Braveheart. Why buy those films when they are on freaking TNT or TBS every freaking weekend? Maybe one day I'll find myself shelling out the cash for those, but in the meantime, like Knish said in Rounders "I owe rent, alimony. My kids eat."

Jan. 24, 2004, 1:19 a.m. CST

by sonicboom

One way to get some easy cash: Buy DVDs when they are on sale or given as a free promotion. I got a free DVD (Black Hawk Down) when I bought my Sony DVD player. I got a Princess Mononoke free (which I already had) when I bought Spirited Away. In total I recieved about 8 free DVD's through retail store promotions. Then what you do is return them to a huge retailer (Best Buy) after christmas. Sure they'll give you store credit, but you can use that toward something you really want. About DVD addiction. For about a year I got addicted in trading for pirated dreamcast, playstation, and PS2 games: I now have about 1000 games. The thing is I never play them. The games I play are the the new games I bought for my X-box (I also own all three next generation systems). If you are into movies I recommend the following: NETFLIX (I have it and its the shit). Also my blockbuster has countered Netflix with 2 rentals for as long as you want for $24.99 a month(don't know if its company wide). Lot better than buying DVDs. I do backup movies through DVDXCopy that I like and might rewatch (only 3 so far, all foreign). Movies that I am currently addicted to: LOTR:FOTREE and LOTR:TTTEE. Been using them to put me asleep almost daily, after a few bottles of miller lite :).

Jan. 24, 2004, 3:29 a.m. CST

by Subversive01057

http://www.freaksandgeeks.com/dvd

Jan. 24, 2004, 7:28 a.m. CST

by Avon

Most of which is just sent, not even paid for. This is all about self gratification right?

Jan. 24, 2004, 7:36 a.m. CST

by Avon

I'm not jealous especially as that's what people may put my last comment down to. I mean I have 200+dvds and they're all stuff I actually want as opposed to 1000's of things with a few things I'll ever watch. It's just pretty anal to take photos of a dvd collection and post it on the net.

Jan. 24, 2004, 7:56 a.m. CST

by Blok Narpin

Whats wrong with buying Babylon 5 on DVD? That show is classic. I have all four seasons od DVD, and can't wait for season 5.

Jan. 24, 2004, 3:44 p.m. CST

by THEWANKER

wasn't aware of The Truman Show debacle. Sounds like bullshit, anyway. If anyone deserves credit, it's Philip K Dick. One title: TIME OUT OF JOINT.

Jan. 24, 2004, 9:24 p.m. CST

by Audets70

..and Im a DVD-holic. I really cant stop. I own more than 400 dvds, but I keep buying them...hehe, just kidding. I love movies and thats why i own them. Do I watch every one every day...no! I usually watch them one or two times and then they sit and people in the dorms usually come and borrow them. Its not about watching them to me, its just knowing that I ever wanted to watch a particular movie, its there for me to just grab. Having a ton of dvds has helped for reports in my film classes. I just took a Vietnam class and we had to get and watch 6 outside movies, but they could deal with any war. I own 16 movies that deal with wars, 6 of which are vietnam itself. While everyone else had to rent movies and pay for them, I didnt pay a cent and didnt have to shuffle around town trying to find one. I too bank on free or dicounted dvds whenever possible. Im still trying to widdle away a list of flicks I had on vhs, but about 25% of them are still not out on dvd! Like for free ones, I got one free with Jurassic Park 3, and when I bought Blue Crush/Undercover Brother, Universal had a deal where you got 2 more free, so I added 2 more. When I buy a sequel, usually Best Buy will have a 2 for 25 with it and the original movie...like I did with Bad Boys and Shanghai Noon. I too also bank on the 2 for 20, 3 for 30 deals. You can save at least 10-15 bucks on those deals. I also buy dvds in their first week, when they are usually 15 bucks, as opposed to 20 when they go off sale. The hardest thing to buy are the pricey tv sets. I dont mind leaving 40 bucks for a Buffy set, but damn!!!...Xfiles are like 140 dollars a piece!!! I have seasons 1 & 7, so yeah...I wish I could get movies for free sometimes! I know I have alot of bad movies, but I love my collection and when Im a rich filmmaker,,,,hopefully someday, the collection can only get bigger! Heres a bad dvd collection for you.........Police Academy set(1-7), April!!!! Movies are so bad theyre good, and did I hear a sequel with all the originals in in talks????

Jan. 24, 2004, 11:18 p.m. CST

by Ribbons

Did you just call me "I Hate Myself?" What the fuck? At least I'm civil towards people who don't offend me.

Jan. 24, 2004, 11:33 p.m. CST

by BillEmic

Hey, I'm a big Phillip K. Dick but he has so many books and I've read quite a few that it's hard to keep the titles straight - is Time Out of Joint the one about the guy who thinks he's living in the 50's and does crossword puzzles for a living? I really enjoyed that one and I can see where the Truman Show might have gotten its inspiration from that...however, Time Out of Joint is a lot more ambitious in its scope and concept. It entails a full-scale war between the armies of the earth and the moon!!! That's a lot more exciting than a reality show based around one dude.

Jan. 25, 2004, 9:08 a.m. CST

by Rapmaster C

how is Moriarty able to move in his house, and just who will win the ROyal Rumble? GO BENOIT GO!

Jan. 25, 2004, 9:42 a.m. CST

by Fiscus

C'mon, everyone has a "Bedazzled" or the liked in their collection. I have a huge collection, including a metric ton of Criterions. But I also have room for stuff like Lucas, It Could Happen to You, Batman: The Movie, My Boyfriend's Back and Get a Life: Vol. 2.

Jan. 25, 2004, 11:23 a.m. CST

by DarthBakpao

live in Indonesia!! you can purchase one DVD at only 70-80 cents! but of course we're talking about pirated stuffs. but hell, living in indonesia has it advantages...DVDs are cheap!!

Jan. 26, 2004, 3:40 p.m. CST

by thorpe2go

I can't wait for the Passion of Christ DVD to come out, bootleg or otherwise. Mel Gibson is right; those fucking Jews are to blame!!!

Jan. 26, 2004, 5:32 p.m. CST

by Geekside

I have a tad over 500 films on DVD and 50 Television shows on DVD. Here is a link to the list, http://www.dvdaficionado.com/dvds.html?cat=1&sub=ANF&id=geekside - I am always updating the list, so please check back. I will try and post some digi pics when I get the chance. Ryan

Jan. 26, 2004, 11:07 p.m. CST

by DGB

That's a nice attempt at bragging, but I know of at least three collectors which larger, and better organized collections. Get cracking man.

Jan. 27, 2004, 7:12 p.m. CST

by BoyNotorious

I currently have 2,252 DVD's in my collection with the 12 new releases I picked up today. (1/27) This does not include multiple or bonus discs, the promos, screeners or self burnt discs i've mastered from other mediums such as VHS, LD or DTV rips. That total is based on retail purchases only from any region that has the goods. (Ie. I have a German R2 Red Edition of Dellamorte Dellamore, the superior R4 16X9, 5.1, Ford Fairlane that was released nearly two years ago in Australia. And several 16x9 prints of shitty P&S early UNI and WB titles I located in the UK long before DVD went global. Just to give you an idea of my commitment to my collection.) I proudly own alot of lousy flicks and freely admit to buying anything worthy of a viewing. I figure with Late Fees, and my general anger for the bullshit monopoly of the BIG RENTAL PLACES, i'm saving money by buying everything in the end. I will likely never have time to view each and every disc, nor does that bother me in the least. Isn't the rule of thumb usually: When you want something most, usually that is when you can't find it! Am I addicted, likely. Does it bother me, not so much. Do I normally spout off about the size of my stash, NEVER. Why am I doing it now? I think it SUCKS for the average person to have to look at his collection that he posted and then look at thier lousy few stacks. The average person i've heard only has between 20 and 100 discs in thier collection. Now look at McWeeney's and marvel at the 700 or so you don't have. I think posting those pics friggin sucks when you could have just put it in text and let everyone who would rather believe your exaggerating, do so. By posting the pictures, in my opinion, you've only tried to make yourself look bigger than the rest of the average film geeks and boast about how much you have as a AICN BIG MAN & SCREENWRITER. I think it sucks that you didn't have the respect for others you should have and hope you and your collection rot in hell. It's just as sold out and you and this entire goddamn site has become. Then again, you likely didn't pay for half of them anyway. And anyone who thinks you did is a lameass. (Which makes it even more annoying as i have spent countless years and hours searching everything i have out) I don't claim to be a better person or collector by bitching off like. Then again, I don't need to create a Mrs. Moriarty to display the titles i'm ashamed to admit owning. I proudly boast my copy of most of the titles I saw there and my copies of Gigli, Eye Of THe Beholder, Disturbing Behavior and Pluto Nash as well. Hell, i can't wait for ISHTAR to get released. More than most would admit, and clearly more than you would. I think your post sucks! Just my opinion, and i could be wrong and will likely get deleted and banned for effort. At the least you'll read me! Not that a person such as yourself cares what the normal people think?

Jan. 28, 2004, 6:51 a.m. CST

by MCGhost

but where are the Farscape seasons???

Jan. 28, 2004, 12:28 p.m. CST

by Skyway Moaters

... MAN! The "One-ups-man-ship" on this TB is truly pathetic. Look, nobody ever had a happy life because of how many "Things" they own, and no-one was, or ever will be, more loved and missed after they "shuffle(d) off this mortal coil" because of the size of their DVD collection. At most, the "mine is bigger than yours" posts on this TB amount materialistic wanking, and that was NOT the point of Moriarty's article - you guys missed it apparently...

Jan. 28, 2004, 1:33 p.m. CST

by invasive

I realized that I was headed down the same road to this sick, sad DVD addiction. Really - who the hell can watch all of these things? I just put about 20 DVDs up on half.com for sale. I have a freakin' life to live here.

Jan. 28, 2004, 1:38 p.m. CST

by Rapmaster C

Its rich that you say you're one of the normal people that Moriarty doesn't care about, and yet you make an incredibly long-winded bitch-post about how you've spent so many years building your collection. Its clear that your intention was not to offer constructive criticism, but rather to state "my collection is bigger, ha ha ha!" Moriarty just made an article about his collection; I doubt its his intention to boast or make others feel inadequate. You and the rest of the monkeys here would be best to learn that, before you make fools of yourselves even more.

Jan. 28, 2004, 1:48 p.m. CST

by Rapmaster C

Why is this article still up? Surely Harry or Moriarty are thinking "Hmmm, not exactly much praise from the talkbackers". But I suppose they're used to the crap that's thrown at them on a daily basis. Rather them than me, that's all I can say. What's this leaked Episode 3 stuff that people are going on about? That's what I want: news! Cool news! Can we get some news up in here?

Jan. 29, 2004, 9:45 a.m. CST

by drwatson

Seriously, why would you open a page called

Jan. 29, 2004, 12:56 p.m. CST

by BoyNotorious

If my intention was to go for the "ha,ha,ha, mine collection is bigger" crap you suggested, i'd of merely posted a link with pics of my entire stash and then marveled in my own greatness at having one-up'd the every wonderful Moriarty. Whooo, i'd be a real winner then. I could start my own MOVIE POOPSHOOT and create my own empire of legions who will say anything to kiss my ass cause they think my site is important, hence so am I. Sound about right to you? Only problem is you'd have to be totally retarded to read my post and get that from it. I'm bitching about the fact that posting pictures of his collection was is in BAD TASTE. Anyway you or anyone slices it, read up and realize that, coming from the average person, it makes Drew look like an asshole who is showing off. Nothing more or less. If you got another reason for his post, by all means, stick with it. That is what TALKBACK is all about. However, just make sure you read the persons post a little better than you clearly did before you post a moronic little blurb about someone else's opinion. You, like him, should have more respect for other people's thoughts and use a little tact.

Jan. 29, 2004, 1:16 p.m. CST

by Rapmaster C

You actually responded! Didn't expect you to waste time on that. What I meant was that Moriarty probably didn't have any malicious intent when he posted this article. If he did, he would have presented his house in a better fashion, instead of the dust-filled and cluttered mess that those pictures show. There's no need to attack the guy as viciously as you and others have done. You criticise him for showing off his collection, and yet you mentioned your own collection in your post. That's called being a hypocrite. Yes, a talkback is intended for differing opinions. But most of the stuff said here is mindless crap; the only intention being to insult Moriarty. Oh and speliing an entire word in capital letters, as you did with "talkback", is quite rude. Just so you know.

Jan. 29, 2004, 1:19 p.m. CST

by Rapmaster C

I typed the word "spelling" incorrectly. I apologise, as it could be perceived as "in bad taste" by someone on the other side of the world.

Jan. 29, 2004, 5 p.m. CST

by FryingDutchman

...as this talkback soundly proves. Keep collecting if it makes you happy Moriarty, everyone else can go fuck themselves. You have plenty of movies I'd never buy, but whatever. While it's VERY easy to have a big DVD collection and still have "a life", truly intelligent people don't have the need to CONSTANTLY be socializing and interacting with others--only needy, mewly shitheads need that constant validation. Fuckin' pussies.

Jan. 29, 2004, 8:59 p.m. CST

by VulgarBob

Jan. 30, 2004, 9:34 p.m. CST

by Iggy5000

...is the real question. How many of them were gifts? That's what really tells you what a man's true tastes are about. Seriously.

Feb. 3, 2004, 11:03 a.m. CST

by diverdan

Just nitpicking here but I couldn't ignore it. When you were talking about SuperFly you mentioned The Giving Tree as being written by Gordon Parks Sr. The Giving Tree was written by Shel Silverstein! Gordon Parks Sr wrote The Learning Tree. The titles may be similar but the authors and stories sure aren't!