Coaxial
Herc Gets News of FIREFLY and ANGEL From The Whedon Himself!!
We just got back from the big "Firefly" DVD Q&A at Sunday's Los Angeles Comic Book and Science Fiction Convention, the one with series writer-director-producers Joss Whedon, Tim Minear and Ben Edlund, as well as regulars Nathan Fillion, Morena Baccarin, Ron Glass, Adam Baldwin and Gina Torres. We may get more reports with more details on what transpired, but here are some highlights: * Whedon addressed the question of the "Firefly" movie before launching the Q&A. He confirmed that the script had been written and that the movie may or may not get made, but "it looks like we have a pretty good shot." * The cast was even more optimistic. Baccarin, when asked what was on her plate, exclaimed "We're all going to do 'Firefly the Movie'!" "I would cancel dialysis to be in" a big-screen "Firefly," said Fillion when asked if there were any issues with the cast's availability. * Whedon said writing the "Firefly" movie was "the hardest writing I've ever done." He says it will entertain "Firefly" virgins but also sport some big fat payoffs for fans of the series. "Which ones – I can't say." * When asked if Whedon would be doing any more writing and directing for television, the Buffiverse mastermind revealed he would indeed soon be writing and directing an episode of "Angel" dealing with a "setback" for Fred. * If I heard correctly (feel free to correct me, my fellow attendees; the public address system was not friendliest to Herc's ears) Whedon said this episode would be shot right after the one Edlund was writing and directing. * Minear said Fox still hasn't set an airdate for Minear's new comedy-fantasy hourlong "Wonderfalls" (which Herc has long hailed as the season's best new series). "They're going to air the pilot this time in the middle," he quipped, referencing Fox's decision last season to air the "Firefly" pilot as the series finale. * Torres says there are no immediate plans for her to reprise her role as K-Directorate agent Anna Espinoza on "Alias." ("They haven't asked," she laughed. "It's kind of a sore spot.") She did mention (again, if I heard correctly) that she'd soon be joining the cast of "24." * When someone mentioned that both Whedon and Edlund had worked on the "Titan A.E." script, Whedon groaned and remembered that, on the way home from the "Titan" screening, his wife told him to "say something funny so I'll remember that you are." * Fillion revealed the tattoo he sported onscreen is indeed his own, an Egpytian glyph he claims can be translated to "Property of Gina Torres."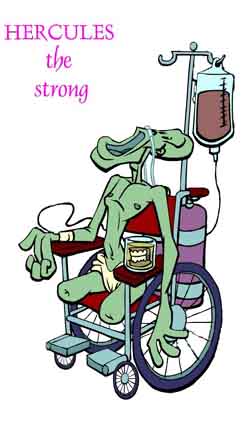 Looking for bumper stickers, plush toys and girls' underwear covered with cute cartoon double-amputees? Visit The Herc Store!