Movie News
Dr. Rob M. Blind Tumbles Down THE HOLE!!
Hi, everyone. "Moriarty" here with some Rumblings From The Lab...
This one's already out on video overseas, right? But I hear they're still test-screening it here in the States and trying to figure out what to do with it. Check this out...
hello harry,
i just got back from an advance screening of 'the hole' starring thora birch. i went in pretty skeptical. the flyer described it as a horror/suspense/thriller. being that no movie with all three elements has been done successfully in ages, at least in the states, my doubts were justified.
i'll try keeping this as spoiler-free as possible. horror, none. thrills, lacking. suspense, just enough to keep me awake. the twists and turns of the plot are pretty predictable. i've never agreed on the semi-narrative with a constant shift between time and/or realities. i believe the best exception would be 'the princess bride.'
here's the run-down. a group of students at an english boarding school try to find some time among themselves while the rest of the school attends a geology trip to wales. what better way to do it then to get the local geek to hack the school records and provide them a way off the trip while they spend three days in an old bomb shelter. madness, anger, lust and murder follow suit.
from the opening scene, there's an obvious sense of something terrible having happened recently. when we first get information of the events, there is obviously a lot of missing info. and of course the truth is the where the blood is or, for our viewing pleasure, the plot.
aside from the occasion grain and lack of volume control. the film seemed complete. the soundtrack was surprisingly adept. judging the screening crowd, you'd expect a track along the lines of 'not another teen movie.' but it, in fact, created the right mood for most of the setting.
the actors weren't quite as adept as the music though. they lacked character and bordered on cliché. while thora showed a side that would make any man rise, as well as shudder, there lacked a sense of realism to her role. there wasn't much support for her, either. unfortunately, she was stuck with a blonde, slutty friend, again. while this is not 'american beauty' or 'ghost world' you can almost sense daniel clowes and kevin spacey hurl simultaneously. the gratuitous window to the truth, namely the therapist and her sessions, were probably the laziest of elements in the film.
oh well. it wasn't terrible and could certainly do well commercially with a few tweaks. it's definitely not 'cabin fever' or any of those ridiculous mtv-generation suspense flicks. it doesn't cater to the nostalgia thrills of 'freddy vs jason,' but is does provide you with a good reason to take a significant other, let's just hope they don't get any crazy ideas.
'til whenever, call me Dr. Rob M. Blind
Huh. Doesn't seem like it caused much of a stir overseas, either. This was a 2001 movie. Is Dimension ever going to actually put it out? And once they've waited this long, don't they know the damage they've already done to their own films? I wish sometimes that Miramax just didn't have the money to buy as many films as they do. They're overfunded by their parent company, and it allows them to do this over and over and over. Buy things up and never do anything with them. It's damn near criminal for these filmmakers, and even if the film isn't some brilliant redefinition of the horror genre, it would be nice to be able to make my own mind up instead of having some genre-hating goof at Dimension just sit on one more film.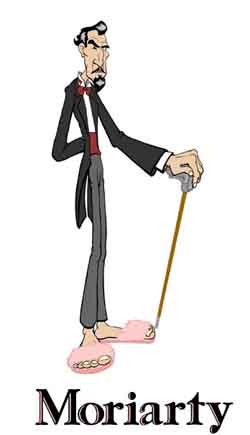 + Expand All

Dec. 11, 2003, 7:11 a.m. CST

by Raeth

I saw this one in London...or maybe it was Brussels..anyway it's not that bad. I do see how they'd have a hard time selling it...it's got a twist ending, so I liked it better after I left the theatre than I did halfway through. I think they could advertise that Kiera Knightley is in it, acting real trampy (I think she might have a topless scene). It kinda has a twist ending. Anyway I enjoyed it, but I'd watch anything with Thora Birch after Ghost World.

Dec. 11, 2003, 7:15 a.m. CST

by Lujho

Keira Knightley shows her tits. And that is why it is must see.

Dec. 11, 2003, 7:55 a.m. CST

by timtop

This came out here (UK) ages ago, and had quite a following. It's not amazing, but had more intelligence, shocks, tension and style than many horrors of late. And as for 'it's no cabin fever'...good! That movie failed miserably on most of the above counts. I do hope the hole does get a stateside release as there are many movie fans out there who will appreciate this little curiosity...

Dec. 11, 2003, 8:50 a.m. CST

by Big Bad Clone

Although, if Kiera Knightly is in it with no top, I'm defiently renting this sucker.

Dec. 11, 2003, 9:09 a.m. CST

by gunstar

and I've still got a bad taste in my mouth. The film is just dire. If you get tempted to get an import dvd of this, DON'T its uber-shite

Dec. 11, 2003, 10:36 a.m. CST

by Enelya

I saw this in theatres in Montreal, Canada a couple of years ago. It's been out on video since then... I've never seen a movie that was released in Canada before the US. Very very strange. E

Dec. 11, 2003, 11:29 a.m. CST

by ReDWasK

i couldn't get this from any american distributors, i was only able to find it in a Canadian pawn shop. decent movie i guess...plus it has been out for...2 years now?

Dec. 11, 2003, 12:03 p.m. CST

by Car50n

I saw this screening. It was in New Jersey. Not quite a mecca of film audiences, but he is acurate. The sound got obnoxiously loud time and again. THis movie may be 2 yrs old. but it didn't seem that way. For those who haven't experienced the american distro. butcher studios at their worse just need to read the 'shaolin soccer' screening review right here. I was there, it was bad, I went home and watched my old import copy to wash away the disgust.

Dec. 11, 2003, 12:05 p.m. CST

by Jason Blood

It's on sale at pretty much every HMV across the country ($40, though...ouch) and the Movie Network reran it like eighty times last summer. Why are some films released in Canada but not the States? Are you yanks still waiting for that steaming pile of shit "100 Girls"? And yes yes yes Keira Knightley's boobies are on display twice in this film (though the first time it's not very sexual) but...if she was born in 1985, then wouldn't she have only been 15 when she made this movie?

Yeah, Keira shows her wonderful titties, but don't count on it being in the American version. She was 16 when she did it, making it legal in most other places, but illegal here.

Dec. 11, 2003, 2:25 p.m. CST

by Fitzcarraldo

is because Keira Knightley flashes her tits at one point. Other than that it's pretty dull, don't bother seing it. If you want to see the Keira-flashing-her-tits scene just download it from Kazaa.

Dec. 11, 2003, 2:31 p.m. CST

by ZeroC

This point needs to be promoted more if distributors want this movie to make money. I caught it on tape at my local video store, (which I guess imports films every once in a while) and believe me the Keira Knightly nudity is the moment of greatness in an otherwise mediocre endeavor. Think of it as the "Invasion of Normandy" scene from Saving Private Ryan.

Dec. 11, 2003, 2:50 p.m. CST

by Sheeld

And old. Don't encourage it.

Dec. 11, 2003, 7:48 p.m. CST

by raoulkduke

The NTSC DVD is readily available from videoflicks.com in Canada for $17.99 US. You can slo-mo the good parts and check out the deleted scenes.

Dec. 13, 2003, 7:57 a.m. CST

by JimboLo

I saw it when it first came out... about three years ago, when it was in cinemas for about a week and swiftly forgotton. Just like my memory of the film: Saw it, swiftly forgot it and then all of a sudden, it's got "a following"? Who? Everyone I know thought the same thing: Imagine if The Usual Suspects was made for kids with no style or decent story. Damn, how many films have done this tired flashback-from-the-interrogation-room structure in the last few years! Does every film have to have a twist-- Sorry, the same damn twist!?! And Keira Knightley's much-hyped tits? Sorry folks, they don't exist. Two cherries on a surfboard.