Previously, on Coaxial News Talkback:
"Would this be the same Ronald D. Moore whose 'reimagining' of Battlestar Galactica is the same one giving us a female Starbuck and that Edward James Olmos emphatically warns all original fans to steer clear of? My interest in 'Carnivale' just went south faster than the runtime most of these shows will probably get." – Phimseto
"Deep Space Nine" vet Ronald D. Moore, showrunner and lead creative force behind "Carnivale," did write the upcoming "Battlestar Galactica" miniseries, and will, in fact, serve us up some fabulous actress in a tight-fitting flight suit and call her Starbuck. (And he's right about Eddie Olmos too: the new Adama warns all fans of the original to ignore the mini and buy that shiny new Cylon DVD box set instead.) So "Carnivale," which airs its sixth installment (and the latest penned by Moore himself) this evening, can't possibly be any good, can it? Take up valuable bandwidth with your predictions, reactions and opinions.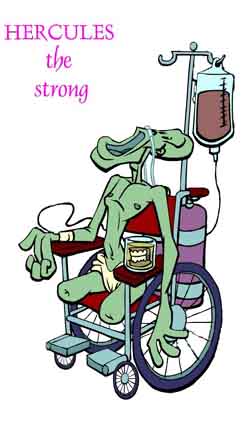 Looking for bumper stickers, plush toys and girls' underwear covered with cute cartoon double-amputees? Visit The Herc Store!