Alias 3.4 FAQ
What's it called?
"A Missing Link."
Who's responsible?
Teleplay is credited to Monica Breen & Alison Schapker, longtime writer-producers behind "Charmed."
"Syd's mission to bust a group before it can swipe a batch of biological weapons puts her in touch with a shady man (Justin Theroux) from her lost past and puts Vaughn's marriage to the test. Meanwhile, Jack decides to expose his daughter's murderous activities to save her career at the CIA. Carrie: Amanda Foreman. Lauren: Melissa George."
What light does the Justin Theroux character shed on Syd's missing years?
By the end of the teaser, we learn she was using another name, she had established a career as an assassin, and she was sexually active.
Why does Jack think exposing his daughter's muderous activities will save her career at the CIA?
He feels she gave Vaughn too big a hint, and needed Dixon's help.
How is Vaughn's marriage tested?
Dixon forbids Vaughn from revealing what he knows about Syd to his NSA-employed wife.
What's Arvin Sloane up to?
We don't learn any more about what he's up to, as his two scenes are focused on: a) tormenting Lauren, who's been assigned to consult with Sloane; b) revealing that the Covenant intends to "genetically tailor a biological weapon for specific targets."
Any sign of Will Tippen or Alison "Evil Francie" Doren?
Nope.
She who carries the Flinkman seed is back. Does Carrie's water break this week?
It does not. We do learn that one of the parents is more anxious to learn the fetus' gender than the other.
Isn't it ironic that a piece of the Rambaldi device, the one that supposedly spit out the word "peace," had to be removed from some poor guy's chest late last season?
Ironic!
Do we finally learn the unspoken thing Sloane learned from the David Carradine character?
No.
Do we finally learn what sin Sloane committed 30 years ago that led to his wife's death?
No.
What were Irina's last words to Syd last season?
"It's you in the prophecy, Sydney, not me. Only you can stop him. Good luck, sweetheart. I love you."
Is that why the woman depicted in Rambaldi's "utter desolation" warning looks so much more like Syd than Irina?
Maybe.
What was that prophecy again?
"This woman here depicted will possess unseen marks, signs that she will be the one to bring forth my works. Bind them with fury, a burning anger, unless prevented at vulgar cost. This woman will render the greatest power unto utter desolation."
What's good?
Some decent revelations. The introduction of Justin Theroux (unrecognizable from his "Mulholland Dr" role), who brings to the table a new villain in which we can take an interest. Syd's "audition," showcasing so dramatically her improvisational abilities generally, and with a hotel telephone and a black bikini in particular. Marshall Flinkman and Carrie Bowman.
What's not so good?
Carl Lumbly, whose role was once central to the series's tension, has been reduced to, at best, an expository device or, at worst, an office furnishing. Somebody needs to pry Marcus Dixon loose from his generic supervisory role. Also? While it's encouraging that we're still seeing Sloane each week, there's too much unresolved to have him still malingering on the sidelines four weeks in. Hopefully, with November sweeps fewer than two weeks away, his more central role will be revealed in a hurry.
How does it end, spoiler-boy?
"You never should have betrayed me," hisses Syd.
Herc's rating for "Alias" 3.4?
***
The Hercules T. Strong Rating System:

***** better than we deserve
**** better than most motion pictures
*** actually worth your valuable time
** as horrible as most stuff on TV
* makes you quietly pray for bulletins

9 p.m. Sunday. ABC.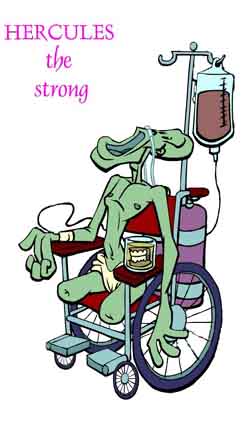 Looking for bumper stickers, plush toys and girls' underwear covered with cute cartoon double-amputees? Visit The Herc Store!