Coaxial
Warren Ellis Reviews the WB's FEARLESS!!
Warren Ellis, supercool literary hero to legions (Herc picked up his very own shiny new copies of "Global Frequency" and "Red" scant hours ago!), is nice enough to let Ain't It Cool post the brainy and frequently hilarious TV reviews he e-mails to his many "Bad Signal" subscribers. The news he brings today? Not good for our pals at the WB.
Herc
The following was just sent out on Bad Signal. If you want it, use it with my welcome permission and thanks, copyright it to me, and please include Bad Signal subscription information:
SUBSCRIBE: email to badsignal-request@lists.flirble.org with subjectline subscribe.
Cheers. I like that you enjoy this stuff.
-- Warren
******************
BAD SIGNAL: FEARLESS
bad signal
WARREN ELLIS
The high concept is laid out in the first couple of minutes. Rachael Leigh Cook's character was born without the gene for fear. Instead of getting adrenalised and all fright-or-flight in serious situations, she is perfectly calm and experiences heightened senses and reaction times (she tells us in a flat little monologue). Therefore, she has become an FBI agent who is not afraid of shooting kidnappers clean off the little girls they're holding as human shields, because she's, say it with me, FEARLESS, a Jerry Bruckheimer Production.
Wouldn't it be nice if that bit was read out loud, like on the old STREETS OF SAN FRANCISCO credits sequence: "A Quinn Martin Production." No? Shut up.
FEARLESS, A Jerry Bruckheimer Production, is a new US TV show, the pilot of which ended up in my hands last week. Bruckheimer and late partner Don Simpson were, of course, the home of the "high concept" -- the idea you could "hold in your hand," as Steven Spielberg had it. And, naturally enough, FEARLESS is presented as a high concept show, like CSI ("forensics teams solve insoluble crimes with high-tech"). In FEARLESS's case, though, it's a blind. Unusually for his studio, the actual engine of the show is kind of clunky and kludged together. The actual narrative engine is "FBI Mod Squad" -- young pretty FBI agents go undercover to solve crimes involving young people. Rachael Leigh Cook joins a pair of inhumanly pretty young FBI peers as a group tasked to catch those sneaky young folks of today, with their short skirts and their repetitive beat music and their moody haircuts.
Meet Rachael Leigh Cook, the fearless nark.
Y'know, MOD SQUAD might've played in 1970, but so did fucking IRONSIDE, wearing love beads and snapping his fingers at coffee bars. And I shouldn't have to remind you of the toilet that 2000 version of MOD SQUAD with Claire Danes and Omar Epps was thrown into. For it was The Devil's Toilet, and no good can come of its awful flush, you mark my fucking words, son.
The show is based on a series of twenty-odd Young Adult books by Francine Pascal, whom I believe gave the world Sweet Valley High. These things must be huge. I haven't read them, but I can't help but wonder if if doesn't explain some of the stuff in this pilot episode.
Not the action. The action sequences, I have to say, are pleasantly sparky, real and nasty. You half expect Cook's weird, flat little voice coming over the top: "I have the gene for kicking the shit out of people." The final element of the climactic action setpiece, with Cook flinging herself down a twelve-storey stairwell using a fire-hose as last-second bunji-cord replacement, made me laugh out loud, which all good over-the-top action elements should. The direction is as slick as you'd expect from a Bruckheimer show -- though, like the other new Bruckheimer show COLD CASE, it hasn't established a visual identity of its own yet.
(COLD CASE might -- it has a nice gimmick where it transposes the image of protagonists at the age when the long-unsolved crime was committed with the image of them in the present, creating a somber, ghostly effect. FEARLESS isn't even close to a visual identity.)
Not the action. The other stuff. The fact that Cook is set up as The New Girl In School Who Is Misunderstood. And that awful badge of American TV -- banging on about families. Ooh, Gaia (Cook's character) has a surrogate family. Ooh, the other agents don't like her because she has a Hidden Past and she's not being straight with them like a Team Mate should be, so they can be a special FBI Nark Family. Ooh, the prettyboy maybe-badguy fraudster has family issues. Ooh, he's looking after his crap mother. Ooh, he hates his Evil Villain dad. Ooh, his dad slaps him around. Well, fuck him. He's whiny and he's a soap dodger. But no. They talk about his issues. Because family is the key to the crime and the key to the bit at the end of the show where they all smile at each other and everything's all right, because they're a family now. Luckily, she blurted out in public and in front of several suspects that she's a mutant who does not experience or really comprehend fear. Because it wasn't set up as one of the FBI's highest-rated secrets or anything. Oh, wait.
This isn't the diamond-hard focus of CSI, believe me. This is a cloying mess that barely clings together through the momentum of the show.
It's all over the place. Cook gets tortured by bad guys a couple of times, which is a fairly pointless narrative exercise. What, she's going to freak out and tell him she's FBI? No, of course she isn't, because she's Fearless. And we were told that in the first two minutes of the show. So why the fuck are you wasting my time? You think I want to see Rachael Leigh Cook bleed? What was that thing where they half-drown her in milk? She's not afraid of drowning. You just got a bunch of white stuff on Rachael Leigh Cook's face, boys. What's next, threatening her with crucifixion plus nipple clamps?
Rachael Leigh Cook rolls through the show amiably enough, doing a "Quirky Sandra Bullock" complete with flat brown haircut, flat brown eyes and flat brown voice. I'm assuming she's deliberately taking it low-key to indicate the missing element in her emotional make-up. The two actors playing her teammates seem to be working through awful cases of stage fright, eyes glittering with something like fear as they work through their lines and hit their marks and, particularly in the female teammate's case, try to project something more than one dimension out of themselves. Cook can be a genuinely charming actor, but she's not allowing herself the presence to hold this together, and no-one else on the show is up to the job.
I want to get a new TV pilot that I like. I really really do. And I want to see something and say, yeah, these people have got a good few years in them. With Sorkin and Schlamme gone from WEST WING after a clearly troubled fourth season, and SPOOKS choking badly in its second season, and a lot of other shows reaching that middle-age point where they start turning inwards... I just want something good to watch, damnit.
FEARLESS isn't going to be it. This is just my take, but I think it's too unfocussed to make consistently engaging television, and I think it's the wrong composition of concepts to hook the young audience I assume they're playing for.
Or possibly I'm underestimating the attraction of Rachael Leigh Cook covered in milk.
-- Warren Ellis
© Warren Ellis
For the record, others seem to share at least some of Mr. Ellis' concerns. A couple of Fridays ago the WB yanked "Fearless" from its fall schedule, replacing it with a teen angst-a-thon titled "One Tree Hill." Word is a good portion (if not all) of the "Fearless" writing staff (to say nothing of cast member Bianca "Kendra" Lawson) were unceremoniously sacked that same Friday. The netlet now plans to launch a revamped "Fearless" for midseason.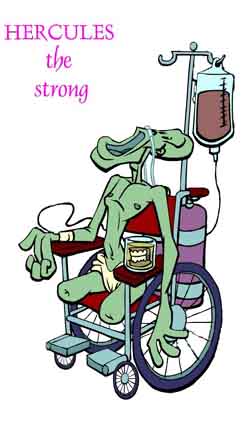 + Expand All

July 31, 2003, 9:35 a.m. CST

by earthworm

Nice review though. "I have the gene for kicking your ass" Funny

July 31, 2003, 11:08 a.m. CST

by SpyGuy

So let me get this straight -- The WB can yank FEARLESS before it premieres, so they can sack the crappy writers and retool it so it won't totally suck, but they couldn't do that for BIRDS OF PREY? If they had only tried to fix BOP before it aired, we might still be watching the show and enjoying it...

July 31, 2003, 11:11 a.m. CST

by vikingkitty

Yep. I remember the last time I placed a lot of white stuff on Rachel's face. Good times.

July 31, 2003, 12:31 p.m. CST

by Steal_Dragon

Also, why did they change it from the book. I read the book a few days ago because they are making a show of it. It wasn't the best book I have ever read, actually it was kind of a rip off of buffy the vampire slayer, but what isn't. It is about a 17 year old high school girl named Gaia, Moore who is born without the fear gene. She was trained in the martial arts by her CIA agent father, who is now in hiding. Her mother was murdered, and she is living with her godfather and his assassin wife, named Ella who is trying to kill Gaia. Gaia is an adrenaline junky, like how druggys' crave coke, she craves adrenaline or she will show withdrawl symptoms. So she goes out in the middle of the night, acts like a victim so she could be attacked, and beat the living shit out of them. She has a friend in a wheel chair, a crush on this guy who is dating a bitch, and gets into dangerous situations. Well it wasn't exactly the Bourne Identity, but it would make a good tv show. Why did they change it.

July 31, 2003, 12:40 p.m. CST

by Wesley Snipes

Actually, they did completely overhaul Birds of Prey before it aired. They filmed it with more superhero-ish costumes and what not, then tossed all that shit into the ocean and went with the hot bitches in leather look. Didn't seem to help. BTW, with her perfect skin, I bet Rachel Leigh Cook gets facials very frequently.

July 31, 2003, 1:46 p.m. CST

by Sherlock_Holmes_

Dig it. At least this shitpile has ONE thing that can be described as worse.

July 31, 2003, 1:52 p.m. CST

by Sherlock_Holmes_

Do a Google image search for Rachel Leigh Cook and notice that in EVERY PICTURE she has this dazed, fish-eyed, Freddie Prinze Jr. glare...

July 31, 2003, 3:01 p.m. CST

by Dlhstar

I nominate this the official new Talkback catchphrase of August 2003. "You just got a bunch of white stuff on <insert actors name>'s face, boys." Then when it becomes a Hulk Hogan phrase, it'll be, "You just got a bunch of white stuff on Vince McMahon's face, BROTHER."

July 31, 2003, 3:07 p.m. CST

by vikingkitty

The VikingKitty, with his keen senses, was the first to catch this gem of a line.

July 31, 2003, 3:35 p.m. CST

by Dlhstar

Fearless vs. http://us.imdb.com/Title?0090094

Hello Mr. Ellis... I just read your review of Fearless. You asked for better shows... to see a better pilot come your way... that with Sorkin gone West Wing might fail... well I have not of course seen any of the new shows yet thought I have hopes for Karen Sisco and Carnivale. But as for nothing really good right now on the telly I would like to give you my unasked for 2 cents... Best Shows in my opinon... The Wire Six Feet Under Sopranos The Shield West Wing And the Runner Ups Alias The Practice NYPD Blue Keen Eddie Jury is still out on Nip/Tuck 1/2 Shows Bernie Mac Less Than Perfect Life With Bonnie (This could really break out) Lucky Well that is what I think at least...

July 31, 2003, 9:51 p.m. CST

by HeitorTP

Aug. 1, 2003, 1:03 a.m. CST

by DyslexicHeart

I've seen this p.o.s. pilot as well and I remember thinking "this is the type of crap the wb puts on the air after cancelling the wonderful Roswell"?

Aug. 1, 2003, 7:01 a.m. CST

by vikingkitty

She also got a little in her mouth, which she really seemed to like. Anyone else here have a similar experience?

Aug. 1, 2003, 9:17 a.m. CST

by AngryNortherner

My Boss just caught researching the aforementioned glazed look in RLC's eyes (its especially bad when shes in a bikini). He was pissed, so... i got some white stuff all over his face, BROTHER!

Aug. 1, 2003, 10:11 a.m. CST

by vikingkitty

Don't be held back by "the man"!

Aug. 1, 2003, 10:13 a.m. CST

by amateurscientist

I'm only mildly interested in this show "FEARLESS"- but I'm VERY interested in hearing/reading what Warren Ellis had to say about this new show. and you know, he's right, what can you do with the concept of being "fearless" (she can still feel pain, right? she's not "painless.") by setting the show in a dumb high school, and doing that dumb family thing. yes, there is important things to say about family, and yes, people can "relate" to it all. but really, who cares if you don't craft the metaphor a little better. "craft the metaphor?" yeah, um, sorry, though I dropped out of college, a little of the smarts trickle back from time to time... viva Mr. Ellis!--- A. Scientist.

Aug. 1, 2003, 10:22 a.m. CST

by hairyarse

Like I give a flying fuck what that ponce thinks of new TV shows.

Aug. 1, 2003, 1:39 p.m. CST

by SexyBeast

First, the review is flawed. Just because you aren't scared doesn't mean you don't feel pain. She might not be scared of getting stuck with a hot poker but it still going to hurt and shes still going to want to stop it. Second a fearless FBI agent would be a danger to herself and everyone around her. Fear is what helps keep people alive. A person without fear WOULD NOT BE A GOOD PERSON. Growing up you would have no "Fear" of consequences. You would gladly beat people up and cheat on tests because you have no fear of punishment. You'd turn out to be a real asshole.

Aug. 1, 2003, 2:43 p.m. CST

by Chastain-86

He's the bee's bollocks, and I don't care who knows it.

Aug. 1, 2003, 2:55 p.m. CST

by scarface319

Aug. 1, 2003, 3:21 p.m. CST

by Dlhstar

I just knock a bottle of Liquid Paper over onto the comic book. Poor Hal Jordan looks like a bukkake pro when I'm done.

Aug. 1, 2003, 5:57 p.m. CST

by SexyBeast

Green Lantern was as brave as any other superhero, but he didn't have a super power that made him Fearless.

Aug. 1, 2003, 9:48 p.m. CST

by Sherlock_Holmes_

Maybe they should change the end of Gigli so that, instead of Gigli "converting" the lesbian, he instead turns gay himself. That would be MUCH more believable. And someone was right- the Fearless bitch still feels pain, and without the ability to experience fear she'd either be A.) Dead, or B.) A complete asshole.

Aug. 2, 2003, 4:07 a.m. CST

by Dlhstar

Is Fearless just coming in at the tail end of the GIRLS KICK BUTT-era of action/adventure? Perhaps folks are just getting burnt out on GKB-themed productions? I've noticed whenever a new GKB show comes on the air they stars would always say in interviews, "Oh, this is so different from anything else that's ever been done. We get girls who kick butt! It's about a strong young female lead who doesn't need a guy to save them all the time. <insert cute sexist comment and fake laugh>. Seriously, though; this is so different from anything else." Yeah, it was something new and different: Before we saw it all a million times. Just like Harry Potter's success has spawned a succession of similarly-themed titles aimed at the pre-teen/teen/young adult audience, Buffy's success did the same. But while Buffy's antecendents Xena and Ripley were adult women kicking butt, the current crop of shows seem to be only young women and teenage girls kicking butt. If this had been a TV show about 5 years, then I think most of us would be more accepting of it. But nowadays the concept of a 'young woman without fear' could be just as easily used to describe most of what I've seen on the other GKB shows. Female characters who walk into any situation without fear, replete with innate skill, and ultimately triumph while making it all look so easy. The concept of the 'girls kicking butt' has been done to death. People are burnt out of the constantly 'new' concept. I have no hate of the genre, in general, but its just an observation. Has the overproliferation of GKB saturated the market so much that no one really cares about it any more because it all feels like more of the same? *SHRUG*

Aug. 2, 2003, 12:28 p.m. CST

by Sherlock_Holmes_

She appeals to males because she looks like she's easy. She appeals to women because she's one of the only celebrities who has a "big" ass, like a normal woman who doesn't have a personal trainer and an anorexic frame. Unfortunately, those are her only good traits. They are cancelled out by her annoying voice, pompous attitude, ditzy behavior, and poor choice in boyfriends (Puff Daddy and then Ben Affleck?) not to mention her piss-poor acting skills and mediocre been-there-heard-that-crap-before singing. --- On the subject of GKB movies, I have to say the previous poster is right. I've been saying this for years now- The GKB shows/movies are a pathetic excuse for female empowerment. They suffer from a lot of negative cliches for being such "empowering" shows: The main protagonist in all of them seems to always have some sort of super-power or innate ability to fight (Buffy is the "Chosen One" and "The Slayer", The Dark Angel chick was a genetic freak. The Fearless girl is "Missing the gene for fear" and was trained by her dad who was in the CIA. Syd in Alias is a SUPERSPY (tm) who has apparently been trained since her childhood in espionage and combat. Charlies Angels, with all their wire-fu, are apparently superhuman. In every case the training never seemed to get in the way of them still "being girls" and hanging out at the mall, shopping with friends, and have a romantic life. Oh, sure, Buffy would have cute-ironic situations like having a crush on a guy, only for him to turn out to be a vampire/slayer/soldier/what-have-you... But on the whole, the characters are portrayed as "normal" girls who have something "special" that allows them to switch modes and become a superhuman fighting machine with strength that defies their weight (all girls who kick butt somehow don't actually LOOK like they've trained or have superior musculatures capable of allowing them to perform such amazing acts of destruction). The all seem to be kick-heavy, meaning their "martial arts" are comprised of several kicks with a few punches throw in to allow the actress to have her face centered on-screen while fighting. Never do the butt-kicking girls look old enough to have actually been trained for very long, and never do they act like they're the intelligent super-spy/super-hero they are supposed to be. Instead, they all act ditzy in some way, doing the stupid thing because of their emotions or their "girl habits" (Buffy falls for the wrong guy, chases him into the park at night despite vampires being out, and gets in a battle. Syd seeks the truth about her parents, hates them for what they are, but follows their path anyway. Elektra has a stalker and breaks her cover as an assassin to get in a little love-fight with him in a playground rather than just getting in her limo and leaving the creepy guy behind. Gaia (fearless chick) is supposedly fearless but is still neurotically afraid of what people will think when they find out she's "missing the gene for fear"). The shows all have a single theme: "You can kick ass and still go to the mall and junk." Which seems a rather negative message- Worse, even, then the male action hero's messages of "kill them all and let God sort them out" and "The tough guy always gets the girl". Maybe if one of these GKB shows would feature a woman who LOOKS like she's been trained as a fighter and weighs 130 pounds (or more), has muscle tone, and has become unconcerned with things like boys, talking on the phone, teenage angst, and shopping, I'd take them more seriously. Until then, these are just MTV fantasies that say "your life wouldn't be disturbed much at all if you spent all you time fighting evil" and "being tortured sucks, but won't mentally scar you for life." and perhaps worst of all "Bad guys who are three times bigger than you won't beat you down and rape you if you know how to deliver a good spinning kick". Personally, I think any of these girls would BREAK THEIR BONY LEG if they attempted to kick anyone who weighed over 150 pounds...

Aug. 2, 2003, 4:14 p.m. CST

by jackburton2003

I swear, I don't see the appeal. She's okay looking, and she's short and very thin. Aside from that -- WHAT????

Aug. 2, 2003, 4:41 p.m. CST

by vikingkitty

I think Cook is hot! Unfortunately, I once saw her give an interview on "The Daily Show", and it was literally painful to watch. Sure, looking at her gets me hard and makes me get a bunch of white stuff on her face, but when she starts talking, the erection begins to fade.

Aug. 2, 2003, 4:56 p.m. CST

by Hellboy

...like, oh--I don't know, GOOD COMICS AGAIN??? It's not enough that he name comics after Elvis Costello songs anymore.

Aug. 2, 2003, 6:36 p.m. CST

by savvy

Okay, maybe there is, but I know she didn't write these books. The Fearless books were written by the same guy that wrote the books that The Chronicle was based on. Then they put the Francine Pascal name on them so they would sell more. Book people are even more dishonest than TV people.

Aug. 2, 2003, 6:46 p.m. CST

by savvy

Are really pretty good. Giai in the books is younger, and being fearless makes her try all kinds of stupid things like climbing up the outside of buildings when the doorman won't let her in. She's constantly in fights. And she is not a CIA agent. She's kind of a mess, but fun to read about. The books have lots of newspaper clippings and notes and phone messages and things that give it a different feel. And they were not written by Francine Pascal.

Aug. 4, 2003, 9:35 a.m. CST

by AngryNortherner

Seriously, whoever posted that has a really good point. I'm prepared to accept Alias, and Dark Angel was always okay because they made a point of having Jessica Alba be ridiculously hot throughout (not really a struggle, though), but beyond that I don't see the need for it anymore. I mean, Birds Of Prey? That show was SO fucking weak that I literally couldn't believe how shit it was. And Rachel Leigh Cook is many things - cute, hot, and someone who likes getting white stuff on her face, for example - one thing she is NOT is a badass. I don't so much mind that women without a hint of musculature get to beat up on bigger guys (I mean, i never doubted that Eliza Dushku could kick my ass - of course, I'd let her and get off on it...), but Cook is an incredibly waif-like girl at that, aqnd I think thats stretching it too far.

Aug. 5, 2003, 4:11 a.m. CST

by Dlhstar

MUTANT X: If I had been in charge of the series, I would have had Emma be the feral, just to invoke a sort of Wolfsbane/Rahne Sinclair-vibe. Just make her slight and quick and uncomfortable about having a power that is so at odds with her shy and friendly personality. (Of course, that means I would have then made Shalimar an Emma Frost-type telepath who is unashamed in the way she uses her looks and powers to get her way. Made her the Han Solo of the team. Eventually, turn her bad and let her parade around every episode in a Hellfire Club outfit for about a season and Tribune would have had the highest rated show in syndication.)

Aug. 6, 2003, 12:45 p.m. CST

by Jaka

I have never seen her act in anything where they couldn't have just used a piece of cardboard as a stand-in. Terrible actress.