Hey folks, Harry here... THIS was a tough contest. I received over 300 entries - everything from extremely quickly pasted together collages of photos to artwork to well... just tons of stuff. Ultimately, just personally I prefered the artwork route. Aesthetically it was just more my type of thing.
What we have here are the top three finishers, from 3rd to 1st. In third place is a very graphically pleasing poster by Beau Obremski of Washington state. I absolutely love this piece, with the only a couple of things that kept it from placing first. One, I was kind of wanting something that gave more variety and to pay a larger homage to the history of female automatons throughout cinema history, and with only Maria and the T-X, there just wasn't enough. ALSO, I felt the post played down the female-aspect of the robots by basically just being headshots. That being said... This could be the cover to a great book on the history of female robots thus far and in terms of graphical layout it was the best.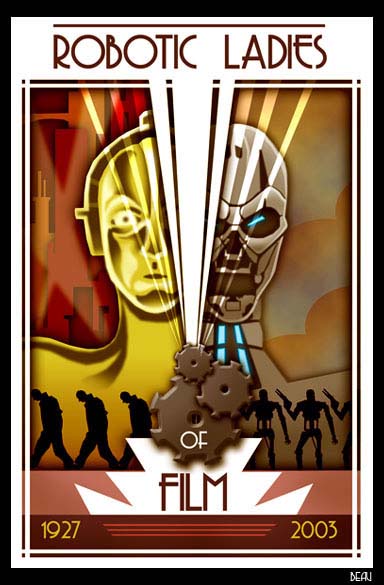 Next was C Hamel of Vancouver, Canada with this SIMPSON verson of a tribute poster. Having Comic Book Guy made me feel a part of this poster, and that alone nearly made me declare this the winner. And I really really want to see this scene take place in a SIMPSONS cartoon and see what would happen. Are they there to kill Comic Book Guy or fulfill his fantasies? The mind boggles.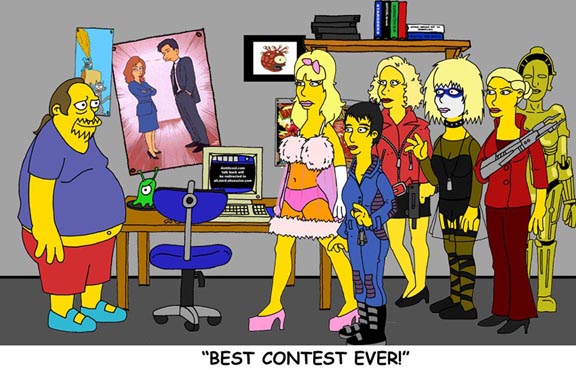 Ultimately the winner was Eduardo J. Pérez Marín of Maracaibo, Venezuela. Eduardo's use of the Anime style made me happy. The sheer amount of characters used delighted me, and made for a fun time identifying them all. Also the artwork was quite nice. In all, I really really really love it. Personally... having Ilia on the poster won my heart. Seeing her done in Anime fashion makes me want the toy so bad it hurts. Persis Khambatta is one of the all time great female robotic fantasy babes ever and is constantly overlooked.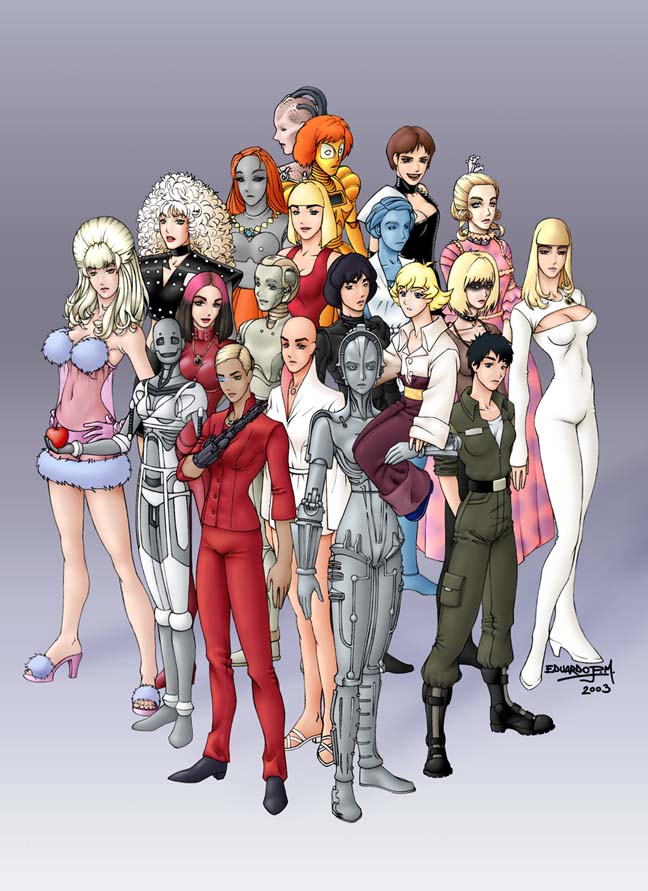 For a High Res version - CLICK HERE! Eduardo - enjoy your rich reward of the T-X from SIDESHOW COLLECTIBLES, the best damn toy place for us big kids!
In the end, I had a great deal of fun with this contest and have to applaud how creative and wonderful so many of you out there were. Ultimately, there were several pieces where I wish to god I had the original artwork here at my house, actually... Father Geek collects robots and has an EXTENSIVE COLLECTION of Robots in his room and Robot memoribilia and he consulted and helped greatly in threading through this contest with me, which was very very difficult to decide. The most difficult of any I've had.
In the next couple of days, I'll announce the next Contest! ENJOY the Winner and finalists. If you want to show your work off that you sent in, feel free to post links to them in the talk back below. This was a real celebration of creativity!