Cool News
WB Renews ANGEL!!!!!!!!!!!!! Spike Aboard!! Cordelia Not!!
Monday's Variety reports: "'Angel' – with new cast addition James Marsters - is taking flight for a fifth season on the WB." It's for a full season, according to the trade paper. But founding cast member Charisma Carpenter, who plays Cordelia Chase, "is not expected to return as a series regular." Look for some of the best writers from "Buffy the Vampire Slayer" to jump back to the WB, as well as quite a few other characters last glimpsed on the streets of Sunnydale. "Angel" will remain at 9 p.m. Wednesdays, but will get a new lead-in as the hit "Smallville" moves to Wednesdays at 8 p.m. The WB formally announces its autumn slate Tuesday morning.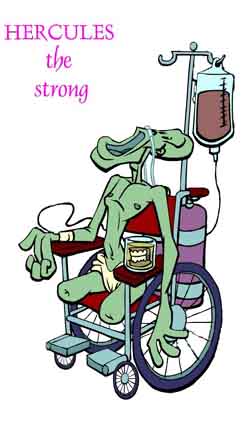 Looking for bumper stickers, plush toys and girls' underwear covered with cartoon double-amputees? Visit The Herc Store!