Harry here and Holy Shit A.B. KING.... Guess what, It's April Fools Day and I'm gonna level with ya... From the sound of things, Stallone's upcoming SHADE is.... really really good! Hey, and all you RE-ANIMATOR fans? Got news for you... BEYOND RE-ANIMATOR doesn't suck the short hairs clean, in fact, Quint likes it too! Lastly, all you folks that can't wait to see tons and tons of William H Macy Nudity! Well, today's your lucky day too! Your dreams have come true and the boat has pulled up next to curb! Put the change in the meter and keep your low bills for tip money, Macy's letting it all hang and flop in THE COOLER with Alec Baldwin! Enjoy Quint's delights... and before the end, you'll know his MATING CALL!
Ahoy, squirts. Quint here with the last of my unauthorized coverage of the American Film Market. I know it has taken a while to finish up my coverage, but I've been a busy geek recently, both in my personal and private life. Below I have the final three reviews from the AFM: SHADE, the indie card shark drama starring Gabriel Byrne and Sylvester Stallone, THE COOLER, a character driven flick about a casino employee who's literally a black hole for luck, starring William H. Macy and Alec Baldwin and, finally, Brian Yuzna's BEYOND RE-ANIMATOR starring the geek demi-god Jeffrey Combs. We got a lot to get through, squirts. I'll try to keep the reviews as short as possible.
SHADE
I can't lie. I have a fondness for card shark movies. I grew up playing Poker and Blackjack and Gin Rummy with my grandparents. I love Las Vegas. I love the thrill of the gamble. So it was that I walked into SHADE, knowing it was a game involving high rolling card players and hoping for a fun, thrilling flick. I got what I wanted.
SHADE is about a group of small time hustlers led by Gabriel Byrne who are aiming for admittance into the game of all games held in the Roosevelt Hotel on Hollywood Blvd., where they will get a chance to go up against the best of the best, The Dean (Stallone). The film really boils down to old blood versus new blood. Everybody is stabbing everyone else in the back, you know how it goes. Who's working who? Who knows they're being worked? Who doesn't? It's that kind of movie.
And it's a really entertaining film, I have to say. It could stand to have a little fat cut out, but for the most part it's pretty tight. Stallone is the main reason to see this film. It seems he's really taken a step back after DRIVEN and reevaluated his career. He's accepted his age and is using it to his advantage. He comes off as very debonair and classy. His hair is graying, the lines in his face are deep. Strangely he's better looking this way than when he's trying to cover it up. There's more character, more soul to his appearance.
Stallone isn't in the movie very much, maybe 15 minutes, but his presence is felt throughout. His character is fully realized by the time the film wraps up and I don't think I'll be the only one who'll want to see a sequel or prequel based on his character. Stallone as The Dean just oozes cool. Let's hope he continues to seek out the interesting character roles. I know a lot of people who have forgotten that Stallone can actually act. I'd love for them to have their memory jogged a bit.
Also in the cast is Stuart Townsend as the "mechanic," a guy who has mastered slight of hand and every other card trick you can imagine. He's the one that Gabriel Byrne is betting on, the one who is being pushed to challenge The Dean. Townsend does a good job. He didn't really dazzle me, but then again his character isn't the kind to dazzle.
Thandie Newton is also in the movie as a femme fatale type character, an attractive lady playing the men in the movie for her own purposes. Something about Thandie Newton rubs me the wrong way. I don't know what it is. I think she's a very attractive woman and not a bad actress to boot... but there's just something about her that usually grates on me. For whatever reason I didn't really feel it that much during SHADE, thankfully.
Jamie Foxx also has a small role in the film. He doesn't stick around for long, but is very natural and funny in his short time onscreen. Melanie Griffith plays Stallone's lady and has some great scenes with Stallone. This film really has a strong cast, both leading and supporting.
I'm not sure where this movie stands as far as distribution, but I'm sure it'll get out there somehow. RKO Pictures has it. Let's hope they do the movie justice. It's smart, fun and extremely entertaining. A little predictable maybe, but not anywhere close to the degree of making it boring or uninteresting. It's a stronger movie than a lot of recent big budget flicks I've seen like BASIC and DREAMCATCHER.
THE COOLER
What do you do if your life is so filled with bad luck that your mere presence make things turn out badly? If you have so much bad luck stored in your body that it rubs off on anybody you come in contact with... what do you do? You go to Vegas, of course. You get a job at one of the smaller casinos that still believe in the old ways (ie somebody cheats, you take them out back and bust their kneecaps) because back in the old days of mafia run casinos they believed in people called COOLERS.
There are just some people out there that can't win no matter what they do and William H. Macy is one of those people in this movie. He's employed by Alec Baldwin's character who runs a small casino in Vegas. Macy is the perfect choice for this role. Where Stallone can ooze cool (above), Macy can use sympathetic like no one else. So, Macy's day in and day out job is walking around the casino, being alerted to people on a hot streak, going and placing a bet on that table (be it craps, blackjack, baccarat, whatever) and making the whole table turn cold, seeing people loose all their winnings in a single hand or a single roll of the dice.
But what happens when he clocks out? It's not like he can turn off his bad luck. He has a failed marriage, a terrible, manipulative hoodlum son (played by Shawn Hatosy) and a loneliness that goes deeper than anyone can imagine. Believe it or not, this movie is a lot more lighthearted than it sounds. Macy meets up with a cocktail waitress (played wonderfully by Maria Bello of AUTO FOCUS) and somehow inspires Macy to turn his luck around. That causes trouble at work, though. When he walks by the slot machines, they all hit the jackpot. When he leans on a blackjack table, everyone wins, etc. He's starting to cost the casino millions of dollars, which doesn't make Baldwin too happy.
What's really great about this movie is that even though Alec Baldwin's Bernie Lootz is the heavy, he's portrayed as a real person. We see his kindness with his good friend, a junkie over the hill lounge singer played by Paul Sorvino. We see the love in his eyes regarding Macy's character. But we also see him on the other end of the rope. The rage as he beats people. The fear of being overtaken by one of the larger casinos. The longing for a time when he didn't have these stresses, where he didn't have an eager young businessman right outta college (played by the always awesome Ron Livingston) chomping at the bit to take his job. He's the villain, but he's also a real character.
It was good seeing Baldwin in this movie, showing range and depth in a single performance. Because I also saw THE DEVIL AND DANIEL WEBSTER while at the AFM and boy did it stink to high heaven. Baldwin was laughably bad in the film, proving he can't direct himself or he didn't have a strong enough producer to critique his acting for him.
At any rate, I have 2 complaints with this film. One, Ron Livingston is criminally underused. His character is just supposed to be there and when you have someone as talented as him cast in the film, then you should throw him a few extra scenes to take advantage of his comedic talents. Two, I really love William H. Macy. I really do, but was it really necessary to see him naked so much in the film? I mean, the image of his wrinkled nutsac is forever burned into my brain. I could have lived without, but I'm sure you guys know best. Thanks for the Maria Bello nudity, though! That helped a little bit.
Lion's Gate has picked up THE COOLER for North American distribution. I hope they do this film justice. It's a character driven dramedy... Might be a hard sell, but I know there's an audience for it. I've heard rumors of this film showing at this year's CineVegas film festival, so there's a chance to see it... I highly recommend it.
BEYOND RE-ANIMATOR
Oh, how I love RE-ANIMATOR. There's a perfect blend of gross outs, camp and cool that makes it a wonderful watch. I still have yet to see BRIDE OF RE-ANIMATOR, but you better believe I jumped at the chance of seeing the latest installment, BEYOND RE-ANIMATOR, at the AFM.
I took my seat and in walks none other than Stuart Gordon, director of the first (and best) installment of the series, as well as the recent DAGON. I have a faint acquaintance with Mr. Gordon and was surprised to see him. He ended up sitting right in front of me for the entirety of the film. We bullshitted a bit (he wondered how the hell I had gotten my hands on a buyer's badge and snuck into this fest) then the movie started.
It opens up like a slasher flick, which endeared me to it immediately. As a child of the '80s I have a rather large soft spot in my heart for the slasher genre and the beginning of BEYOND RE-ANIMATOR definitely had the taste and feel of '80s slasher, but with a cool twist at the end of the scene involving one of Dr. West's experiments. For those who have seen the trailer... it's the Milk guy.
We end up seeing Dr. Herbert West (the awesome Jeffrey Combs) getting arrested for his criminal experiments and one of his syringes filled with the great green goop is picked up by a child. We see the two share a moment of eye contact and Combs is whisked away. Cut to something like 15 or 20 years later and Combs is in prison, though still finding ways of doing experiments using common prison cell items. A new doctor is being brought into the prison, a young kid fresh out of college, top of his class, etc. Of course this kid ends up being the young boy from the beginning of the movie and specifically requested this prison to continue the experimentations with Dr. West.
From there all hell breaks loose, but in a super fun and gory way. BEYOND RE-ANIMATOR is really, really cool. Sure, most of the acting sucks to a great degree, but in a film like this, one with such a high camp factor, the bad acting actually accentuates, not burdens, the film. When I speak of bad acting I want to make it clear that I am not referring to Jeffrey Combs' performance. Combs is on in this movie. He's eating up scenery like Harry at a buffet (sorry, big guy! Thought it was funny!), proving beyond a shadow of a doubt that he's one of the great character actors working today.
The bad acting mostly falls on Elsa Pataky, a Spanish actress who obviously doesn't speak much English. She's the romantic interest for the young doctor, a bitchy reporter using everyone for her story. Santiago Segura is also in the movie, playing a junkie prisoner. Segura is out of control in this film... maybe a little too much. Guillermo del Toro used him perfectly in BLADE 2, balancing his craziness with a tad bit of sanity. Not so in this movie.
My only real problem with the movie is it starts to drag when we're not with Dr. West. Jeffrey Combs is the heart and soul of this film and ultimately they tried a little too hard to concentrate more on the love story between the bitchy reporter and the young doctor when where they really should have been focusing their attention was on Dr. West. But that's a little gripe, really. It just keeps the movie from hitting that "brilliant" level. But you gotta love the final shot of Dr. West... and the cock fight during the credits. Absolutely fantastic.
Again, Lion's Gate bought this up. I'd be really surprised if they release this movie theatrically and that's a damn shame. It's movies like this that cry out for midnight audiences around the country. It's movies like BEYOND RE-ANIMATOR that work best when watching it with a packed house of horror geeks, laughing and screaming and having a ball. The energy in the room works like a contagion. Sure, this movie isn't for everybody, but it'll be a movie with rabid followers and rabid non-fans. The end of the film alone will throw a lot of people off... A prison riot involving super juiced up West creations. Limbs, heads, torsos being thrown here and there... Great stuff.
After the movie, I walked out of the theatre and was looking over my schedule when I see Jeffrey Combs and Brian Yuzna come out of the theatre. I introduced myself to Mr. Combs and told him I loved his work. He was very kind. A good guy. I was talking with him for a while and people kept coming up to him and telling him how much they liked the movie. I started walking away and heard him receive another bunch of fans who congratulated him on the film and how they hoped others will like it. He said something like, "Thanks so much. I'm sure there'll be a review online at Ain't It Cool News or something. Let's hope they liked it as much as you." Hehehe. Being undercover is fun! He had no idea that I wrote for the site when I had talked to him. Here's your review, Mr. Combs. I did indeed like the movie very much.
At any rate, I think it's time for me to be shoving off. I got lotsa cool goodies in the works, squirts. I'll be taking a vacation in the near future, but before I do so I got some stuff to share, including my review of PHONE BOOTH, A MAN APART and my interview with those pesky Spinal Tap dudes. 'Til that day, this is Quint bidding you all a fond farewell and adieu.
-Quint
email: My body is a roadmap of pain! Well, kinda... Email me here!!!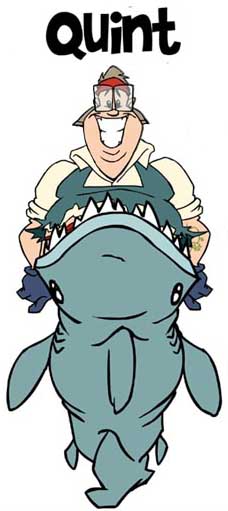 Well folks, Harry here to say Adieu, but before I go, remember this: This Is Quint's Mating Sound, BEWARE! You've been warned!