Movie News
What The Hell Is Moriarty Doing In Mexico?!
Hey, everyone. "Moriarty" here with some Rumblings From The Lab.
Well, aside from picking up a few shifts at the Donkey Show to pay for my ticket, that's a good question.
Last week, I didn't realize there was some sort of race to get a reality film onscreen. Now, in the wee small hours of Saturday morning, I'm suddenly reading about Universal's spring break movie and New Line's spring break movie and MGM's spring break movie, and I find myself packing to leave in just a few hours so I can spend the next four days in Cancun, where I'm going to try to sort out exactly what these movies are and what makes any of them different.
Yeah... that's right. Cancun.
It's difficult work, and no one wanted the assignment, so I figured I'd step in and take this one for the team. I'm going to try to suffer through the horror of one of Mexico's most famous resorts just so I can share the story with you guys. Please... pray for me.
And if you're in Cancun and you want to get in touch with the Professor, you can try me at the Ritz-Carlton, where I'll be registered, as always, under my code name: "Drew McWeeny."
After I leave Mexico, I'm going on a spy mission so secret that I can't even hint as to which hemisphere I'll be in. Just suffice it to say that if you're trying to get hold of me and can't, I'll be back in Los Angeles by Sunday morning, and I'll look forward to talking to you then.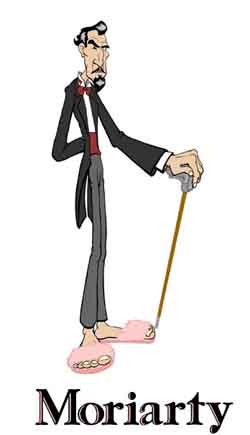 + Expand All

March 22, 2003, 5:33 a.m. CST

by Xphile69

....see a Donkey Show!! Why else would anyone what to go there?!?

March 22, 2003, 5:33 a.m. CST

by Uncle_Les

Have a fun vacation, ya deserve one (as opposed to me). Peace Out.

I'm a camera guy who was offered the Universal movie in Cancun, so I am guessing that Moriarty will be running into that production whilst down there.

March 22, 2003, 5:51 a.m. CST

by Tenacious Pimp

Well, did you get one of those for a rental instead of a Chrysler?

March 22, 2003, 6:03 a.m. CST

by ChickenGeorgeVII

Mori, south of the border, can mean only one thing....REVOLUTION! VIVA MORI!!!!! I'LL BRING THE GUNS AND LAWYERS!!!! MAKE SURE YOU HAVE PLENTY OF YOUNG SUPPLE FEMALE TROOPS IN BIKINIS! THEM PINKO RESORT SPRING BREAKERS WON'T KNOW WHAT HIT 'EM! THEN WE WILL CARRY 590 POUNDS OF HASHISH ACROSS THE RIO GRANDE AND CELEBRATE WITH 40 GALLONS OF TAMALES AND 672 NAKED WARRIOR BREASTS!!!! VIVA MORI!...And thus, Bush has got me in a war mood! - - - George, The 7th Chicken!!!!

March 22, 2003, 6:13 a.m. CST

by Cash Bailey

You wouldn't, by any chance, be on the set of CLUB DREAD, would you?

March 22, 2003, 8:44 a.m. CST

by CoolDan989

March 22, 2003, 8:49 a.m. CST

by nottoo

...or is that horses? At any rate, don't drink the water and enjoy yourself. May Montazuma's revenge stay far, far away from you. This reality movie schtick has been flying around for a while now. Just what we need, a movie about real young women with unreal fake boobs. Yikes! Just a woman's view. Cheers, bonnie Kate.

March 22, 2003, 11:25 a.m. CST

by Mr. Tourette's

...you chug that asscock. What? Ass means donkey.

March 22, 2003, 12:02 p.m. CST

by GoodShoe

Come on, don't bring him back, tell him you lost his ticket or something like that

March 22, 2003, 12:53 p.m. CST

by KatieScarlett

And those all inclusive resorts just shield tourists from the reality of what the country's like. That's my opinion though. (I find San Cristobal de las Casas and Chiapas more appealing because they haven't been ruined by the mass commercialization by that the tourism machine monster). At any rate, I hope you enjoy your vacation in a tourist friendly setting!

March 22, 2003, 1:22 p.m. CST

by Uncle Sam

Seriously, man, don't drink the water, and don't even use their icecubes. Or else your asshole will burn like the opening of "Bonanza". - I WANT YOU, but not in that way.

March 22, 2003, 1:54 p.m. CST

by 007-11

Who gives a rat's ass about a bunch of stupid college kids getting drunk off their ass and fucking everything in sight? If I want to see that all I have to do is go to a party.

March 22, 2003, 2:55 p.m. CST

by beamish13

It's the most won-der-ful time of the yeeeeeeear!

March 22, 2003, 3 p.m. CST

by mbaker

Duh, which way did they go, George, which way did they go?

March 22, 2003, 3:11 p.m. CST

by Noriko Takaya

Don't drink the water and don't breate the air!!

March 22, 2003, 3:19 p.m. CST

by SamWave

And watch out for cactuses.

March 22, 2003, 3:48 p.m. CST

by Hollo

The script is all over the place, check it out here: http://www.superherohype.com/cgi-bin/news/batman.cgi?newsid1048198639,77164,

March 22, 2003, 6:10 p.m. CST

by Son Of Batboy

Spring break movies. And I thought the Garfield piece was weak.

March 22, 2003, 7:48 p.m. CST

by Manaqua

..show us those glorious breasts you blessed bastard.......

March 22, 2003, 10:29 p.m. CST

by Tall_Boy

March 24, 2003, 11:37 a.m. CST

by mr_lopez

How many of you racist hillbillies have even visited another state? It's sad and pathetic to hear all these racial slurs coming from idiots who are just angry that they will never visit a beautiful beach resort. Don't be jealous of Moriarty. Also, Mexicans have discovered this wonderful innovation known as the automobile, therefore the only person you see mounting a donkey is your typical drunk white tourist who tries to climb on for a picture and ends up falling in a pile of shit. Have a great day my white friends :) and please do your laundry I'm sick of seeing all these dirty little kids whose parents are more concerned with Nascar then the hygiene of their child.