Cool News
Branwen Gives ANGEL 4.14 Four Stars!!
The second Faith episode! Which means Willow returns to Los Angeles next week! "Branwen" brings news of Krevlornswath's upgrade: Angel 4.14 FAQ What's it called?
"Release."
Who's responsible?
Steven DeKnight ("Calvary"), Elizabeth Craft ("Soulless") & Sarah Fain ("Soulless").
Angelus (David Boreanaz) continues his search for The Beast's mysterious master, never suspecting that it could be someone close to him. Meanwhile, Faith (guest star Eliza Dushku) and Angelus do battle while Cordelia (Charisma Carpenter) convinces Connor (Vincent Kartheiser) to keep their baby a secret. Alexis Denisof, J. August Richards, Amy Acker and Andy Hallett also star.
Where's Andy Hallett's "Special Guest Star" credit this week?
Watch for the new and improved opening credits: Our favourite demon's been bumped to star status.
What is TV Guide not telling us?
According to my TV station, viewer discretion is advised for this episode. Could the warning be for the incredible amount of blood that covers Faith in the opening scenes?
Which Cordelia do we get tonight; schmoopy-baby Cordy or demon tongue-kissing Cordy?
A little from Column A and a little from Column B. Schmoopy Cordelia has Connor wrapped around her growing belly, stressing how important it is that nobody find out they're pregnant, while Evil Cordy has Angelus wondering who the strange – and deeply masculine – voice in his head belongs to.
Do we find out what's happening with Cordelia this week?
We don't, but we get a few clues. The disembodied voice (which sounds very campy and a little like Vincent Price in Michael Jackson's "Thriller" video) suggests that it's located somewhere "soft and warm." Cordelia also mentions to Connor that the baby is growing more quickly than usual.
Does Lorne's sanctuary spell keep Angelus away?
The spell, which promises "no demon violence" in the hotel, doesn't keep Angelus out, but he minds his p's and q's while he's there stealing Lilah's book. The spell activates when Connor tries to defend the hotel, confirming that a child of two vampires may have a little demon in him after all.
Any Wesley-Fred action?
Not this week, but there is some unresolved action between Fred and Gunn. She apologizes for Wesley's kiss and offers one of her own.
The big news?
This episode confirms that Angelus is at his finest when he's tormenting his friends. The scenes of him menacing strangers at the demon bar just aren't that interesting.
The bigger news?
Wesley hasn't forgotten his history with Faith, and is more than willing to exploit it in the cruellest way possible.
The biggest news?
We get some insight into that happens to the demon inside a vampire with a soul. The Beast's Master is able to finally break Angelus by threatening to lock him back up inside Angel.
What's good?
Wesley and Faith's interaction in all their scenes; the one-horned demon barfly; "You can kiss my vampire ass"; Angelus's glasses; "You made me lose my shopkeeper!"; Wesley with his shotgun; "I was going to have those framed"; the last 10 minutes of the episode.
What's not so good?
The Beast's Master's voiceovers; don't they realize we hate Connor? The mirror scene is just wrong, and the subsequent lighting makes him look like he has a unibrow; the effortless jumping among the scaffolding – the "Bionic Man" sound effects really don't help.
How does it end?
Angelus promises to make Faith a killer, just like him.
Branwen's rating for "Angel" 4.14?
****
understanding that I may have lowballed last week's episode a tad. Opening-night jitters, you see.
The Hercules T. Strong Rating System:
***** better than we deserve
**** better than most motion pictures
*** actually worth your valuable time
** as horrible as most stuff on TV
* makes you quietly pray for bulletins
9 p.m. Wednesday. The WB. That was water-cooler vengeance!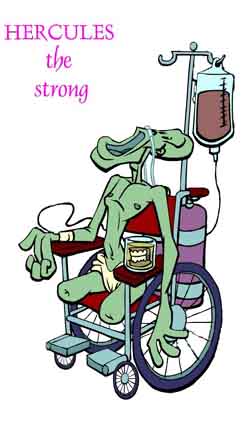 Looking for bumper stickers, plush toys and girls' underwear covered with cartoon double-amputees? Visit The Herc Store!