Coaxial
Another Key Clue About That BUFFY Spinoff!!
More evidence emerges this morning that Eliza Dushku will not play Faith the vampire slayer (at least on a regular basis) in any "Buffy the Vampire Slayer" spinoff. Variety reports that Dushku will play the lead in an another potential series, an untitled Fox network pilot from Jon Feldman ("American Dreams") and Rob Cohen ("The Fast and the Furious") about a grad student who discovers she can save lives by altering the course of events. Though the pilot may not necessarily go to series, Dushku's commitment to it likely does prohibit the "Buffy" braintrust from building a series around Buffy's darker counterpart. Dushku has signed to guest star this year in three upcoming episodes of "Buffy" spinoff "Angel" and the final five episodes of "Buffy" itself. "Buffy" now looks to end its seven-season run on May 20. A few reports, including one from Britain's BBC News picked up an erroneous item in the London Express indicating that a Faith series was already a done deal. So what will producers pitch as a new Buffiverse series? Something, likely, with potential.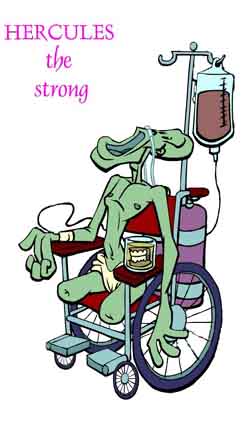 Looking for bumper stickers, plush toys and girls' underwear covered with cute cartoon double-amputees? Visit The Herc Store!