Coaxial
The Next Few ANGELs!!
We can't swing a Fantastico up here on Mt. Olympus without hitting gigantic "Angel" spoilers! IMPORTANT WARNING! These are episode-ruining spoilers. Stuff you don't really want to know. Seriously, we've dipped them in inviso-text for a very good reason. We implore you: If you love "Angel," do not cut away the inviso-text! 4.8
* Wolfram and Hart will be "neutralized" by the Beast, who will kill the conduit between the regular W&H gang and the senior partners.
* Cordy finds out that Angel saw her boning Connor. What Angel doesn't know is it was a one-time deal.
* Someone tells the gang that the Beast is linked to Team Angel.
4.9
* Lightning lass Gwen Raiden seeks Angel's help after the Beast kills one of her clients right in front of her.
* The Beast keeps popping up around Connor, so everyone suspects a connection.
* Cordy tells Connor Angel saw them boning.
* Cordy starts having visions of the Beast, on a battlefield. They get more and more detailed as the ep goes on. Finally, she realizes what is happening - she's reliving one of ANGELUS' memories that she got from the time she was a Higher Being. Yep, Angelus met with the Beast back in the 1700s and they forged a pact.
* Team Angel realizes that in order to figure out how to stop the Beast, they have to talk to Angelus and get info.
* Wes and Fred are working well together, and Gunn is jealous.
* Angel is all bad-moody around Cordy, and Cordy is trying to get him to talk to her about how mad he is.
* Cordy's also jealous of Gwen because she saw (with Higher-Plane-O-Vision) "supertramp" restarting Angel's heart.
* It's learned from Gwen that the Beast is collecting five totems located inside five people. When he collects all five, the sun goes away for good.
* Team Angel befriends someone with a totem inside, a nebbishy fellow named Manny.
* Manny is secreted to Gwen's well-hidden and swanky apartment. Angel/Cordy and Gwen/Gunn pair up to take turns standing watch over Manny. When Angel and Cordy are drugged into unconsciousness, Manny meets a grisly fate.
* The sun goes away for good.
4.10
* Turns out the sun is only blotted out in Los Angeles. It even makes the news! There's also a risk that the sun-block could soon spread everywhere.
* Team Angel is depressed. Gwen took off when the going got rough, and Wes is missing.
* Wes has actually gone to Wo-Pang, the shaman, because he hears he extracts souls.
* Krevlornswath tries to read Angel to get Angelus' memories of the Beast, but no go.
* Connor is all broody because everyone thought it was he who was tied to the Beast, when it actually turns out to be Angelus.
* Wes brings Wo-Pang. Angel says no way will he let them resurrect Angelus. But after he and Cordy talk (Cordy is against bringing back Angelus) he decides to do it. Wacky!
* They get a cage for Angelus. Angel lets them know that Angelus is bad, he's their enemy. He tells Connor he's going to have to kill Angelus if something goes wrong. Connor says yes a little too eagerly. ;)
* Wo-Pang does the ritual and at the end goes to cut off Angel's head because Wo turns out to be a follower of the Beast. Angel fights him. Wo-Pang kills himself.
* Wes apologizes for accidentally consorting with a Beast minion. He and Angel have a moment of reconciliation.
* They realize that Wo-Pang has stuff written all over him. They figure out from reading the stuff written on him that they need a special sword to kill the Beast.
* Cordy has a vision of the sword's location.
* Cordy, Angel, Connor and Wes go looking for the sword. There is much traversing of danger-filled underground tunnels. They split up, Angel with Cordy, Connor with Wes (much to Connor's dismay). A/C find the sword. But there's trouble (fireballs and such) and Angel has to save Cordy, which he does, and they kiss passionately.
* Connor sees them kissing. Whines. Runs away. Angel runs after him. They have a confrontation. "My life sucks because of you, Dad." Cordy intercedes and says she was never Connor's. Connor runs off.
* The other three go back to the hotel. They have the sword. Angel has to go fight the Beast. He gives them a rah-rah speech first. And then the Beast shows up there at the hotel.
* Angel fights the Beast. The Beast almost gets the best of him, but Connor shows up and helps. The father and son beat the Beast together.
* Light returns to Los Angeles. Angel is glad Connor came back. Connor says "Couldn't let you save the world all by yourself." He and Angel make up.
* Later, Angel and Cordy reunite and make passionate love. It's a perfect moment. Angel and Cordy have the Big O, and all of a sudden Angel sits up and does the post-orgasmic convulsion and spasms. He's losing his soul …
* And we flash back to the end of Act 1. Angel is on the table, Wo-pang finishes his ritual, and Angel wakes up as Angelus. Looks like everything after Wo Pang's first-act spell didn't really happen; it was all as part of Wopang's spell to desoul Angel!
* That's right. There really was no reconciliation with Wes. No reconciliation with Connor. No defeat of the Beast. No return of daylight to L.A. No Angel-Cordy bone.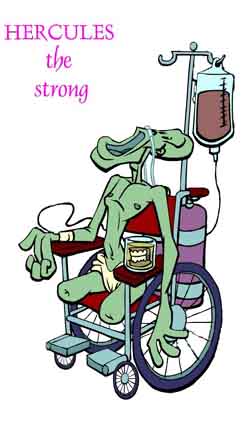 To order coffee mugs and boxer shorts adorned with the image of a green, handicapable "24" fanatic, click here.