Buffy 7.7 FAQ
What's it called?
"Conversations With Dead People."
Who's responsible?
Teleplay is credited to perhaps the two best "Buffy the Vampire Slayer" writers not named "Joss Whedon": Jane Espenson ("Same Time, Same Place") and Drew Goddard ("Selfless").
"In a jarring episode filled with returning characters, Buffy, Dawn and Willow encounter deceased people from their pasts. While out on patrol, Buffy (Sarah Michelle Gellar) squares off with a former classmate and current vampire (Jonathan M. Woodward), who goads her into revealing her insecurities. Back at home, Dawn (Michelle Trachtenberg) is thrown into a panic when an invisible force trashes the Summers' house and deposits the corpse of her mother (Kristine Sutherland) on the sofa. Meanwhile, nerdy villains Jonathan and Andrew (Danny Strong, Tom Lenk) return from Mexico."
Ew! Is Joyce all Griffin Dunne from "American Werewolf in London"?
Joyce takes many forms this week, and I guess you could argue that's one of them.
What is TV Guide not telling us?
It fails to mention both Adam Busch (who played doomed Nerd of Doom Warren) and Azura Skye (who played doomed psychic girl Cassie Newton a few episodes ago in "Help") both guest star this week. Also? Buffy, Willow and Dawn do not interact with each other, or with any of the regulars. And the Nerds share no scenes with any of the girls. It's one odd episode.
The big news?
This episode is devoid of Xander and Anya. Plus? Spike is seen repeatedly, but not heard, not even once.
The bigger news?
Buffy expresses real regret for her shabby treatment of Spike while the two were an item. "My best friends don't even - you'd laugh if you heard some of the things I've done to them," she confesses to her prey. "The last guy I was with got really... I behaved like a monster. Treated him like..."
I heard Willow talks to Tara, but I also read Joss Whedon said Amber Benson wouldn't be back. So who plays Tara?
Azura Skye, back from the dead, speaks for Tara. (Begging the question: Would Amber Benson be appearing this week if her talent agent and the studio had come to terms?)
Is it true, as rumored, Morphy is back this week and manipulating Spike?
Morphy is back this week. He likely continues to manipulate Spike, but we see no specific evidence of it this week.
Is it true, as rumored, Spike is siring vampires to attack Buffy?
This will remain, at least this week and in Herc's view, purely heresay. And when Morphy lurks about, who can trust their own eyes?
What are the surviving Nerds of Doom up to?
Jonathan has hatched a plan to gain the surviving Nerds admittance into the Scooby Gang. That's right: he wants them to rejoin the forces of good.
Is it true, as rumored, that Andrew takes to wearing a Spike-esque leather duster?
Not this week he doesn't.
Is it true, as rumored, that Andrew kills Jonathan?
That would be telling.
Any news on Spike's condition?
Well, again, James Marsters is dialogue-free this week, but there are hints that Spike continues to not babble insanely.
Any sign of Giles?
Nope.
Any hooded figures this week? Slayers-in-training?
Nope.
But they'll be back, won't they?
This I swear. And don't be surprised if one takes a liking to Will!
What's good?
The goofily self-deluded expression on Dawnie's face when she repositions the houseplant. The regret in Buffy's voice when she confesses, "Because I'm gonna win." Jonathan M. Woodward, wherever they found him, was a great choice to play the vamp who chats Buffy up; it's a tricky role as he's a bloodthirsty killer who's also somehow an engaging and charismatic student of psychology at Dartmouth. The stuff with Dawn is genuinely scary and creepy and disturbing; viewers may particularly marvel at one shot of Dawn early in the second act, a seamless and jarring marriage of camera tilt and digital effects sorcery. There's a great final shot of Jonathan. And it's neat to have Azura Skye back so soon; though I think most of us would have preferred Amber Benson, Skye makes a swell foil for Alyson Hannigan.
What's not so good?
While it's easy enough to appreciate all the superior artistry at work, it's also pretty easy to sense a lot that rings kinda false. Dawn is too quick to take an axe to the family's not-inexpensive electronics - and too quick to believe mom's come calling. Buffy is too quick to be civil and trusting with the monster who was moments earlier trying to throttle her to death. And Herc can't bring himself to fret much about Spike this week. Inviso-text on: The guy has a chip and a soul. Are we seriously meant to believe that's the real him? On a closing note, "Conversations" is undeniably teeming with wit, but for Mr. Strong's money, no true knee-slapper. With Espenson and Goddard behind the word processor, Herc may have been expecting something a few notches higher on the guffaw-o-meter. But, of course, Herc's a spoiled little princess.
How does it end, spoiler-boy?
"Oh, not it. Me."
Herc's rating for "Buffy the Vampire Slayer" 7.7?
***1/2
The Hercules T. Strong Rating System:
***** better than we deserve
**** better than most motion pictures
*** actually worth your valuable time
** as horrible as most stuff on TV
* makes you quietly pray for bulletins
8 p.m. Tuesday. UPN.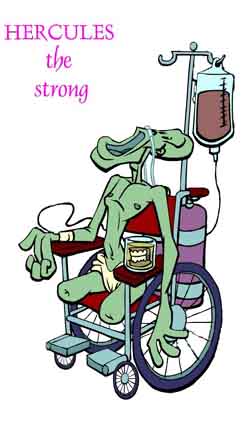 To order boxer shorts adorned with the image of a green, differently abled "Buffy" fanatic, click here.