Futurama 5.1 FAQ
What's it called?
"Crimes of the Hot."
Who's responsible?
Teleplay is credited to Aaron Ehasz ("Mission Hill").
"Al Gore makes a cameo appearance as the series begins its fifth season with Fry and his friends taking on a hot-button issue: global warming. As Earth is unable to counter its rising temperature through the usual method (the dropping of a giant ice cube into the ocean), Gore leads an emergency conference in Kyoto, Japan, where Professor Farnsworth claims responsibility for the crisis. It seems love detoured him from observing proper emission standards on his prototype robot, and that could necessitate the destruction of all its "descendants." That includes Bender, who resigns himself to having a farewell blowout before being blown up."
Why is the word "premieres" in quotes?
Fox is billing both as season premieres, though the real "Simpsons" launch was last week's "Treehouse of Horror XIII" and this first new "Futurama" in six months is actually leftover from last season (as will be the balance of this season's episodes).
I hate Fox! It keeps pre-empting "Futurama" for wretched football games!
Not really a question, but you may be gratified to learn we're only about two months away from the Cartoon Network airing "Futurama" repeats. Maybe even some you never got to see.
Dang, this is some short FAQ!
Yeah, Herc can't excited enough to slap together full-length reviews.
Well, is the "Futurama" episode funny?
This is a weak "Futurama" to be sure, but it says a lot about the general quality of the show that Herc still laughed aloud three or four times. (Especially hilarious was Bender's effort to extract beer from something he mistakes for a keg. And the professor's "memory ray." And Morvo the newscaster is, inexplicably, always good for a chortle. "Windmills do not work that way!!")
What about the rock-star "Simpsons"?
Huge disappointment after last week's reasonably funny "Treehouse." Can't say I laughed once. But maybe you will.
Herc's rating for "Futurama" 5.1?
***
Herc's rating for "Simpsons" 14.2?
**
The Hercules T. Strong Rating System:
***** better than we deserve
**** better than most motion pictures
*** actually worth your valuable time
** as horrible as most stuff on TV
* makes you quietly pray for bulletins
7 p.m. and 8 p.m. Sunday. Fox.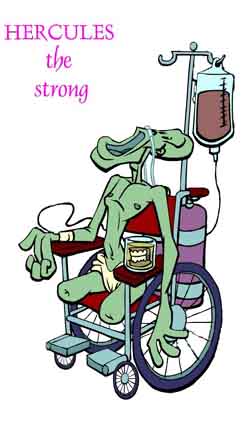 You don't want a Herc BBQ apron! Oh, you do? Well, you can order the monstrocity here.