Buffy 7.6 FAQ
What's it called?
"Him."
Who's responsible?
Teleplay is credited to Drew Z. Greenberg ("Smashed," "Older and Far Away," "Entropy").
* "Emergency cheerleader tryouts" are held at Sunnydale High when one of the squad has a nasty run-in with a vending machine.
* Lori, the Cordelia-like captain of the cheerleading squad, gets terribly annoyed when a star quarterback (let's call him Skyler) fails to ignore Dawn properly. Lori mocks Dawn by suggesting that sister Buffy, the school's new counselor, is "some kind of narc or something."
* Skyler feels threatened too, because his coach plans to start the Saturday game with a longtime benchwarmer (perhaps named Kozac). Dawn pleads with Kozac to bow out so Skyler can lead the team to victory. When Kozac laughs her off, Dawn does something surprising enough to be revealed in inviso-text! At the end act one, Dawny shoves the burly Kozac down a flight of stairs.
* It turns out Skyler can make all the females in Sunnydale do his bidding, thanks to his magical letter jacket. There's a funny scene closing act two that may remind some of "Buffy Vs. Dracula." Skyler slips the jacket on while Buffy is trying to lecture him about the evil of womanizing.
* Sounds like a Xander-centric episode from a few seasons past? There are parallels, including more than a little exciting catfight action. The slayer will even abuse her Sunnydale High authority to score some one-on-one time with the hunky footballer many years her junior.
* Spike and Xander, being the only two boys left in the regular cast, team up to sort out what's happened. They visit Skyler's brother, Lance. Once a big man on campus, Lance has grown into a pudgy delivery boy for Pizza Barn. It is from Lance that they learn of the jacket's disturbing history.
Did Herc's sources get it right?
A few things changed, including the names of some of the jocks. Skyler is now R.J. Kozac is now O'Donnell. Nobody calls Buffy a "narc." I think.
"Lovestruck Dawn pushes to have a charismatic jock (Thad Luckinbill) made quarterback on Sunnydale High's football team; Xander and Spike become reluctant roommates."
The big news?
D'Hoffryn apparently had a change of heart, and dispatched a demon to kill Anya.
What else is TV Guide not telling us?
Both Xander and Willow cast lustful eyes on the writhy, barely clad vixen the "charismatic jock" dances with at the Bronze – until said vixen turns around and turns out to be little Dawnie!
Any news on Spike's condition?
He moves in with Xander in the very first scene. And without Morphy around to torment him, he kinda seems fine now. A little blank and haunted, but apparently not delusional, and actually quite helpful at several points.
Is Willow affected by jacket-boy?
Yes, the jacket must be keyed to X chromosomes, for it affects Willow but not Xander or Spike. Willow's solution is to transform jacket-boy into a girl.
Does Willow get to implement this solution?
Not quite. Dang it.
Are Anya and Xander talking?
Yes, but not so much about each other. They continue to work together as components of the slayer circle. But Dawn says Xander says her still wants Anya.
Any hooded figures this week? Slayers-in-training?
Nope.
Any sign of Giles?
Nope.
What about Morphy?
Nope.
What's good?
We get to see all four of the show's very attractive lead actresses in hot-and-bothered mode, which is always pleasant. Xander gets to be funny and save the day again. An assassination attempt on the oblivious Principal Wood will amuse. There may or may not be at one point a low-rent homage to "24." Or "Charlie's Angels." Or "Mannix." It may not be an homage.
What's not so good?
They really should have let Willow turn jacket-boy into a girl. Also? Blink and you'll miss the Breeders' guest appearance at the Bronze.
That Anya-centric installment from two weeks ago was awfully good. Did Joss Whedon write the song Anya sang?
He did.
Was the song titled "I'll be Mrs"?
It's titled "Mrs."
This Drew Goddard guy who supposedly wrote "Selfless"? Is he really Joss Whedon using a psuedonym?
According to highly placed sources, Goddard last season was a TV exec's assistant - an assistant who wrote a "Six Feet Under" spec that many at Mutant Enemy enjoyed enormously. Word has it a range war broke out between the "Buffy" and "Angel" camps, both anxious to put him on staff.
How does 7.6 end, spoiler-boy?
Anya abruptly switches off the radio.
Herc's rating for "Buffy the Vampire Slayer" 7.6?
***1/2
The Hercules T. Strong Rating System:
***** better than we deserve
**** better than most motion pictures
*** actually worth your valuable time
** as horrible as most stuff on TV
* makes you quietly pray for bulletins
8 p.m. Tuesday. UPN.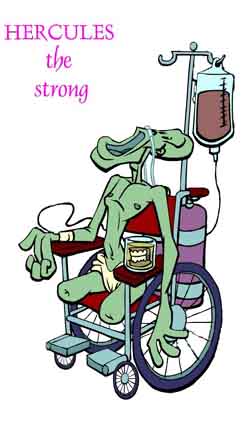 To order boxer shorts adorned with the image of a green, differently abled "Buffy" fanatic, click here.