Firefly 1.7 FAQ
What's it called?
"Our Mrs. Reynolds."
Who's responsible?
Teleplay is credited to series creator Joss Whedon.
The discovery of a stowaway (Christina Hendricks) leads to an even more shocking find---she's actually Mal's payment for a past job. Meanwhile, the Alliance has its eye on the Serenity. Or at least someone aboard it.
What is TV Guide not telling us?
The TV Guide description is most misleading. Alliance officials are not in the episode and they're not eyeing Serenity (or someone aboard it). Those eyeing the ship are actually just a handful of space pirates.
Isn't this just the third episode to air? What's this "1.7" business?
This edition of "Firefly" – the first installment to air written solely by Whedon – was originally set to bow a few weeks hence. So Fox has again tinkered with the batting order of these early stand-alone episodes.
The big news?
There's a reason Whedon decided to pen this one himself. We get a much stronger sense this week that Inara the fabulous space-hooker harbors grown-up feelings for Capt. Reynolds.
Is the "someone aboard" supergenius psychic-girl River Tam?
No. And this, one supposes, is the other big news: River is not even glimpsed this week. Puffy-lipped Hendricks pinch-hits nicely, however, ensuring viewers continue to get a full ration of comely sci-fi girls to stare at.
Any blue hands this week?
Nope.
What's good?
All the forward motion on the Inara front. Plus Whedon wrote it, so there's lots of funny on display, and more than a few surprises.
What's not so good?
The crew of the Serenity turns out to be an annoyingly prudish lot. If Jim Kirk ever took this long to kiss a guest star, the Klingons would be running the galaxy.
How does it end, spoiler-boy?
"I knew you let her kiss you."
Herc's rating for "Firefly" 1.7?
****
The Hercules T. Strong Rating System:
***** better than we deserve
**** better than most motion pictures
*** actually worth your valuable time
** as horrible as most stuff on TV
* makes you quietly pray for bulletins
8 p.m. Friday. Fox. A bird lives in a round stick!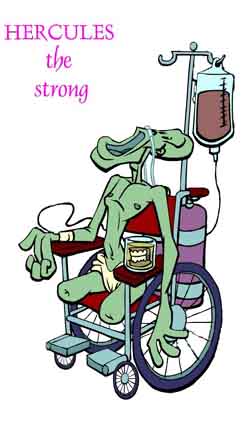 The Herc Store now has wall-clocks, snap-bibs, BBQ aprons and lunchboxes! To order, click here.