Hey, everyone. "Moriarty" here with some Rumblings From The Lab.
It's been a full week now. It's Labor Day, and I'm finally finding the time to put the finishing touches on this, my second article about visiting The Doors for a rehearsal. In the last week, I've been innundated with e-mail, both positive and negative, reactions to the original piece I wrote. It's fascinating to see how passionate people are, how some of you will take the time to write me about the way The Doors touched your life, while others of you wrote to tell me that I'm a complete idiot and loser for finding meaning or merit in the work of the band. I can understand how you might not like what they do, but for you to write me a rabid, angry screed about how I shouldn't listen to them, how they aren't important, how Jim was a drunken clown... well, I call shenanigans on you. They obviously meant SOMETHING to you. They affected you. They are an undeniable piece of the '60s divine firmament. And let me offer you this advice... if I don't like something, I shrug it off. I don't spend time angrily telling people who like it that they're wrong over and over and over again. I don't spend time reading about that subject just so I can get mad all over again. If you know that you hate The Doors, I updated another 14 stories to the site today. Go read those. I'm not trying to fool anyone here. I'm a fan. This is a love letter. I am giddy with fucking joy, okay?
And if you can't accept the idea of The Doors playing with anyone except Jim Morrison in the lead, I told you... I was with you at first. When they did VH1's STORYTELLERS, I thought it was an interesting evening, a cool selection of music played by a group of fans sitting in with the original musicians, a tribute and a chance to share that music with the audience... the opportunity to "get together... one more time." The idea of them actually picking up and continuing on as The Doors, though... I wasn't sure what I thought of it. Especially without knowing some sort of firm line-up. I didn't want to hear rumors about who might or might not participate.
That's why it was literally dizzying when I took my seat on the leather couch that was front and center in the rehearsal studio. Tim Sullivan, my friend who invited me to visit the rehearsal, worked to set a mood in the place by pulling curtains closed and setting the light levels both onstage and off. Brett Nemeroff (Tim's partner on the upcoming film RIDERS ON THE STORM along with Chris Kobin, which they're producing for Ray Manzarek to direct) was walking around with a video camera, capturing footage of these moments as the band started to come together.
Me, I was just sitting there, watching Ray Manzarek settle in behind his keyboard, setting it up so that he had all the right sounds just a keypunch away. I was motionless as Robbie Krieger hooked up a new effects pedal he wanted to try out and started playing riffs, familiar little bits and pieces of things. For a moment, the high piano part from "Riders On The Storm" was unmistakable, and then Ray was back to working on the sound of the keys. Stewart Copeland kept adjusting the exact placement of his drums and his cymbals, and he tested things out with a few powerful snaps on each piece.
Tim kept showing up with different items for me. A copy of the set list. A single drumstick enscribed with Stewart's name on it. Then he would disappear again, getting ready.
There's also one other new member of the band, a bassist named Angelo Barbara. He's played with Robbie before, and watching him onstage with these guys, I'm jealous. He's having a blast. He's obviously a fan, having studied the original recordings closely enough that he actually corrected Ray and Robbie on how something was arranged originally. He's working to reproduce all those great bass lines originally provided by Manzarek on keyboards, and it really fills the band's sound out in a whole new way. He's an adventurous player, and right from the start, he brings something important to their sound.
When they actually started playing, I almost didn't notice at first. They just gradually started making sounds together, as if testing each other out, and those little moments suddenly seemed to gel, and just like that, "Roadhouse Blues" kicked in.
There's something dirty and seedy about the song, about Robbie's guitar lick at the beginning, at the fuzzy sound of the whole thing. If "Touch Me" is their cheesy Vegas song, then "Roadhouse Blues" really is their drunken bar band song. It's a great, fun song, maybe the most joyous tune I can think of with the word "Blues" in the title and lines like "The future's uncertain/And the end is always near." Ian Astbury was restrained at first, like he was just looking for his place in the music. And I understand... there was a moment during that first song, where Robbie and Ray started trading riffs back and forth, where I suddenly felt all doubt drop away.
And what are they rehearsing for? I still haven't been clear on that, have I? There's a show coming up... coming up very, very soon, as a matter of fact. It's a secret show, somewhere in LA. I hope I end up going to the show so I can see the difference in the way they finally put everything together. And following that show, The Doors are going to be part of The Open Road Tour.
See, next year is the 100th anniversary of the formation of Harley-Davidson. The Open Road Tour began in July of this year, and will end in July of next year. There's all sorts of acts that are part of the tour, like Aerosmith and Stone Temple Pilots and Journey and Los Lobos and George Clinton and Parliament/Funkadelic. And in Los Angeles (September 6-8) and Toronto (September 28-29), The Doors are going to be playing.
It's a busy month, though. There's also an event in New York on September 27th, where Ray Manzarek and George Winston are going to be playing together, a one-time concert to support Winston's new album, a set of arrangements of Doors songs for jazz piano.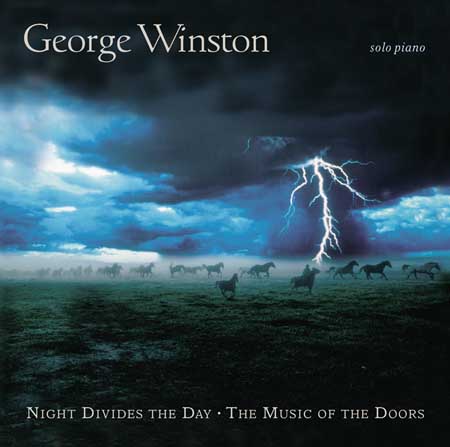 This sounds remarkable. The following night, Ain't It Cool is going to be part of a special Ray Manzarek-related event, something I'll be bringing you details about later in the week. I'm very, very pleased to be part of this, too. It's going to be an interesting event, something I'm looking forward to for any number of reasons.
And if all of this goes well, there is talk of the future. There have been whispers (not at this rehearsal, but in the fan community) about poet Jim Carroll working with the band on new songs. They're talking about moving forward and actually creating together again instead of just coasting on what already exists. These aren't vampires, guys cashing in on former glory. There have been other opportunities for that in the past, and they haven't been taken. They could have cashed in hard around the release of Oliver Stone's biopic in the early '90s, but they sat that one out. As far as I'm concerned, they've never looked like they were exploiting their former glory. If anything, they've erred on the side of caution.
I can say that with confidence having listened to them work their way through "Break On Through," "When The Music's Over," and "Love Me Two Times." On each song, they started getting looser, more comfortable with each other. Stewart is an explosive drummer. I saw the SYNCHRONICITY tour back in the day (I hesitated to tell Copeland how old I was, as I didn't want to make him faint), and he hasn't lost a bit of the energy or inventiveness that made him one of my favorite drummers back then. They went over a few bars of "When The Music's Over" several times, working out the timing on "We want the world and we want it... now!" but for the most part, they just played a song and moved on to the next, working on their sense of rhythm in and out of the songs as much as the songs themselves.
As they warmed up for their Brecht/Weill-inspired "Alabama Song," Ray ended up playing what sounded like WWII-era German beer hall music. He sang in a joyously bad accent straight out of THE PRODUCERS about taking over Poland while everyone broke up. Ray seemed to love to break the mood between songs, if only for a moment. They pulled it together, though, then bulled through "Alabama Song," "Backdoor Man," and "5 To 1," where they found themselves working on the arrangement, Angelo once again serving as the voice of authority. This was the raunchiest part of the day, and on "5 To 1" especially, they seemed to be aiming for that decadence. After one pass on the song, Robbie suggested trying it again slower, and as they played the first few bars, the menace was obvious. Ray laughed and said, "That's going to seriously fuck them up the ass!" The song seemed darker, more malicious when played like that. They tried the ending of the song a few different ways before moving on, happy with the new arrangement they organically built based on what everyone was trying. Ray and Robbie aren't trying to push the other players around onstage, and they didn't pull rank. There was no sense that Stewart or Angelo or Ian were afraid to suggest something or experiment with something. This isn't an attempt to reproduce the songs the way you've heard them a million times. Instead, it's a celebration of this music, of these songs, a chance for these guys to take this material for a drive again. Imagine writing songs like "Strange Days" or "Ghost Song" and not being able to play them with your collaborators.
And now imagine how good it would feel to finally decide to play them together again. Imagine what a release it would be.
After the first half of the rehearsal, the guys took a break for a few minutes. The one thing that I felt I still didn't have a handle on after nine full songs was Ian Astbury. I mean, I've seen the guy live before with his band The Cult, and I've always thought he was one of those great natural frontmen. His baritone is very much like Morrison's, and there's no missing Jim's influence on The Cult lyrically. On CEREMONY, there's a track called "Heart Of Soul" where he sings, "Down and out in London/Los Angeles/And Paris too/I drank a river/In my time/To get on through," a sentiment that could have come directly from one of Jim's journals. Ian's fascinated by the same shamanistic history that so directly influenced Jim, and so much of that shows up in his work.
And when you guys point out that Ian isn't Jim, I wonder who you think you're cluing in to that fact. You think Ian doesn't know what sort of shoes he's stepping into? He's in one of those classic no-win situations in rock music, where he's performing songs that were very personal to a very particular talent, and that almost never works out. Sure, a band like AC/DC managed it, but they're the exception, not the rule.
The band was still on break when Ian wandered over to where I was sitting. Tim had seeded the coffee table in front of me with bait. Ian's a comic book fan (he seemed particularly keen on 30 DAYS OF NIGHT, the werewolf story that Sam Raimi got so hot and bothered by recently), and Tim had brought in some great EC Comics reprints that he left sitting out. Ian and I started talking about comics, then drifted into talk of Alan Moore specifically. That led us to all sorts of other digressions, and what struck me about Ian is that he's got a very sharp, dry sense of wit, and that once you get him talking, he's quite engaging. I figured the last thing he'd want to talk about is the enormous weight of stepping in as the front man for The Doors, but he gave me a wry little laugh and said, "I've got arrows pointed at me from all sides." Before we could continue down that conversational path, he looked over my shoulder and asked someone how they thought things were going for the day.
I turned, not realizing anyone had joined us while we were talking.
Robbie Krieger was seated next to me on the couch now. He answered Ian, but I didn't hear what he said because I realized Ray Manzarek was next to him, in a chair, and that Stewart Copeland was sitting next to him. There I was, in the middle of The Doors...
... and there was no one else in the room.
As the band chatted, I watched the dynamic between them, and was impressed by the easy rapport they seem to have. Stewart and Ray could be brothers. They're both tall, lean, well-preserved, with the same basic bone structure, both of them in glasses. They're also both very quick, very witty men. Even between songs, there's a sense of joking around, a sort of gameplay going on that really makes these guys feel like they're coming together as a group. True... you won't see years of shared experience between them onstage. Densmore is a particular piece of the puzzle, as was Jim. They don't seem to be replacing those guys, though. They're simply playing something different. These songs that they love playing are getting a fresh treatment from everyone.
They headed back onstage eventually, and began the second half of the rehearsal with a light as air rendition of "Love Street." Astbury has a real warmth to him that came through loud and clear in that second half of the rehearsal. He had a hat pulled down over his eyes, and for the most part, he looked like Chuck Barris from THE GONG SHOW up there, not really moving much, simply working to find his space in the songs. And he did, too. As they moved through "Moonlight Drive," "Wild Child," and the unexpected pleasure of "Summer's Almost Gone," he really loosened up. By the time they launched into my very favorite Doors song ever, "L.A. Woman," they were playing with incredible force and intensity, and Astbury had opened up completely. That slightest hint of an English accent in his voice brought an outsider's edge to the song that made it sound new to me, and the band played the shit out of it. That song, even more than "The End," is all about build-up and release for me. By the time Ian was singing "Just got into town about an hour ago/Took a look around to see which way the wind blow" for the second time, they weren't just five musicians playing together.
They were The Doors. Absolutely and completely. In the end, no matter how much I acknowledge the individual contributions of someone on a band or in a film or in any collaborative medium, what matters most to me is the art itself. Two years of shitty rumors no longer matter when you're sitting in a theater and a movie really works, transporting you in that almost chemical way that great movies can. And the spectre of a brilliant burn-out, the shadow of unfulfilled potential, no longer matters when a song like "L.A. Woman" blows through you like a desert wind. All the baggage simply falls away when it's working, and I can honestly say... if this music matters to you, you are going to flip. If you're in either Los Angeles or Toronto, make the effort. Make it to one of these shows. What you'll see is a group of musicians who are playing something vital and alive, something I know I've personally always wanted to hear like this.
"Light My Fire" is the last song of their regular set, but they rehearsed three other songs that they'll have ready for possible encores. By that point, they were humming along, well-oiled and capable of anything. "Spanish Caravan" made me crazy because of how great Robbie's work on it was, and the last two songs seemed like just the right emotional note to end on. I'll leave those for you to experience as surprises when and if you see them.
I hope to actually sit down and talk to The Doors before they bail town, and I know we'll have more information on upcoming projects from Ray Manzarek as he moves more directly into the world of film. It's always lovely when my rabid interests intersect, and there's definitely stuff worth discussing.
For now, though, L.A. area fans might want to turn their radar up to high for Tuesday night and keep "RoadHOUSE BLUES" in mind when trying to sort out where and when that secret show is. I hope I'm there to see the roof blow completely off the joint. Until then...