Hey folks, Harry here... Quint has a bang up report for you folks to gawk over. Here ya go...
Ahoy, squirts! This is the transcription edition of this crusty ol' seaman's San Diego Comic Con reports. Plus, I have some announcements made today. Ang Lee was announced today during the Trailer Park panel as officially being at the Hulk panel at 4pm in Room 20. Also announced was Ben Affleck appearing at the Daredevil panel alongside director Mark Steven Johnson, 5pm in Room 20. According to the announcer, Affleck graciously decided to fill in for Collin Farrell who had to bow out due to a family emergency.
Alright... First up is my interview with Hong Kong legend and star of SHAOLIN SOCCER, Stephen Chow.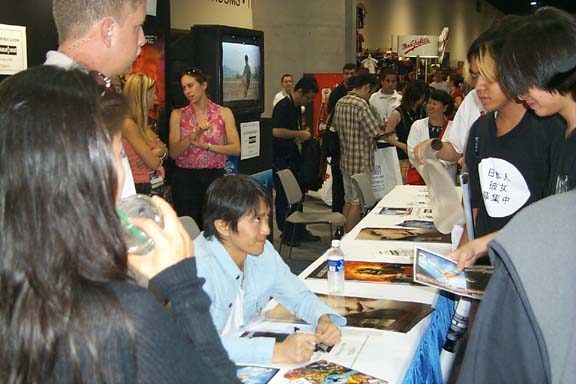 This interview was set up by a really nice lady from Miramax who I ended up arguing with over the dub and edits on the US version of SHAOLIN SOCCER. Again, she was a nice lady, but we just didn't see eye-to-eye on the re-edit and re-dub of the hilarious and whacky SHAOLIN SOCCER. The interview was done after a huge autograph session at the Miramax booth where Mr. Chow got mobbed. We were sitting in an empty room, surrounded by Stephen's friends and his cool-as-hell assistant, Elliot, and about 5 Miramax employees... So, a very comfortable environment, right?
I was a little put off at the start because the trailer for SHAOLIN SOCCER that Miramax was running over and over and over again at their booth was terrible. It was Mr. Voice at his cheesiest, some pretty weird dubbing and the entire movie given away. I've seen SHAOLIN SOCCER at least 6 times and I was shocked to see that most of the trailer focused on the final soccer battle... 80% of the trailer was showing the climax of the film, giving away injuries and surprises... Now, I haven't seen Mirmax's cut version yet, so I can't for sure say it's an abomination.... It might not be. I hope it's not. The nice Miramax lady was telling me that the dubbing works because it's a comedy, so it's easier to accept... I don't know... Maybe... and that Stephen himself did the dubbing for his voice. A little better, I guess. And that Stephen himself OKed the re-edit. I still don't now. I want to believe the re-edit and the dubbing will compliment the movie, but that one will fall under the category of "I'll believe it when I see it." I hope I'm proven wrong.
Let's get on to the interview. Keep in mind English isn't Mr. Chow's native tongue. I kept as much of his speech pattern as possible for you folks to get a better feel of what he's like in person. He's very short, very soft spoken and one of the nicest people I've met. Without any further adieu, here's the interview!!!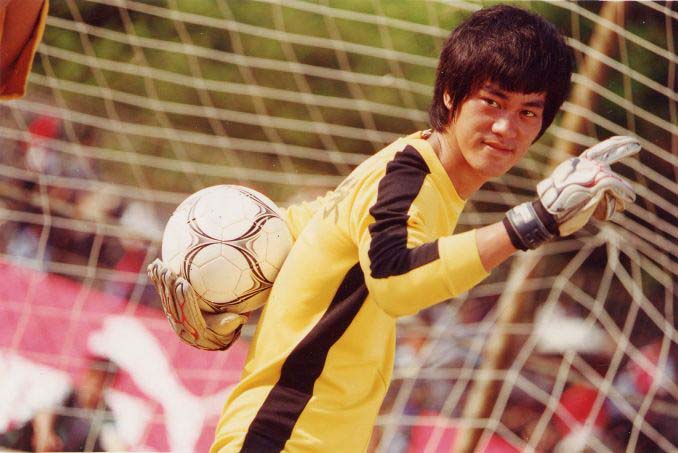 QUINT: I HAVE TO START WITH ASKING ABOUT MY FAVORITE CHARACTER FROM SHAOLIN SOCCER. YOU SEEMED TO RE-INCARNATE BRUCE LEE FOR YOUR MOVIE. DID YOU INTEND FOR THE ACTOR WHO PLAYED THE GOALEE TO HAVE SUCH A RESEMBLENCE TO BRUCE LEE?
STEPHEN CHOW: The thing is... his face. I mean, the guy is not supposed to act. He's actually the guy who teaches us how to dance. He's a teacher of dancing. You know there's a dancing scene?
QUINT: OH, YEAH. IT'S HILARIOUS.
STEPHEN CHOW: He's the one who arranged that. The thing is... he look like Bruce Lee. I keep thinking, "There's got to be a role for him... The goal keeper would be the perfect role for him." Normally, the soccer player... the clothes he wears are, like, socks. But the goal keeper can wear something like Bruce Lee would wear in GAME OF DEATH. That's perfect, for him to be the goal keeper.
QUINT: HOW DID YOU COME TO DIRECT AND STAR IN THE MOVIE?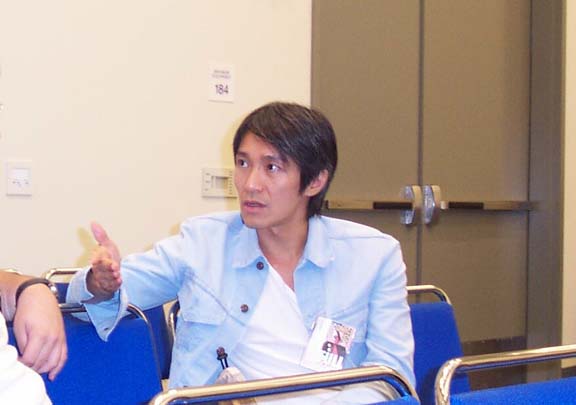 STEPHEN CHOW: I always wanted to make Kung Fu film. I wanted kung fu and something else to put together. Why is it soccer? The World Cup. Everybody watches worldwide, except America. It's not as big as what it is in Europe or Asia. People are crazy about it. Also, the soccer game... They grab and they shoot with head and kick is easy to combine with Kung Fu. I won't take Golf and (combine with kung fu)!!! (laughs).
QUINT: MAYBE THAT'S THE SEQUEL!
STEPHEN CHOW: Maybe, but I can't imagine that. Maybe later.
QUINT: WHAT WAS YOUR REACTION WHEN MIRAMAX DECIDED TO RELEASE THE FILM IN AMERICA?
STEPHEN CHOW: (After a pause) That's cool.
QUINT: ARE YOU LOOKING FORWARD TO HAVING MAINSTREAM AMERICA GETTING A CHANCE TO SEE YOUR WORK?
STEPHEN CHOW: Yes. What do you think? (laughs)
QUINT: I'VE BEEN TOLD TO ASK YOU ABOUT THE PROJECT YOU'RE WORKING ON NOW. I UNDERSTAND YOU'RE WORKING ON A BIG KUNG-FU FILM. CAN YOU TELL US ANYTHING ABOUT THAT?
STEPHEN CHOW: Actually, that is only one of the projects I'm working on now. It's in the process of script writing. It's something about Kung Fu action. Because after SHAOLIN SOCCER, I have confidence in the action moves, in the action style. Before SHAOLIN SOCCER, I was startled. Can I make it? Right now, I'm gonna make it! One of the projects is about Kung Fu and the other is THE SEQUEL TO SHAOLIN SOCCER.
QUINT: SO, IS THERE ANOTHER EVIL TEAM TO DEFEAT THIS TIME AROUND?
STEPHEN CHOW: (A long silence) Um...
QUINT: TOP SECRET?
STEPHEN CHOW: (laughs) Actually, it's not yet in my mind. A concrete idea is not there.
QUINT: IS THERE ANYBODY YOU'D LOVE TO WORK WITH THAT YOU HAVEN'T YET?
STEPHEN CHOW: Of course Steven Spielberg. I wish.
QUINT: I HAVE ONE MORE QUESTION. I KNOW A LOT OF FANS OF THE HONG KONG VERSION OF SHAOLIN SOCCER ARE WORRIED ABOUT THE CUTS TO THE US RELEASE. I WAS TOLD THAT YOU HAD CREATIVE CONTROL, SO WHAT MADE YOU WANT TO CUT ANYTHING FROM THE ORIGINAL RELEASE?
STEPHEN CHOW: We have different opinions from different people because we have different tastes. For me, I wouldn't... I mean, I like the long version, but that doesn't mean it should be shown right here. Somehow I believe a company like Miramax have a lot of experience in such a thing. I mean, in marketing and they know the audience. So, that's it. They have a reason. As long as the structure of the story are still there I can accept when they make it shorter. They don't really re-edit, just cut it shorter. That's fine. I'm OK with that.
--------
There you have it, squirts. Short and sweet. I would have loved to talk to him more, especially about his past work, but the time was short and Stephen told me he was anxious to head onto the Convention floor to buy some anime products. Who was I to delay the God of Cookery?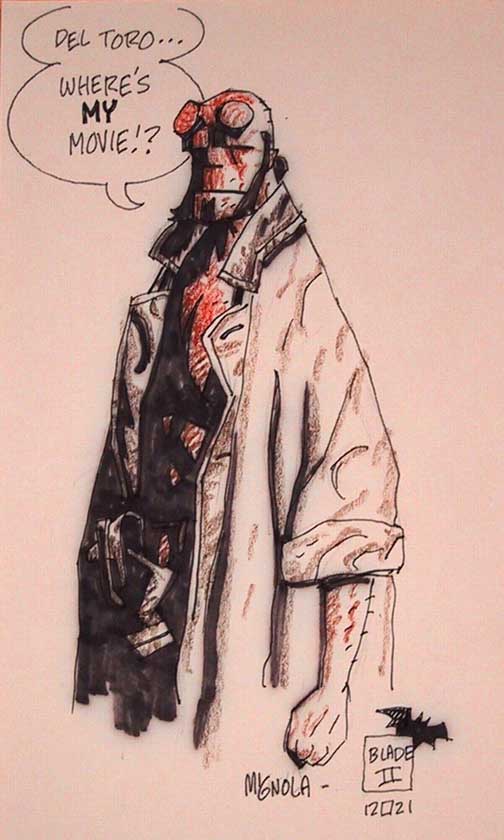 Now for a transcription of the best of the best from Guillermo del Toro, Ron Perlman and Mike Mignola from the HELLBOY panel yesterday. In my Comic Con report from yesterday I told you folks the gist of what was said... Guillermo just assured us fans that he's staying true to the comic book and spent the rest of the hour addressing fan's concerns and fielding questions. Again, the below are fust some exerpts from the panel. Look for a full fledged interview with Sr. del Toro in the very near future... And yes... HELLBOY is NOT an animated film. Live action all the way. Here we go:
-------
GUILLERMO DEL TORO: I'm doing this movie (HELLBOY) because I'm desperately in love with the comic, not because I want to change it or make it better. I think that when you know of something good, you want to tell the world about it. You want to, if possible, poke your dick into it (audience laughs). I do!!! I have the best intentions, but in order to poke properly, I invited Mike Mignola.
--------
RON PERLMAN: (IN HIS GREAT GRUMBLE OF A VOICE) I don't have much to say except that I'm thrilled and honored to be the guy that gets to put on the red stuff and I welcome any of your suggestions. This'll be my third collaboration...
GUILLERMO DEL TORO: Listen to that fucking voice!!!
----------
GUILLERMO DEL TORO: I think that the worst thing that can happen to a movie is when you get a producer or director that says, "Well, it's a comic, but I'll make it better. I'll make it work." That's really a screwed way to approach a property, so we're carefully translating it. All the gothic surroundings, the dripping sewers, the dripping subteranian chambers and all of that will be there. And (HELLBOY) will battle huge fucking Lovecraft monsters towards the end.
------------
GUILLERMO DEL TORO: (HELLBOY) is not a gory film. I did that one. (laughs) It's not a gory film, but it's full of Jack Kirby/Mike Mignola-esque big action, big fights between creatures. We do have, as I said, the big Cthulhu creature towards the end.
------------
GUILLERMO DEL TORO: (talking about THE LEFT HAND OF DARKNESS, a seperate project he's working on) This one was one of the ones I wrote right after CRONOS. It's been with me for 8 years. It's basically an 1860s version... account of Monte Cristo set as a gothic western in Mexico and the Count is a guy with a mechanical, clock-work hand who is the fastest gunslinger in the west. It all happens at dusk. Red skies and people with black horses. It's a great idea to do the aesthetics of a horror film in a western.
I don't know. Hollywood is a strange... I may do it independently in Spanish. One of the ideas I have is to do it for 5 million bucks on my own terms in Spanish and screw it. I think that's a really great option many times. "Screw it" is a great option.
------------
AUDIENCE MEMBER: WHAT WILL IT BE RATED?
GUILLERMO DEL TORO: HELLBOY is the first forray into PG-13 for me. It will not be R because the comic is not gory. It is violent, but not gory, so we will have all the tentacles that you can choke on. There ain't gonna be any dick, tits, ass or fuck you.
-------------
GUILLERMO DEL TORO: You cannot just grab any effects company to do Hellboy himself, so we knew from the start that we wanted Rick Baker and we got him.
-------------
GUILLERMO DEL TORO: Liz Sherman is there... We have Abe Sapien. Abe is my favorite character, aside from Hellboy. Abe is there 3/4 of the movie. I think the second movie might be Abe Sapien's love-life, maybe... with large mammals or something. We wanted to expand it, but the BPRD... Already the movie has many characters and those are the members we could cram in, so not all of them are there.
-------------
GUILLERMO DEL TORO: Hellboy is what is in my mind from now until 2004, but I'm developing some story lines and some screenplays that I'm not writing myself. The only one I'm writing with my partner Matthew Robbins is AT THE MOUNTAINS OF MADNESS, from the Lovecraft novel. What is great about that one is no one has done that side of Lovecraft right. No one has really tried to make the cosmic monsters and cities and the dimension of existing in a world that basically is the bread crumbs of a cosmic picnic. We're here because someone made us as a joke. That's the whole credo of Lovecraft. Some creatures created life on earth as a joke. It's really just a perspective that has never really been seen on film. We're fighting very hard to get that one, but it will take a while.
I am doing COFFIN, but I am not writing COFFIN. It's being written by Tim McCanlies, who wrote IRON GIANT... The only thing I can tell you, which is great, this is a robot or a design unlike anything you've ever seen. It's basically nanotechnology and it's really spectacular what it does... I will not say because it will be in a mini-series next year. I think it will be really great to do it. If you saw my first movie, CRONOS, I say jokingly that COFFIN is like CRONOS on steroids because it's about a guy who has to come back after being dead to complete his duty on life to someone he loves.
---------------
Hey there, squirts. Quint back again. I wish I had time to transcribe the whole panel for you, but I must sleep if I'm to attend all that cool shit tomorrow and be conscious while all the DAREDEVIL, HULK, DREAMCATCHER, TWO TOWERS, HARRY POTTER AND THE CHAMBER OF SECRETS, MATRIX and X-MEN 2 stuff is going on. That'll make for a boring report tomorrow night, will it not?
So, I'm off to bed. Hope you guys got a kick out of the short interview with Stephen Chow and the little peeks you got into the HELLBOY panel. I'll be back tomorrow with even more coolness, including an interview with the amazingly beautiful Asia Argento and some other super-cool cats. 'Til that day, this is Quint bidding you all a fond farewell and adieu.
-Quint
email: James Cameron, you will submit to me, as will you Arnold, and You Affleck! For I am Quint and I know all!!!