Because FX's "The Shield" has been airing opposite new episodes of MTV's top-rated reality shows "The Real World" and "The Osbournes" every Tuesday, many have been missing out on TV's best cop show. Now that the cathode rays have grown all rerunny again, FX is good enough to cablecast all 13 episodes of "Shield's" just-concluding first season this week. That's almost as good as a DVD, and a whole lot cheaper! Here's when to watch and tape:

1.1 Wednesday 10 p.m.
1.2 Wednesday 11 p.m.
1.3 Thursday 10 p.m.
1.4 Thursday 11 p.m.
1.5 Friday 10 p.m.
1.6 Friday 11 p.m.
1.7 Saturday 10 p.m.
1.8 Saturday 11 p.m.
1.9 Sunday 10 p.m.
1.10 Sunday 11 p.m.
1.11 Monday 10 p.m.
1.12 Monday 11 p.m.

1.13, the season finale, airs for the first time in the show's regular time slot, 10 p.m. next Tuesday. I warn you not to defy me!!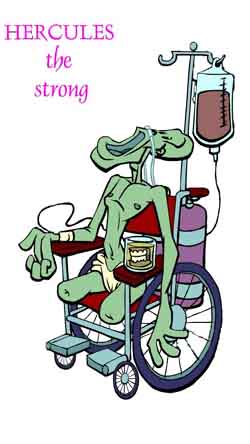 To order coffee mugs and boxer shorts adorned with the image of a green, leg-free "Alias" fanatic, click here.