Coaxial
X-FILES, DARK ANGEL, FAMILY LAW Vets Land New Gigs!!
When the nets announced their fall schedules two weeks ago, lots of big-deal TV writers discovered themselves out in the cold. Then began that annual exodus when people who worked for cancelled shows moved on to not-so-cancelled shows. Our pal "Princess X" brings us a partial summary of who went where: * Rene Ecchiveria, crafter of many teleplays for "Deep Space Nine" and "Now and Again" and showrunner for the final season of Fox's "Dark Angel," is now showrunner for the ABC drama, "Meds." Airing 10 p.m. Wednesdays, the hourlong depicts a pair of maverick physicians who struggle against the HMO that employs them. Cinematographer turned writer-director Gary Tieche ("Nevada") created the show, which stars John Hannah (who played a doctor on his two previous series, "Out of the Blue" and "McCallum") and William Fichtner ("The Perfect Storm," "Pearl Harbor," "Black Hawk Down"). * David Shore, former showrunner of CBS' "Family Law," is now showrunner for CBS' "Hack." Airing 9 p.m. Fridays, it's an actioner about a cab driver who fights crime. Created by screenwriter David Koepp ("Panic Room," "Spider-Man") the hourlong stars David Morse ("St. Elsewhere," "The Green Mile") and Andre Braugher ("Homicide," "Gideon's Crossing"). * Frank Spotnitz, Chris Carter's right hand at Fox's "X-Files," is the new showrunner of CBS' "RHD/LA." Airing 10 p.m. Fridays, it's a Los Angeles-based cop drama from writer-producer Barry Schindel ("Law & Order") and writer-director Michael Mann ("Miami Vice," "Heat," "Ali"). Tom Sizemore ("Heat," "Black Hawk Down," "Big Trouble"), David Cubitt ("The American Embassy"), Barry Shabaka Henley ("Life," "Ali"), Michael Paul Chan ("Spy Game") and Klea Scott ("Millennium," "Brooklyn South") star.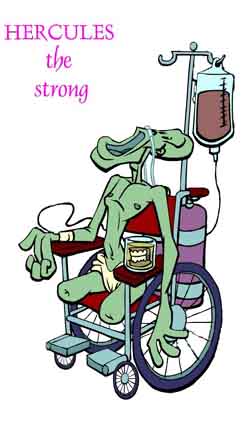 To order coffee mugs and boxer shorts adorned with the image of a green, leg-free "Alias" fanatic, click here.