It's never easy to watch Anthony Edwards die. As with last week's installment, "Dmann" bestows three and a half stars. ER 8.21 FAQ What's it called?
"On the Beach"
" Anthony Edwards, who has been a mainstay of ER since its premiere in 1994, plays Dr. Mark Greene for the last time. In the affecting episode (written and directed by executive producer John Wells), Mark is in Hawaii after leaving County General to enjoy what little time he has left. With him is his daughter Rachel, and Mark hopes the trip will give the often antagonistic pair a chance to reconnect and heal some old wounds before it's too late. Then the unexpected arrival of Corday and baby Ella allows the weakening Mark to see his fractured family reunited."
What is TV Guide not telling us?
There's not a lot to tell, or spoil. Last week's letter told us how the episode is going to end. This week bridges the gap from Mark Greene walking out of the ER to that point. Mark does the things on his "I always wanted to do" list (as much as possible, with Rachel (and later Elizabeth and Ella) in tow.
So why Hawaii?
He lived there longer than anywhere. They do a lot of looking at the places he grew up, Rachel learns to surf, stuff like that.
So is Rachel cool with all this?
Yes and no. To Mark's face, she isn't any more moody than normal, maybe even a little less. When Mark isn't around, her behavior has changed. She isn't sneaking painkillers and mini bar liquor bottles to ease her pain. Rachel may do stupid things, but she knows what is going on, and so does Mark. The inevitable confrontation is understated and feels real. The whole episode feels real, uncomfortable and kind of creepy, seeing as how we know how it ends. Hallee Hirsh does a wonderful job in this role, not overplaying the part, and having a remarkable amount of confidence (for a 15 year old) acting in a fairly small bikini.
So what about Elizabeth and Ella.
They show up halfway through. The bigger focus is on Rachel. Even Elizabeth gets her best scene with Rachel.
So Mark is ok until the end?
Not at all, he slowly and progressively deteriorates.
So give us a real spoiler, dude!
No. I won't do it. Compressing the events of "On the Beach" to a spoiler would lessen the impact of the events in the episode.
What's good?
Acting, acting, acting. There are really only 4 real performances in show this week. Everything that could be spoiled was, last week. No big "Doug meets her on the docks" moment, just solid work from talented writers, director and cast. Last week was better, and I still wouldn't mind if they had left the saga of Dr. Mark Greene right there, but all things considered, completely worthwhile.
What's not so good?
It may feel a little overly sentimental to some people, but if you don't expect that from the start, why are you watching the farewell episode for a character dying of an inoperable brain tumor.
Dmann's rating for "ER" 8.21? ***1/2
The Hercules T. Strong Rating System:
***** better than we deserve
**** better than most motion pictures
*** actually worth your valuable time
** as horrible as most stuff on TV
* makes you quietly pray for bulletins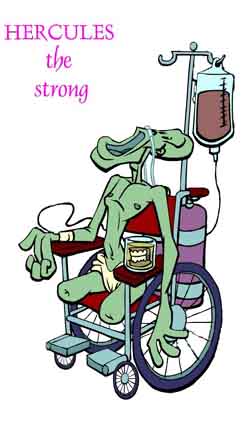 To order coffee mugs and boxer shorts adorned with the image of a green, handicapable "24" fanatic, click here.