Movie News
MORIARTY Attends The Overlooked Film Festival
Hey, everyone. "Moriarty" here with some Rumblings From The Lab.
That's right. I'm pleased and honored to be a guest at this week's Overlooked Film Festival in Champaign, Illinois. I'm flying in for the Wednesday night showing of PATTON, and I'll be there for everything, just watching and enjoying until Saturday, when they're showing the silent Fritz Lang METROPOLIS first, then last year's anime METROPOLIS, followed by Roger and myself onstage, discussing SF and other things.
I'll be completely honest. I think it's preposterously cool to be called halfway across the country to watch some great movies (can't WAIT to see GRAND CANYON and GEORGE WASHINGTON on the bigscreen in particular, and there's a fair amount of things I've never seen) and speak with Roger for the first time. We've met face to face once, at Sundance 2001, and that was for maybe ten minutes tops. And to be asked to talk about last year's METROPOLIS and the original, two films I dearly love, is quite a thrill. I've never seen the Lang film with a live orchestra accompanying it, so that prospect pleases me to no end.
If you're going to be there, look for me and say hello. I love meeting readers, and every time I've been to a fest so far, it's been enormous fun. You should be able to recognize me in my official disguise, designed by Rick Baker, since Moriarty has been sought by Interpol since the time of Sherlock Holmes.
See you soon, Champaign.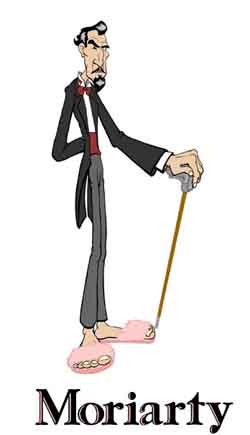 + Expand All

April 23, 2002, 11:52 a.m. CST

by GravyAkira

I will also be attending, hope to get a chance to meet ya.

April 23, 2002, 1:18 p.m. CST

by Triumph the Dog

A box office hit, an Oscar winner, a staple of TV re-runs? What else do they consider "overlooked"? "Star Wars?"

April 23, 2002, 4:35 p.m. CST

by Mr.Watanabe

I go to school at the University of Illinois in champaign, so I'll be there for most of the movies as well. It will be fun to see Mory in the flesh. And Triumph: In an interview with the local paper, Ebert explained that, "If I like a film enough, I can find a way for it to be overlooked." Patton is showing in 70mm, which Ebert calls "an overlooked format." Maybe the logic is weak, but hell, they used the same logic for a 70mm print of 2001 last year, and that was a religious experience. Looking forward to it, maybe I'll run into some Talk Backers there!

April 23, 2002, 5:29 p.m. CST

by TenderBranson

i also attend the u of i, and am a cinema major here. i'm going to be a host, so i get to get in the screenings for free and get the free dinners and free parties. last year was awesome. got to meet billy crudup and the slovenly drunk bill paxton. so i'll see you here moriarty!!!! and lemme know if you wanna hit the bars to pick up some scantilly clad sorostitutes. and if any talkbackers wanna hook up, lemme know. at ebertfest, we usually do steak 'n shake after teh films. that is, the actors, reviewers, directors and such. good stuff. btw - with patton, the format (70 mm) is overlooked, not the film.

April 23, 2002, 8:16 p.m. CST

by JAGUART

"You'll laugh, you'll cry, you'll stuff you face". I'm sorry , the one I actually liked and agreed with, died.

April 23, 2002, 8:51 p.m. CST

by Dmann

I too, shall be at the festival, but only on the weekend. Not all of us have an endowment from the Society of Evil Geniuses for World Domination...ahem! Also, how is it that the measure of a good critic is whether you agree with every review they give? Good lord, they are opinion writers, the good ones give their opinions, in a way that helps you decide whether to waste your valuable time and money on a film. Ebert, while having different tastes on certain films, always gives me the important information on why he liked or disliked a film, in the text of the review. His thumbs up or thumbs down, or number of stars is irrelevant, something designed for people who cannot be bothered to actually read, distilling a film criticism on its points and merits. In any case, I too shall be at the Metropolis screening, although, not invited to participate in the panel, which is good, since i have almost nothing to say about them.

April 23, 2002, 9:05 p.m. CST

by Micmac

I must admit I'm a bit disappointed...

April 23, 2002, 10:50 p.m. CST

by Cash Bailey

If not, I think I may know why. Oh, and EVERY film should be screened in 70 mm, all the time and in every cinema.

April 23, 2002, 11:55 p.m. CST

by Lobanhaki

What most people do not understand about film is how expensive it is. It is a little known fact that although the screen is not silver in reality, the film that the images on it are from IS. The photochemicals used for film are light sensitive silver compounds. As a matter of fact, the most prevalent use of silver is in still and motion picture film. What does this mean? That for every ten minutes of 35mm film used, 3000 dollars on average was spent. just multiply that around and see what figures you get. 70mm film is much more expensive, and the cameras are far more bulky. Seeing as how Anamorphic lenses can more cheaply produce widescreen images on 35mm film, there isn't much of an economic argument for 70mm. Now the reason you might want this film is A: you want pristine film quality, which this wil deliver in spades, or B: you want to make an Imax film, in which case you run the film sideways through the camera and you get exposure on a negative a little bit bigger than a business card (consider that the movies you watch come on negatives about the size of postage stamps!)

April 24, 2002, 12:33 a.m. CST

by Dlhstar

Every year I hold out hope against hope that Ebert will use his power to bring a few of the very overlooked animated films like Iron Giant, Batman: Mask of the Phantasm, or even The Secret of NIHM to his fest, and each year I am disappointed. Sad thing is that the last few years I've not been eager to go, but now the one year I've got to work that weekend, they've got a couple of films I'd like to see.

April 24, 2002, 2:02 a.m. CST

by All Thumbs

I get home from the day of hell, decide to pop on over to AICN, and look at what I find...not only does Moriarty get to go be on the panel with Ebert, but he gets to see Metropolis with a live orchestra. Life just isn't fair. (And Dmann's going too? What's up with this?) Seriously, wish I could join the fun. A film fest is just what a gal needs to relieve the stress of finals and whatnot in her life. Have fun, boys! Say hi to Ebert for me...although don't because he wouldn't know who I am, anyways.

April 24, 2002, 3:46 a.m. CST

by BathTub

yeah thats him, it's no secret that Drew is a writer and hes on MK3, haven't heard any news about it lately tho.

April 24, 2002, 4:20 a.m. CST

by Darth Pixel

I heard a knock on the door, and I opened it - and there was this STARK NAKED BLONDE, holding a 14 inch Bowie knife! She yells at me "I'll kill your ass!" - I was sooo excited, I didn't even notice I had been stabbed. It was un-fucking-believable!

April 24, 2002, 4:47 a.m. CST

by Gregzero

If anybody wants to hang after the fest, I'll be wearing a backward Cubs hat and a beard!

April 24, 2002, 7:52 a.m. CST

by TenderBranson

i'll be the hispanic kid with a shaved head and two earrings, chillin' in the vip section. word. btw - kris kristofferson's coming tonight, sweetness.

April 24, 2002, 11:07 a.m. CST

by TenderBranson

too bad the festival isn't happening in chicago, but three hours south in champaign. and 4 bedroom apartments would run $1000 here. www.uiuc.edu www.ebertfest.com

April 24, 2002, 12:55 p.m. CST

by durhay

April 24, 2002, 1:01 p.m. CST

by Gregzero

Yeah, but Poppa Dell's Pizza is in Champaign-Urbana, and it's Pop's for pizza or no place at all!!!

April 24, 2002, 1:32 p.m. CST

by TenderBranson

you've never had pizza till you've had papa del's. it comes pretty damn close to a religious experience. ain't nothing wrong with champaign. hall 9000 was invented here :)

April 24, 2002, 3:49 p.m. CST

by LuxLisbon

Why would you want to move to Champaign OR Tinley Park for pizza when you could move to Chicago and have Lou Malnati's Pizza everyday? Not to mention Giordano's AND Gino's East. Oh, and btw Walrus...I also got a spacious 2 bedroom in the city for $750!

April 24, 2002, 3:55 p.m. CST

by Gregzero

I, too, live in the city. I, too, enjoy Lou's Pizza. Popa Dell's is about the same standing on a scale from 1 to 10 (a 10!) but in a parallel universe. Does this make sense? GregZero

April 24, 2002, 6:25 p.m. CST

by TenderBranson

like i said, ebert and everyone else hits steak 'n shake (on neil st.) after the films. last year i had a sour dough bacon burger melt with ebert, david poland, greg schmidt, not to mention the creator of the toronto film festival. so show up!!!

April 25, 2002, 12:27 p.m. CST

by directorscut

April 25, 2002, 8:55 p.m. CST

by Electric Tsunami

Russ Meyer movie. Russ didn't shoot the whole thing but he did shoot some of the footage back in WWII when he was stationed overseas as a cameraman. Considering Roger's association with Russ Meyer, it's only a natural...