24 1.18 FAQ
What's it called?
"5:00 PM - 6:00 PM."
Who's responsible?
Teleplay is credited to Maurice Hurley ("Star Trek: The Next Generation," "La Femme Nikita"). IMDb credits him with creating the Borg.
"Following a new lead, Jack must work with a fellow CTU agent who harbors resentment toward him; Dr. Phil Parslow tries to diagnose Teri and explain their history; Kim meets Dan's brother (Edoardo Ballerini)."
What is TV Guide not telling us?
Neither Dan's brother nor Melanie the nose-ring girl know that Dan is dead. And Rick is determined to keep it that way.
Why is Rick so determined to keep Dan's death a secret?
Dan's brother is enormous and probably an enormous coke fiend. Herc's guess is: if Dan's sib learns what's going on, he'll sell Kim to the Drazens for drug money.
The big news?
Rick's on probation. His role in the kidnapping could get him tossed back in stir.
The bigger news?
Palmer confirms an ugly suspicion about his wife.
Is Dr. Phil aware the amnesic Teri got back together with Jack?
He is.
What are the first words out of the mouth of Teddy, the resentful CTU agent?
"Hey, Jack! Haven't seen you since you put my partner away!"
So things are uncomfortable?
Teddy spends way too much time with his sniper-scope trained on Jack as Jack tries to find the guy with the red ballcap. Then Teddy uses his commlink to give Jack some big news: the wife of Teddy's jailed partner just committed suicide.
Is any Bauer reunited with any other Bauer this week?
No.
Does Jack at least get the word that Teri and Kim have fled the safe house?
Not this week.
Do we learn who red-ballcap boy is?
The Drazens contracted him to shut down a power grid for five minutes starting at 7:20 p.m.
Is Naked Mandy back??
No. And with six episodes to go, one begins to fear Mandy may never return to nakedness. (Mandy alter ego Mia Kirshner might get naked again, however, on "Wolf Lake," the troubled CBS weresoap UPN relaunches on Wednesday.)
Do we get to see Kim in the shower?
Not this week.
Does Jack learn of Teri's rape?
Not this week.
But he will before midnight?
This I swear.
What's good?
George Mason's chat with Teddy.
What's not so good?
Kim's seeking out Rick really is pretty insane. And amnesia seems a desperate way for the writers to put Teri back in harm's way.
How does it end, spoiler-boy?
Inviso-text on: Kim is again detained. Palmer calls a press conference. There's a fresh casualty. And Teri is about to encounter grave danger.
Herc's rating for "24" 1.18?
***
The Hercules T. Strong Rating System:
***** better than we deserve
**** better than most motion pictures
*** actually worth your valuable time
** as horrible as most stuff on TV
* makes you quietly pray for bulletins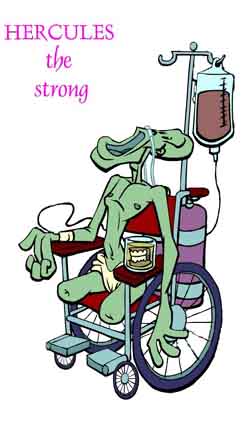 To order coffee mugs and boxer shorts adorned with the image of a green, handicapable "24" fanatic, click here.