An Amazon taking over Lex Luthor's old gang? A seeming homage to "Crisis on Earth 2?" A little housecleaning here: TV Guide Online doesn't currently offer plotlines for any of the four new "Justice League" installments airing in April, so here's the word directly from our pals at the Cartoon Network:
"Fury." (Part I - Sunday, April 7, 7 p.m.; Part II - Sunday, April 14, 7 p.m.) When a renegade Amazon named Aresia takes over Lex Luthor's old gang, the Justice League comes together to stop her jewel-stealing rampage. But Aresia is up to more than larceny, as she unleashes a plague that affects half the population - the male half. With the men of the Justice League falling victim, it is up to Wonder Woman and Hawkgirl to stop her from destroying "Man's world."
"Legends." (Part I - Sunday, April 21, 7 p.m.; Part II - Sunday, April 28, 7 p.m.). While battling a giant robot, Green Lantern, Hawkgirl, Flash and J'Onn J'Onzz are blasted into an alternate reality. In idyllic Seaboard City, they meet their doppelgangers, a group of old-fashioned comic book heroes called the Justice Guild of America. As they search for a way to get back to their reality, the members of the Justice League join the Justice Guild to battle villains like the Sportsman, Dr. Blizzard and the Musicmaster. But as they team up with Catman, Black Siren, Tom Turbine, the Green Guardsman and The Streak, Green Lantern begins to realize that there's something peculiar about Seaboard City and its hometown superheroes.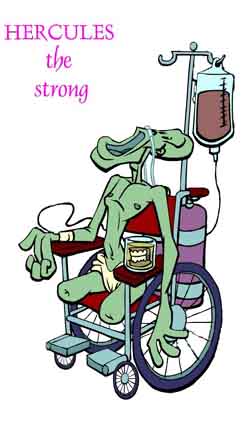 To order coffee mugs and boxer shorts adorned with the image of a green, handicapable "24" fanatic, click here.