The reviews are in for the latest Stephen King-penned miniseries – and they are scary! The mini airs Sunday, Monday and Thursday at 9 p.m. on ABC.
If horrormeister Stephen King can give demonic powers to an innocent-looking car ("Christine"), then why not a house? That's the basic premise behind "Stephen King's Rose Red," a spooky three-part ABC miniseries that comes together quite nicely only to frantically and disjointedly unravel at the end.
… The first two parts nicely blend thrills, chills and comic relief. Sunday's opener includes a history of the mansion, and the second part Monday includes a lengthy tour of the place, both of which could have been trimmed. Nonetheless, the combination of eclectic characters and the judicious but effective use of special effects make the time pass quickly. Not so with the conclusion, which doesn't come until Thursday. In the third part, the characters lose most of their humor, undergo personality transformations and do enough obviously stupid things to turn it into just another haunted house screamfest.
… the same tech crew that brought viewers the haunting, highly effective "Storm of the Century" forgot to include the mojo this time around.
… "Rose Red," the second story King has written specifically for TV, is a far cry from the kind of scarefest his fans have come to expect. Clocking in at six (very long) hours and minus any top-tier stars, "Rose Red" is what they would call in the world of parapsychology a "dead cell." ABC isn't exactly giving the mini a big vote of confidence considering only the last of the three installments will air within the sweeps period.
… All of the elements that make a King story so accessible and entertaining are missing from this production. The working-class bravado of an unlikely hero, the rich character development and remote setting are displaced in favor of a downtown haunted house that is explored by a bunch of opportunists and outcasts. Filled with a few minor jolts and jumps, "Rose Red" actually loses a good deal of tension and credibility with each passing hour.
Stephen King has too much time on his hands. Only a man with no need for time management could devote six hours to a haunted-house story — particularly one as lifeless as Rose Red.
… You could forgive the plodding start if King were headed somewhere worthwhile, but all he has to offer in Rose Red is a numbingly predictable series of seen-it-before jolts. In the guise of a new movie, King has simply recycled a collection of his own greatest hits, played at exceedingly slow speed.
… Any horror story would have trouble maintaining tension over three nights, but Rose Red is particularly ambling and pointless. There are no secrets to learn, because King spells out the plot for you in the opening minutes (house bad; people die). And there's no emotional connection because nothing and no one matters: The house chooses its victims at random from a crew of interchangeably dull characters. And six hours later, it's over — though like most King TV projects, Rose Red doesn't so much end as run out of time. Run the other way.
As unoriginal as haunted house stories get, "Stephen King's Rose Red" is his "Carrie" and "The Shining" meets "Ghostbusters," "Night of the Living Dead" and the Psychic Hotline. Written by the prolific King, this overwrought, overacted three-parter on ABC is campy, not scary or even stomach-turning.
In Humans vs. House, you may find yourself pulling for the house. If only Rose Red had eaten the script, the real spooks here being its author and those at ABC that decided to drag this chalky cadaver across three nights.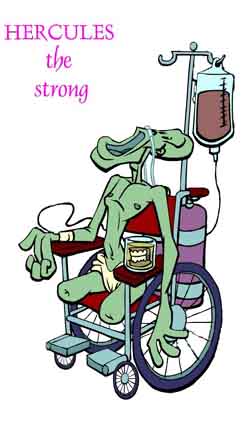 To order coffee mugs and boxer shorts adorned with the image of a green, handicapable "Buffy" fanatic, click here.