24 1.7 FAQ
What's it called?
"6:00 AM - 7:00 AM."
Who's responsible?
Teleplay is credited to Andrea Newman ("Felicity," "Ed").
"As day dawns, so does a new dynamic as Gaines (Michael Massee) takes his control over the situation to another level. Kim is his hostage and Jack his unwilling puppet, thanks to state-of-the-art surveillance that shows his every move. Teri, however, is able to gain the upper hand over York, whose impostor status is made known to Jack. Meanwhile, Rick (Daniel Bess) agrees to join Kim in an escape attempt; and Palmer decides to go public with Keith's secret, sparking controversy within the family."
The big news?
We were told in episode one that the bad guys had somebody inside CTU. Tonight that evil gets a (very familiar) face.
Seven episodes in, you still think "24" is the best new show of the year?
I do.
How does Teri gain the upper hand?
As she and "York" drive along Mulholland in the Hollywood Hills, she pretends to be carsick and wanders off. As she flees, "York" phones for messages.
Is Mandy (of naked-Mandy fame) back yet?
Not yet.
What does the murderous Gaines do with Jack?
Sends him back to work.
What's good?
The surprises.
What's not so good?
I don't get why the murderous bad guys aren't keeping a closer eye on hot young Kimberly. They're willing to pay a million dollars and destroy a commercial jetliner to obtain a photographer's credential; with stakes like these, shouldn't Kimberly be at least shackled to something heavy?
How does it end, spoiler-boy?
With a shot of Nina.
Are "Buffy" and "24" the only big shows with new episodes tonight?
No. There's a new "Undeclared" opposite the last half hour of "Buffy." And "Real World Chicago" kicks off at 10 p.m. on MTV.
Herc's rating for "24" 1.4?
***1/2
The Hercules T. Strong Rating System:
***** better than we deserve
**** better than most motion pictures
*** actually worth your valuable time
** as horrible as most stuff on TV
* makes you quietly pray for bulletins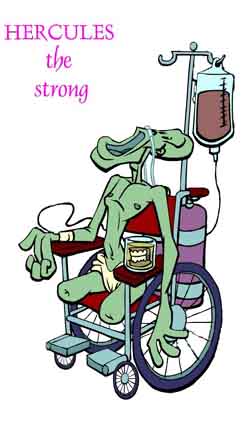 To order coffee mugs and boxer shorts adorned with the image of a green, handicapable "Buffy" fanatic, click here.