Buffy 6.11 FAQ
What's it called?
"Gone."
Who's responsible?
Written and directed by David Fury (author of "Bargaining, Part II," co-author of "Life Serial").
"Buffy's efforts to help Willow's recovery are disrupted by a run-in with an intrusive social worker and a spat with Spike. Then, she's mistakenly zapped by an invisibility ray wielded by Jonathan, Warren and Andrew. At least she gets a new hairdo."
The big news?
MAJOR, EPISODE-RUINING SPOILERS AHEAD: Buffy comes to realize she fears dying again. Anya is inviting her ex-boss D'Hoffryn to the wedding. And Warren deliberately tries to kill Buffy!
Do the two other Nerds of Doom witness Warren doing this?
They do.
Are they on board with it?
They are not. But Warren will probably pretend it was an accident.
Does Buffy get the haircut before or after she becomes invisible?
Immediately before.
Why does she cut it?
She begins hacking away following a bad meeting with Doris the social services woman.
Isn't invisibility a good thing?
Buffy has fun with it, but we soon learn if one stays invisible too long one turns to pudding.
Does Spike try to avoid Buffy this episode?
In no way.
Does Buffy get through the episode without some vampire lovin'?
Nope.
Is the relationship still in the closet?
Thanks in part to the invisibility, the Scoobs remains blissfully ignorant.
Is the magic-pushing warlock Rack back?
Rack is wholly absent. As is Amy.
Is Willow back on the pipe?
She absently levitates a book a little, but catches herself before it's airborne. She's tempted again, however, at another point late in the episode.
Does Buffy become aware that the Nerds of Doom are behind the mayhem?
Not until the very end. They prove themselves the world's worst evil masterminds when Warren announces, "We're your arch-nemesis-es-sis."
Does Xander confront Willow?
They have a chat. Constructo-boy naturally assumes Will might be behind the slayer's lack of visibility. His momentary suspicion does leave Will a tad peeved.
Is Dawnie healed up from "Wrecked"?
She's in a sling. And still harbors bad feelings of blame for both Willow and Buffy.
Is Tara about?
Also wholly absent this week.
What's good?
Buffy's witty revenge on Doris the social worker. The off-handed reference to "Out of Mind, Out of Sight." The ineptitude of the Nerds of Doom, particularly Jonathan's panicky attempts to disguise his identity. The sorting out of who Andrew is. The camerawork for the mostly-sound-effects climactic battle.
What's not so good?
The "came back wrong" thing is passingly referenced, but the episode offers no new clues as to how.
Herc's rating for "Buffy the Vampire Slayer" 6.11?
***
The Hercules T. Strong Rating System:
***** better than we deserve
**** better than most motion pictures
*** actually worth your valuable time
** as horrible as most stuff on TV
* makes you quietly pray for bulletins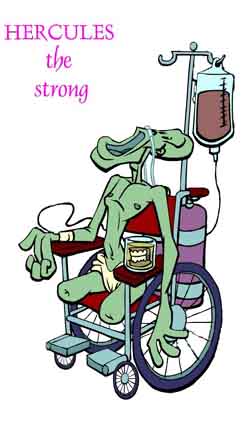 To order boxer shorts adorned with the image of a green, handicapable "Buffy" fanatic, click here.