Alias 1.11 FAQ
What's it called?
"The Confession."
Who's responsible?
Teleplay credited to series creator J.J. Abrams and co-producer Daniel Arkin ("The X-Files," "The Others").
"Series producer (and Thirtysomething alum) Ken Olin guest stars in a pivotal episode that finds Syd (Jennifer Garner) under fire and Jack (Victor Garber) feeling the heat. After delivering terrorist Hassan (Aharon Impale) to the CIA, Syd heads to Crete to locate his top-secret stealth technology. What she encounters instead is a death trap set by Hassan, who backs Vaughn (Michael Vartan) into a corner with a dirty deal for Syd's life."
What is TV Guide not telling us?
Um, I didn't notice Ken Olin in this episode. Was there a glitch in my tape or did TV Guide lie to us again?
How do Syd and Jack escape last episode's cliffhanger?
Keep your eyes on Jack's.
Is it really a pivotal episode?
At episode's end, Syd gets some really big news about her parentage. But before that, she also learns something important about Vaughn's father.
Is Dixon back? Any sign Dixon remembers Syd's "Freelancer" transmission to the CIA from two episodes ago? Is Dixon a double agent too?
Dixon is back on the job. If he knows anything, he's not letting on.
What kind of "death trap" does Hassan set up for Syd?
Instead of giving her the code that will allow her to safely retrieve one of Hassan's mysterious devices, Hassan gives her a code that traps Syd in a room with hundreds of gallons of gasoline raining down on her head.
What's up with reporter-boy?
When Vaughn tries to use Syd against her own father, Syd seeks Will out for a night of crying and couch-cuddling.
Does Will learn more of SD-6, Kate Jones or any other aspect of Syd's secret life?
He does not. This episode pretty much steers clear of Syd's "normal" life.
Any reference to Milo Rambaldi this week?
Nothing that I noticed.
What's good?
The revelations.
What's not so good?
I still can't figure out why Syd is indulging so many public meetings with Vaughn. Also, how many times are we going to see Syd carry out her mission by infiltrating a party?
Is there a cliffhanger?
It ends with the big reveal at the CIA.
Herc's rating for "Alias" 1.11?
***1/2
The Hercules T. Strong Rating System:
***** better than we deserve
**** better than most motion pictures
*** actually worth your valuable time
** as horrible as most stuff on TV
* makes you quietly pray for bulletins
I warn you not to defy me!!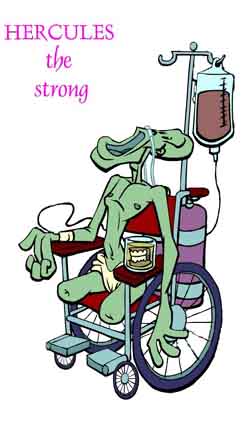 To order coffee mugs and boxer shorts adorned with the image of a green, handicapable "Alias" fanatic, click here.