Buffy 6.10 FAQ
What's it called?
"Wrecked."
Who's responsible?
Teleplay is credited to Marti Noxon (who last authored the Buffybot-heavy first hour of the season opener).
"Buffy's tryst with Spike leaves the Slayer shaken to the core; Willow falls victim to a warlock (Jeff Kober) who stimulates her craving for magic."
Buffy and Spike definitely had sex, right?
Right. They wake up fully naked, Spike has the slayer's panties, and he almost seduces her into a morning repeat!
Whoa! So Buffy loves Spike?
Buffy hates Spike! And hates how hot he makes her!
"I just keep thinking there's gotta be someplace, like, bigger than this," groused Will last week. Do Willow and Amy find something bigger?
They do. The Warlock.
The big news?
This episode turns Willow into a supernatural Nancy Spungen. Amy is the peer pressure, the Warlock is the dealer, Willow's eyes turn black instead of getting dilated, she gets the night-shakes when she tries to kick cold turkey. When Willow starts "mainlining" the Warlock's magic in his cloaked and dingy spell-house, the addiction severely impairs Will's judgment and she ultimately nearly gets Dawn killed.
Ah. So Willow's magic, as rumored, puts Dawn in grave danger?
Yes.
Do Buffy's feelings for Spike distract her from her duties?
They do not.
Does Buffy's inaction put the Scoobs in danger?
No.
Does Willow accidently scare Dawn into wrecking Joyce's car and giving herself a concussion?
No.
Does Dawn wreck Joyce's car?
No.
Does Dawn wreck?
There's a wreck that badly injures Dawn, but Willow is "driving" with magic at the time, and it's not Joyce's car.
Why are the FAQ questions so goofy this week?
There've been a lot of goofy rumors. Bear with us.
Does Dawn drive to find Tara because she can't find Buffy?
What? No. Dawn does no driving this episode.
Does Spike try to avoid Buffy this episode?
No. But Buffy tries to avoid Spike. At first.
Does Buffy keep coming to Spike with questions about Willow?
No. Buffy comes back to Spike once, but only to enlist him to help find a missing Dawn.
Does Dawn's wreck get Spike and Buffy talking?
No. Spike and Buffy are talking long before the wreck.
Do we learn this week why Spike's chip doesn't register Buffy as human?
No! Weirdly, this question doesn't even come up this week!
Does Buffy tell Spike that something's wrong with his chip?
She does not.
Does Buffy give Willow 24 hours to move out?
She does not.
Does Buffy tell Willow to move out at all?
She does not.
Does Xander side with Buffy with regard to Willow moving out?
He does not.
Is Xander pissed with Buffy because she's neglecting Dawn?
No.
Does Buffy tell any of the Scoobies about doing it with Spike?
No. And she tells Spike if he tells anyone, she'll kill him.
Does the episode end with most of the Scoobies estranged from each other?
No.
Do Buffy and Spike again end the episode by kissing?
They do not. And there's a great episode-closing sight gag establishing why.
Does it look like, at episode's end, Spike and Buffy are about to have more between-episode sex in Buffy's room?
No.
Does it look like, at episode's end, Spike and Buffy are about to have more between-episode sex?
No.
Does the warlock vanish before Buffy can defeat him?
Buffy does not fight the warlock. The warlock never vanishes.
Does Spike show Buffy where the warlock is?
No. Buffy never encounters the warlock.
Is Willow visited by more witches?
No.
Any clues that Amy's mom might be returning?
None.
Any reference to that moment in season four when Willow accidentally de-ratted Amy for four seconds?
Nope.
Is there a big Willow-Amy magic showdown this week?
Not this week.
When we last saw Tara, she was waiting with Dawn for Willow to come home. That has to end badly, right?
It does. Tara and Dawn spent the night passed out on the couch, Amy and Willow come home at dawn, Amy starts blabbing about their big adventures in magic, and Tara bolts in disgust.
Do the Nerds of Doom launch "phase two"?
Who can say? The troika spend the episode offscreen this week.
Do the Nerds of Doom team up with Willow, Amy and/or Spike this week?
No. See above.
Does Giles phone in or anything?
Giles is wholly absent from this episode.
Do the Scoobs learn this week that Jonathan, Warren and Andrew's little World Crime League is behind all the recent mischief?
Nope. The Scoobs are still cluelessly researching diamond-stealing frost-demons.
What's great?
Dawnie's waking observations, and Dawn's dialogue generally. Spike and Buffy's next-morning near-reprise (very important, for it establishes continued interest from both corners). Amy's hilariously good-natured post-rodent behavior, and Elizabeth Anne Allen's performance. Anya's theory about Martha Stewart. Will's Twin-Peak-y freeze-frame-worthy magic-overdose delusions. Will's encounter with Tara's duds. Buffy's interrogation of a not-at-all-well former rat. The vamp-slayer banter (so much more compelling this time around). Dawn's response to Willow's apology. Buffy's heart-tugging and near-tireless support of her best pal.
What's not so great?
We've officially lost track of the number of times Buffy has rescued Dawn from growly supernatural evil.
How does it end, spoiler-boy?
Willow and Buffy spend a long night trying to kick respective bad habits.
Herc's rating for "Buffy the Vampire Slayer" 6.10?
****
The Hercules T. Strong Rating System:
***** better than we deserve
**** better than most motion pictures
*** actually worth your valuable time
** as horrible as most stuff on TV
* makes you quietly pray for bulletins
Whose phaser was set to "stupid"? Whose brain should report to sick bay?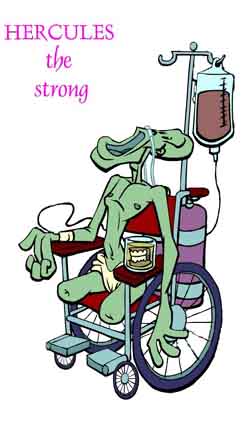 To order boxer shorts adorned with the image of a green, handicapable "Buffy" fanatic, click here.