Boston Public 2.5 FAQ
What's it called?
"Chapter Twenty-Seven."
Who's responsible?
Teleplay credited solely to series mastermind David E. Kelley.
"A soured romance torments Hanson; the sex-advice columnist in the school paper vexes Harper; the intensifying relationship between Guber and Mrs. Peters unsettles both."
The big news?
School administrator Louisa (Rashida Jones) finally gets a storyline all her own.
What is TV Guide not telling us?
We finally learn the identity of the sex-advice columnist!
The promos seem to have Harper telling Lauren to "go back to your job while you still have it." What did Lauren do?
This is a case of deceptive promo editing. Harper is actually talking to another staffer.
But Lauren does do something?
When a singing coed is offered the chance to take her act on tour in December (forcing her to drop out of Winslow), Lauren's efforts to help her find a lawyer and agent are misinterpreted by the girl's parents as Lauren encouraging the singer to drop out.
What's this about a romance tormenting Hanson?
This week's teaser is a corker. Danny comes home to find his way-too-hot fiancee in bed with a another guy. "I'm outta here," says the stranger. "Where's the phone?" Danny, ever accommodating, lets him have the phone – in the head.
Should we be surprised that Guber hooks up with Peters?
Guber. Peters. Say …
So what's doing on the Guber-Peters front?
Hook lady Meredith Peters puts Scott Guber's hand on her breastal region and asks him to "ravage" her.
Do Guber and Peters get busy?
No. Guber, whom we learn hasn't had sex in nine years, harbors all manner of performance anxiety.
What's up with Ronnie?
She helps Danny after he's arrested for aggravated assault.
Does Danny go to trial?
Surprisingly, no. The rest of the story deals with the fiancee trying to get Danny back, and how Danny takes out his anger on his pupils.
Any sign of Mandy Patinkin?
Nope.
Does Billy Zane sing this week?
Zane is wholly absent.
What's good?
The teaser. Lipshultz overhearing some Guber-Peters love talk. Lipschultz's subsequent comments. Guber's reaction to Lipschultz's comments.
What's not so good?
Danny's story gets a lot less interesting once he's let out of stir.
How does it end, spoiler-boy?
Guber & Peters look through a catalog together. Danny comes home to an empty apartment
Herc's rating for "Boston Public" 2.5?
***
The Hercules T. Strong Rating System:
***** better than we deserve
**** better than most motion pictures
*** actually worth your valuable time
** as horrible as most stuff on TV
* makes you quietly pray for bulletins
Smell this shoe!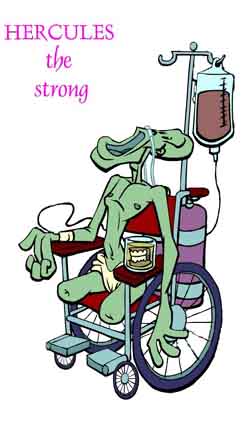 To order coffee mugs and boxer shorts adorned with the image of a green, handicapable "Buffy" fanatic, click here.