The Practice 6.8 FAQ
What's it called?
"Suffer the Little Children ."
Who's responsible?
Teleplay credited to Lynne E. Litt ("Gideon's Crossing") & James Solomon ("100 Centre Street").
"A drive-by murder case entangles Ellenor with ADA Lowe (Ron Livingston), whose tactics draw fire; the plight of a mentally impaired, wrongfully jailed outcast absorbs Lindsay."
What is TV Guide not telling us?
Tonight's installment is a major tearjerker - a real three-hanky item - thanks in large part to the emotion-gripping dialogue by Litt & Solomon and the performances of guest players Ray McKinnon (who essays the mentally impaired man) and Kimberlee Peterson (who portrays the teen daughter he hasn't seen in 15 years).
Why is this review so short?
Because it's way way past Herc's bedtime, but he didn't want anyone to needlessly miss a top-drawer episode because there wasn't time to slap together a real write-up.
How good can it be if David E. Kelley didn't write it?
It's so good it might leave you wishing Kelley would turn the whole show over to Litt & Solomon so Kelley can spend more on "Boston Public."
Is the Ellenor plot good too?
It's great (Ron Livingston is shark-like as he embodies the insanely ruthless new DA), but it's really the story of the family needlessly torn apart by a rogue cop that'll leave strong men weeping as tonight's 11 o'clock anchors start in with the headlines.
Herc's rating for "The Practice" 6.8?
****
The Hercules T. Strong Rating System:
***** better than we deserve
**** better than most motion pictures
*** actually worth your valuable time
** as horrible as most stuff on TV
* makes you quietly pray for bulletins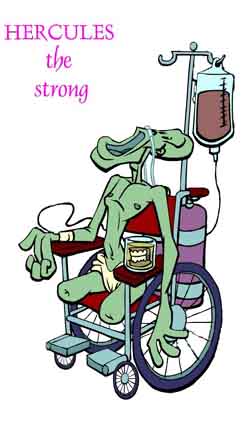 To order coffee mugs and boxer shorts adorned with the image of a green, handicapable "Alias" fanatic, click here.