Buffy 6.4 FAQ
What's it called?
"Flooded."
Who's responsible?
Teleplay is credited to Jane Espenson and Douglas Petrie. These two last officially teamed on "Checkpoint" (the one with all the watchers and perhaps the best Anya line ever: "Willow's a demon?"). Petrie also directs, and very well.
"Buffy faces off against one of her most formidable foes yet - bankruptcy - in a drolly scripted mosaic of money problems and demonic menace. The death of Buffy's mother last season left the Slayer as the head of her household, and Buffy's brief demise hardly eased the Summers' strained finances. So when the water pipes burst and their basement floods, a bank loan is their only option. But, alas, Buffy (Sarah Michelle Gellar) has no collateral. Plus, she's the target of the obnoxious M'Fashnik Demon (Todd Stashwick), a heavy employed by three nerdy would-be supervillains. It's a good thing Giles (Anthony Stewart Head) is back. Jonathan: Danny Strong.
What is TV Guide not telling us?
Willow and Giles have a major dust-up. They both say very mean things. And Xander will risk the love of his intended to defend the right comic book characters.
What else is TV Guide not telling us?
This is some of the finest "Buffy" ever crafted.
"With Joyce gone, Buffy finds herself trying to contend with burst pipes and home-improvement loans.
"She seeks out the advice of a just-returned Giles and indulges an off-camera meeting with Angel (which makes Spike very jealous).
"Buffy's ongoing frustration is bad news for the demon dispatched – by a trio of bored, twentysomething would-be sorcerers – to the slayer's home. Buffy begs the demon not to break anything, and winds up drowning him in a pool of water formed by her plumbing leak."
"Joyce's hospital bills wiped out her life insurance benefits. Buffy must contend with financial woes AND a demon dispatched by the Jonathan-Warren-Andrew troika. Giles returns. Xander and Anya fight about Xander's unwillingness to reveal their engagement to the other Scoobs."
Did Herc's sources get it right?
They did.
Any surprises?
Dawn wears more numbered tops.
Which numbers?
2. And 55.
Any other surprises?
Andrew (of the Legion of Nerdy Doom troika) did not come entirely out of nowhere. It turns out Andrew's brother was the dude who unleashed the devil dogs on the Sunnydale High prom a couple years back.
What is the Legion of Nerdy Doom up to?
They want to "team up and take over Sunnydale."
What does that mean?
One suspects even they are a little hazy on the matter.
Their "to do" list:
Control the Weather
Miniaturize Fort Knox
Conjure Fake IDs
Shrink Ray
Girls
Girls
The Gorilla Thing
Is anything added to the list this week?
Yes.
How cool is Spike?
Spike has earned Buffy's love in ways Angel couldn't begin to contemplate. Spike is the coolest thing on television. Spike is the man, man.
Does Spike still get headaches when he hurts humans?
If he doesn't, he's not letting on. "Want me to take them out?" he asks the slayer this very eve. "It'd give me a hell of headache, but it'd probably thin the herd a little."
Is Giles there from the get-go?
No, he turns up in the second act.
What's good?
Dawn's first brush with research. Xander's foolhardy integrity where comic book heroes are concerned. Anya sensing Xander's Jedi mind tricks. (The Xander-Anya story, I declare, continues to manifest one of the most compelling happy relationships in the history of storytelling.) The Legion of Nerdy Doom. Willow's very hilarious efforts to goad. Willow's description of the resurrection. The big argument! Buffy's dialogue in the climactic battle. The reliably super-geniusy comic acumen of the writers and the regular cast.
What's not so good?
It's all good, baby. Tonight is why we watch this show.
How does it end, spoiler-boy?
As last night's "Angel" did: with a phone call. "He knows that I'm … He needs to see me. I have to see him." She puts the kibosh on Giles' suggestion that she leave for L.A. the next day. "Not L.A. And not here. Somewhere … in the middle. There's a place." When Giles suggests that they first deal with Buffy's financial straits: "I have to go now. Thanks – for taking care of this for me." And she's gone. Executive producers Joss Whedon Marti Noxon.
Herc's rating for "Buffy the Vampire Slayer" 6.4?
****1/2
The Hercules T. Strong Rating System:
***** better than we deserve
**** better than most motion pictures
*** actually worth your valuable time
** as horrible as most stuff on TV
* makes you quietly pray for bulletins
I warn you not to defy me!! Mmm!! Cookies!!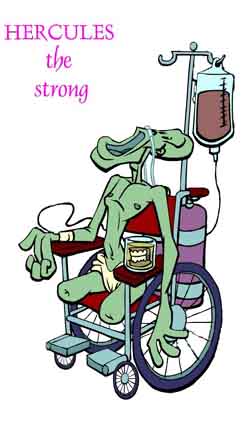 To order coffee mugs and boxer shorts adorned with the image of a green, handicapable "Buffy" fanatic, click here.